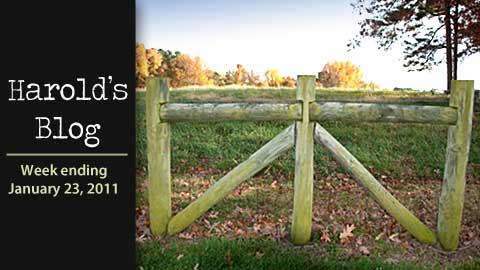 From the blog of Cary Mayor Harold Weinbrecht, covering the week through January 23, 2011. Photo by Hal Goodtree.
This week was highlighted by a several intergovernmental events and meetings.
Mayor's Meeting: Focus on Schools
On Monday I met with the Wake County mayors at our monthly Mayors Association meeting. We reviewed and approved our calendar of events for the year, talked about our breakfast for the legislators on February 3rd, and discussed the accreditation issue with the Wake County Schools.
NBC17 was set up outside our meeting doing a story on the school system's accreditation issue and how the mayors were not unanimous in their opinions.
I can unequivocally say that all mayors want our schools to be accredited.
The issue was with how or if we participate in the ongoing debate. We also went around the table and gave our thoughts on the incoming superintendent. Our conversations remain private and we only make public statements if everyone agrees.
Redistricting and Town Council Org Debated
Tuesday began with a short work session on redistricting the four town districts.
The current district population breakdown shows District A with 53,946, District B with 27,382, District C with 32,899, and District D with 25,393. In 1975 Cary created the four districts along with the three at-large representatives which include the mayor. NC Statutes require municipalities with districts to review them at least once per Census. The last Cary redistricting was in 2001 so we are due.
The purpose of this work session was to review regulations for redistricting and give staff input on the type of analysis the council needs to make a decision. The staff went over previous guidelines and objectives used in the last redistricting effort. The only guideline questioned was one that stated downtown should have more than one representative. Council is now leaning toward one but asked staff to present options with one or two. Staff is expected to come back to council with options in March. There will also be a public hearing to allow feedback from the citizens.
There was also a brief discussion on how council members are elected. Council member Frantz suggested that all council members be elected at-large. Council member Smith pointed out that this would result in more expensive campaigns. He also stated that citizens might perceive this as having less of a voice. Council did not agree to pursue this proposal.
State Issues
Later Tuesday, the council hosted the Wake County delegation at a dinner to discuss issues that may impact Cary.
All council members were in attendance except council member Frantz. Attendees from the Wake County delegation included Senator Stein, Representatives Stam, Weiss, Dollar, and Murray. The Chatham legislators representing Cary were also invited but did not attend.
I gave a welcome and later asked each of the delegation to state what they hoped to accomplish. Their comments were positive as they pledged to help Cary as much as possible. My comments focused on finances, economic development, and regulations. Here are excerpts from my comments:
"… We are concerned that the State will take away dollars collected on our behalf that we count on to keep our budgets balanced, for example sales tax, beer and wine. Regarding economic development, we hope for a continued, strong focus on retaining and creating jobs for our citizens. We look to maximize our flexibility in attracting and expanding small business and employment centers. We want to continue incentive/partnership programs. We are looking for new, innovative ways to finance job relocation and infrastructure. Regarding regulation, Cary leads the state in preserving and protecting finite resources and often exceeds regulatory mandates with issues like water conservation, recycling, and buffers. We are concerned that increases in regulation will result in increased costs which will have an impact in these tough economic times. … "
Metro Planning
Wednesday I attended the Capital Area Metropolitan Planning Organization. Unfortunately we did not have enough members to reach a quorum so we could not vote on any items. We did hold a public hearing.
There were several speakers from the Garner area complaining about one of the proposed paths for the Triangle Expressway. In addition, we had several presentations including one from David King of Triangle Transit, and a member of the Triangle Turnpike Authority. We adjourned after about an hour.
I believe it was a beneficial gathering and hope to continue to work with our legislators to keep Cary the great town it is.
SAS Kudos
Thursday SAS was recognized by Fortune magazine as the best work place in America. This is the second year in a row that SAS has won this recognition. It has been on Fortune's list of great places to work for the last 14 years.
SAS is a great employer and I am lucky to have worked there the last 18 years. I celebrated my 18th year of employment at SAS this week. I met my wife at a SAS picnic in 1985. She has worked there 29 years. Both our daughters went through day care at SAS and one attended Cary Academy which was founded by the Goodnights.
SAS has been an integral part of my life, the lives of my family, and the life of others.
Reader's Digest Stimulus – Cary To Be Featured in May
On Friday I accepted a $1000 stimulus check from Readers Digest. The Reader Digest "We Hear You America" campaign came to Cary to help stimulate the economy with a check to help get a local project started.
Cary was selected to receive this check because the town is being featured in the annual Best of America issue which will be published in May 2011. The editors of Reader's Digest noticed in Fortune Magazine that SAS Company was featured as one of the best to work for, showcasing the perks at the software company outstrip those of any other corporation in America.
Mailbag – A Town Zoo
I received several emails this week. There was a concern about the Amberly development, a concern about spending money in the downtown, a concern about our automated meter reading system, a complaint about parking on Academy Street during church on Sunday, a complaint about tree removal in Stanton Place, a concern about Jordan Lake water quality, a request for help in locating Hopewell Academy, and a request for a town zoo.
Next Week
Next week will be another busy week for me. Highlights include a taping of Cary Matters, presenting the State of the Town to the Chamber's Eye Opening breakfast, and a council meeting.
Well that is all for this week. My next post will be on Sunday, January 30th. Please feel free to email me with a comment.
■Personal comments please send to augustanat@mindspring.com.
■All Town of Cary business – please email me at Harold.Weinbrecht@townofcary.org
Harold Weinbrecht
https://carycitizenarchive.com/wp-content/uploads/2020/03/cc-archive-logo-450-v3.png
Harold Weinbrecht
2011-01-24 17:32:17
2016-01-09 11:46:56
Harold's Blog: Schools, Roads, a $1000 Check and a Town Zoo?