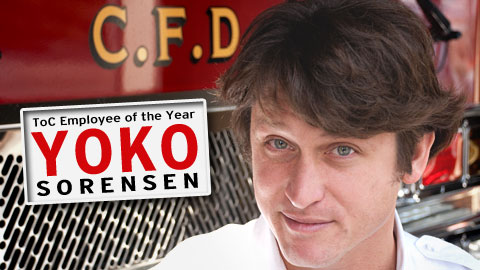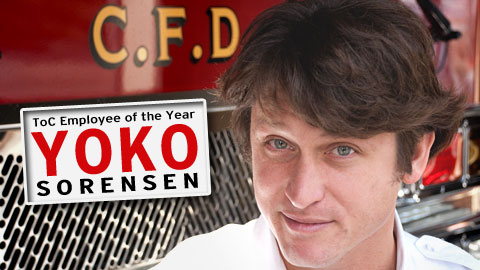 Story by Kathleen Peden. Photo by Hal Goodtree.
Cary, NC – Fire Station #2 is located on SE Maynard Road. This week, I went there to meet with Yoko Sorensen, Fire Department Captain and Town of Cary Employee of the Year.
Unlikely Fireman? Not Really.
So how did Yoko go from a Pre-Med/English Literature college graduate to a firefighter and 11 years later earn this prestigious award?
Judging from his credentials, he never should have been hired as a firefighter. You see, consideration is only supposed to go to candidates who have prior fire or military experience, yet Yoko had neither.
Minutes into our interview it was clear why Mr. Sorensen was chosen not just for the firefighting position but also Town Employee of the Year. He is dedicated, passionate, and driven. Above all else, it was evident that he is committed to excellence in serving our community and his fellow fire fighters.
Yoko was nominated out of more than 1200 employees for the Town Employee of the Year.
Beyond Fires
In addition to his duties as a Fire Captain, Yoko mentioned cooking as well as woodworking. To give you an idea of the type of project Yoko undertakes, right now he is working on devising a racking system to house the 20 different uniforms each firefighter needs to have readily available to jump into when a 911 call is received.
Most devices to handle such equipment are very expensive but not in Cary's current budget. So he is making a material list of necessary items to solicit donations. With his charm, passion, and resourcefulness, there is no doubt in my mind his fellow firefighters will have what they need in no time.
How many of you could get dressed and out the door in 60 seconds or less even if your clothes were organized? Count me out. With 20 outfits to choose from? You've got to be kidding.
International Accreditation
In 1999, Cary was the 2nd fire department in North Carolina to earn national Accreditation and 17th in the nation. One of the requirements is the fire fighters must arrive at their destination in 5 minutes or less, 90% of the time.
With 7000 calls per year, that's impressive teamwork.
Teacher
Cary's Fire Department understands the importance individuality of tapping the best talents of each person. With Yoko – it's "teaching". With first hand knowledge of the dangers associated with his job, Yoko takes educating his fellow fire fighters very, very seriously. He wants to grab their attention and make his lessons stick. Not an easy job to do. Yoko is intent on helping provide answers for any disaster. They never know what any day might bring.
Congrats
Congratulations to Captain Yoko Sorensen, a most interesting person and an asset to the Cary community.
https://carycitizenarchive.com/wp-content/uploads/2011/01/yoko-sorenson-21.jpg
270
480
Community Contributor
https://carycitizenarchive.com/wp-content/uploads/2020/03/cc-archive-logo-450-v3.png
Community Contributor
2011-01-23 19:04:51
2013-11-05 16:26:53
Profile: Yoko Sorensen - Town Employee of the Year 2010