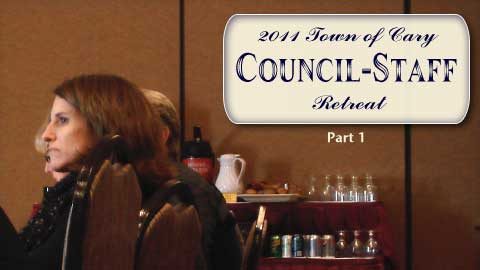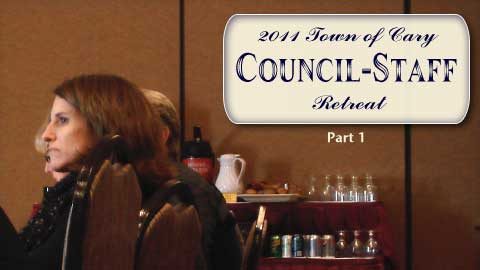 Story and photos by Brent Miller
January 14, 2011 CARY, NC – Embassy Suites in Cary was the host for he two-day Cary Town Council/Staff retreat, an annual meeting that enables Cary's elected officials and senior staff to discuss vision, strategy and hot topics in an informal setting.
Two topics were addressed in today's session:
Achieving a remarkable community
Transportation improvement process and funding
After opening remarks from Town Manager Ben Shivar, in which he noted that Town Staff has placed a special emphasis on capturing Council's intent from this retreat, facilitator Roger Henderson reviewed some brief ground rules ("stay on task; cell phones on silent please!").
Remarkable

Lana Hygh, Assistant to the Town Manager, led a presentation and discussion about remarkable communities that included perspectives on what makes something remarkable (if everything is remarkable, is anything remarkable?) and an "inspiration" slide show that depicted remarkable entities of all sorts, from all over the world.
Council members then brainstormed about remarkable things, noting their ideas on 3×5 cards that were then posted on "the purple wall" and categorized. That led to a distillation of characteristics of remarkable aspects of a community:
Provokes conversation
Inspires pride
Memorable
Consistent with the community
People want to return
Reflects past and/or future
Timeless
Evokes emotion
Original, not a copy
Mayor Harold Weinbrecht noted that "Remarkable is a high bar – truly remarkable things are the ones that make me say 'Wow!'" District A Council member Jennifer Robinson added that "details make people take notice". District D representative Gale Adcock stated that "extraordinary craftsmanship leads to remarkable things" while At-large Council member Erv Portman observed that "you need extraordinary leadership before you get extraordinary craftsmanship".
The exercise led to a summary of what makes Cary remarkable today and will make it more so in the future:
Extraordinary leadership
Easy living with conveniences
Setting the bar high
Evoking emotion
Craftsmanship
Buildings that evoke history
Breakthrough service
Memorable and inspiring places
Experiences
Neat and clean: manicured, maintained, uncluttered
Vibrant social opportunities
Opportunities for interaction with nature
Strong sense of community
The "remarkable Cary" session concluded with Council identifying these action items:
1.     Fix Carpenter Fire Station Road
2.     Improve/build particular roads to meet desired standards
3.     Higher standards for development that proposes changes to comprehensive plans
4.     Continuous, grade-separated greenway system throughout town
5.     Integrate transit better into the community
6.     Tie Cary into the regional light rail transportation system
7.     Expand the SPRUCE program; involve businesses and the community
8.     Improve aesthetic standards for road projects (medians, plantings, materials)
9.     Identify existing and future intersections where alternatives such as roundabouts could improve traffic flow and eliminate signals
10.  Architectural and design guidelines for new residential development
11.  Improve the appearance of existing, older construction
12.  Encourage community sustainability, protect natural resources
13.  Encourage/establish community gardens
14.  Incorporate features and amenities for the senior population in existing parks
15.  Assess the needs of the aging community to provide future services
16.  Identify innovative, cost-effective energy-saving projects for town government and residents
17.  Use all available technology to provide remarkable customer service interface to citizens
18.  Create many gathering places and spaces for informal/regular events and social interaction throughout town
19.  Encourage a vibrant downtown (Council will address this topic in detail during the second day of the retreat)
20.  Identify ways to preserve existing trees and add new trees
Council then established an initial priority for these actions by using "remote control clickers" to perform an instant straw poll. Town Staff will study these ideas and bring more detailed plans back to Council for formal action In the future.
District C Council member Jack Smith noted that it is good to assemble these ideas for consideration, but reminded Council and Staff that there are associated costs and potential "unintended consequences", even for good ideas and good decisions.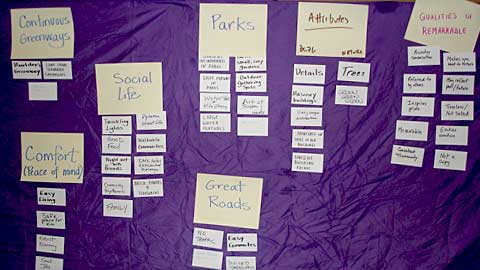 Transportation
Engineering Director Tim Bailey kicked off the second topic of the retreat by reviewing Cary's Transportation Development Fee (TDF; also called impact fee), which is paid by developers when building permits are issued, based on the cost of each building's impact to the thoroughfare street network; the Adequate Public Facilities (APF) ordinance, which requires traffic studies for significant new developments and road or intersection improvements to maintain at least a 'D' level of service for traffic flow, as defined by Cary's ordinances; and the Comprehensive Transportation Plan (CTP), which (among other things) requires widening the portion of a road along the frontage of new development.
Mr. Bailey then summarized the results of a developer survey about Cary's development ordinances and requirements, in which developers identified street improvements, stormwater regulations and Cary's Land Development Ordinance requirements as the three most difficult aspects of performing new development in Cary.
Guest speaker Karen E. Seggerman, from the Center for Urban Transportation Research in Tampa, Florida, shared Florida's experience in transportation concurrency, a growth management concept intended to ensure that the necessary public facilities are available concurrently with the impacts of development. She discussed pros, cons and consequences of various approaches to this goal as applied over the last 25 years in Florida.
Guest speaker Richard Drucker, from the University of North Carolina School of Government, reviewed the legal framework in North Carolina regarding adequate public facilities ordinances and impact fees.
Based on all of this information, Council held a discussion about the future direction of transportation improvements in Cary and the associated funding mechanisms. Each council member listed his or her pros and cons associated with Cary's APF, TDF and CTP (described earlier). These included concerns about roads being improved in piecemeal fashion, leaving gaps; the complexity of the ordinances; and the observation that effective transportation improvements need to be considered on a regional basis, not solely within Cary.
Council also discussed the current level of transportation impact fees; some members felt that fees were about right overall, although some advocated for lower impact fees in downtown Cary. Several council members advocated for simpler, more equitable transportation funding rather than continuing adjustments to existing impact fees.
The final discussion had Council and Staff members share ideas for possible changes to transportation improvement and funding. These included Mayor Pro Tem Julie Robison's suggestion to have multi-modal planning and impact fees; Jennifer Robinson's recommendation, echoed by Erv Portman, to prioritize road projects and have the Town build the infrastructure and be reimbursed by developers. Tim Bailey noted that this approach assumes that development will occur in a timely fashion to pay back the town's investment in improving roads in advance. District B representative Don Frantz disagreed with this approach, preferring adjustments to the current system.
No clear consensus emerged about possible changes to transportation planning and funding. As with the action items from the first topic, Town Staff will study these ideas and bring proposals back to Council for consideration In the future.
The retreat continues tomorrow with the Council focusing on short-term actions for downtown Cary. The retreat is a public meeting that is open to the public. Observers can attend at the Embassy Suites hotel on Harrison Oaks Boulevard (near the intersection of N. Harrison Avenue and Weston Parkway); the meeting is scheduled on Saturday from 8:30 a.m. – 4:00 p.m.
https://carycitizenarchive.com/wp-content/uploads/2011/01/cary-council-staff-retreat-1b.jpg
270
480
Brent Miller
https://carycitizenarchive.com/wp-content/uploads/2020/03/cc-archive-logo-450-v3.png
Brent Miller
2011-01-18 15:52:39
2012-01-15 13:19:31
Council Staff Retreat, Part 1