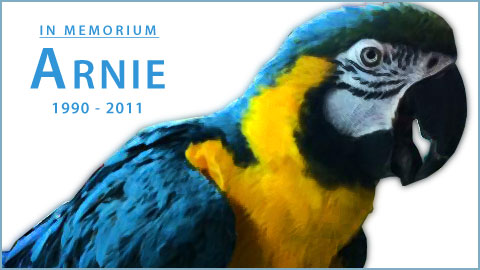 Story & photo by Anora McGaha
Cary, NC – Today, February 18, 2011, my eye caught notice of the bunch of blue feathers I have hanging on a doorknob that I had gathered from Arnie over the 7 years I had been visiting him at The Pet Pad in Cary. Beautiful long blue feathers of many hues. I felt the warm feeling of appreciation for the sweet relationship we had. I wasn't the only one.
Many many people visited Arnie. But I was among the few he would let pet him, a right I had precariously earned. Some of the staff had called me his girlfriend, because he would liven up when he saw me, even when he had been in a bad mood. He loved it when I rubbed his head and helped preen the feathers he couldn't reach.
So I thought to stop by and visit him at store, where's he's been for about twenty years. I parked my car as I usually do, in front of the Hallmark Store and walked across the parking lot, down the sidewalk, opened the two Pet Pad doors, and quickly scanned the back of the room, to the white perch that was made for him. He wasn't there. Only rarely is he not there. Only when one of the staff has him on their shoulders. Rarely. I looked about the store as I walked towards his perch.
There was a sign. Small letters I couldn't read. I wondered what it would say. Was he sick? Was he temporarily away?
When I got close enough to read, I could not believe my eyes. This species of bird is known to live towards a hundred years old, but the sign said he had passed away. Just three days before, on February 15, 2011.
Here is what the sign says:
It is with Great Sadness that We Announce the Passing of our Blue & Gold Macaw "Arnie"

Arnie was hatched May 17, 1990 from a breeder in Fayetteville, NC. He was a gift from our father who named him after his favorite golfer Arnold Palmer. He was still a hand-feeding baby when he joined our family in Sept. 1990 as the store mascot.

We want to thank everyone who came to visit Arnie. He was a happy and out-going macaw who loved being the center of attention and truly enjoyed all the people who came in to see him.

Arnie gave us 20 years of love and fun and we will miss him very much. –Brad & Gina
He was so young! This was completely unexpected.
I loved Arnie. When I first moved to Cary in 2003, I didn't know many people, and when I discovered him at The Pet Pad I used to come by almost every day after work, to relax and enjoy petting him and talking to him. It took a while to earn his trust, and I did get nipped a few times early on.
He literally recognized me from across the room when I came in the store. He almost always would walk over to his round perch to where I was standing and begin his ways of connecting. Sometimes dancing. Sometimes bending over in a deep bow like gesture. Sometimes turning around and scratching his head, signaling, so it seemed, that he'd like his head scratched. Sometimes I visited for over an hour. Other times I had to leave because other guests wanted to talk to Arnie, and he would be nasty to other people when I was there – as if shooing them away to keep me for himself.
I am opposed to having wild animals as pets, very opposed to it, and knowing that hundreds and thousands of captive "pet" birds are abandoned and neglected I can not support those who breed and sell birds. But, I have befriended three macaws in stores in the last 15 years. Skiddles a Harlequin Macaw, and an unnamed Severe Macaw, and Arnie.These birds have relationships, recognize people, like some people and dislike others. The depth of their relationships is profound.
I am saddened that Arnie will never again greet me dancing back and forth and putting out his foot to step into my hands. Saddened that I won't be able to scratch his head and watch him close his eyes and make gentle sounds of appreciation. Very sad to know his time has come.
I do know that many many local people will slowly find out that the big bird they've admired, and sometimes feared, at The Pet Pad has passed away, and will feel the loss. When a pet store mascot dies, when he's a local celebrity called "Arnie", should there be an obit? A memorial service? Any kind of town-wide announcement to let everyone know? What do you think?
Community Contributor
https://carycitizenarchive.com/wp-content/uploads/2020/03/cc-archive-logo-450-v3.png
Community Contributor
2011-02-19 14:51:23
2019-12-07 16:59:25
Arnie: A Bird Who Touched Human Hearts