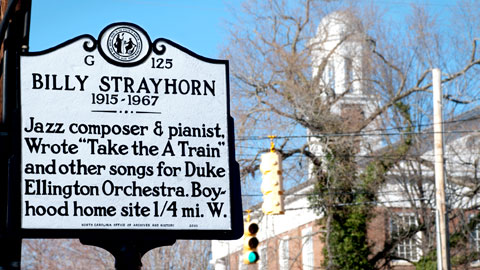 Story and photos of Hillsborough by Hal Goodtree.
Cary, NC – I've been pondering what to write for Black History Month. Yesterday, on a trip to nearby Hillsborough, I discovered a small hole in the fabric of black history. It concerned Billy Strayhorn, composer and arranger for jazz great Duke Ellington.
The Plaque
The light was clear and strong on Saturday and I'd decided to spend a couple of hours photographing Hillsborough, one of North Carolina's great Revolutionary War towns. Every other house on King St. and Margaret St. seemed to have a sign saying it was from 1750 or some other incredibly remote date.
It's a town with a diverse history, but most of plaques and tributes are to 18th century white guys. That's why I was surprised to run across a plaque to Strayhorn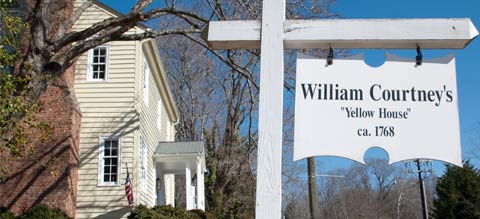 .
The Hole in History
In photographing the town (I took 177 pictures), I had forgotten all about the plaque for Strayhorn. But looking at the pictures Sunday morning, I began to wonder. Being a champion time-waster, I started Googling Strayhorn.
I've always loved his music. Billy Strayhorn wrote some of Ellington's greatest songs including Take The A Train. A Train was the anthem of the Harlem Renaissance, a time of exuberance and optimism.

– from PBS Independent Lens: Billy Strayhorn
Strayhorn's life after he begins collaborating with Ellington in January of 1939 is pretty well-documented. The historical hole is in his early life, and it concerns Hillsborough.
Hillsborough and Strayhorn
The information on Billy Strayhorn is out there, but it's not collected in one place (at least on the web). He was born in Dayton, Ohio in 1915 and spent much of his childhood in Pittsburgh, PA. PBS mentions his grandmother in North Carolina. Wikipedia mentions his grandmother and spending "many months of his life" in the small town above the Eno River.
So why the plaque?
Piecing together information from many sources, it turns out Hillsborough played an important part in Strayhorn's early musical life. BillyStrayhorn.com says this:
The history, of the family of William Thomas Strayhorn (his mother called him "Bill") goes back over a hundred years in Hillsborough.

One set of great grandparents, Mr. and Mrs. George Craig, lived behind the present Farmer's Exchange. A great grand-mother was the cook for Robert E. Lee.

His mother, Lillian Young Strayhorn, brought her children to Hillsborough often. Billy was attracted to the piano that his grandmother, Elizabeth Craig Strayhorn owned. He played it from the moment he was tall enough to reach the keys. Even in those early years, when he played, his family would gather to listen and sing.

– BillyStrayhorn.com, Biography
Independent Lens sheds a different light on Strayhorn's visits to Hillsborough:
As a child, he was shielded from an abusive father by his mother, Lillian, who bought him books and sheet music from her earnings as a domestic. Lillian also sent her gifted son for extended visits to North Carolina, where his grandmother taught him to play piano.

Strayhorn and Ellington
Strayhorn trained as a classical musician, but turned to jazz when he encountered the wall of an all-white classical music world. Jazz great Art Tatum is reported to have been instrumental in opening Strayhorn's eyes and ears to the possibilities of jazz.
On December 2, 1938, Strayhorn met Ellington backstage after a show at the Stanley Theater. Strayhorn is said to have first told, then showed Ellington how he would have arranged a particular tune. Ellington was impressed with the 23 year old musician. BillyStrayhorn.com picks up the story:
January 23, 1939 – Strayhorn visits Ellington at the Adams Theater in Newark, New Jersey and accepts Ellington's offer to serve as Ellington's collaborator. Shortly after this, Strayhorn moves from Pittsburgh into Ellington's home at 409 Edgecombe Avenue in Harlem's Sugar Hill District.
Strayhorn brought a classic edge to jazz music, introducing both a tighter structure and a more advanced concept of chord movement. His compositions also have a great melodic line, like Satin Doll, Lush Life and Day-Dream.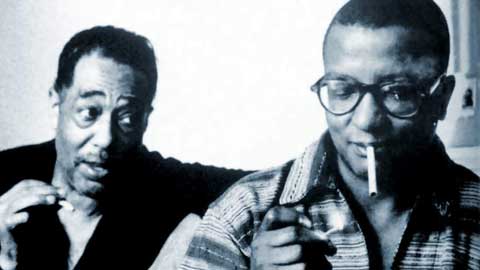 Gay, Black and Proud
Strayhorn's sexuality was no secret to his friends (Mercer Ellington, Duke's son, is said to have introduced Strayhorn to his first partner, musician Aaron Bridgers), but many websites omit any mention of it.
Strayhorn was a private man. He spent many years in Ellington's shadow, often uncredited for his work. He rarely appeared with the band, working behind the scenes. Ellington is said to have quipped "Strayhorn does a lot of the work but I get to take the bows!"
Eventually, Strayhorn struck out on his own. He helped develop jazz greats Johnny Hodges and Lena Horne. Strayhorn was linked romantically to Horne, including the apocryphal tale that he died in her arms (she was in Europe). According to Wikipedia, Strayhorn actually died in the company of his companion Bill Grant.
Strayhorn was also known as a long-time civil-rights activist and friend of Dr. Martin Luther King.
Billy Strayhorn and History
Yes, Hillsborough has a piece of the Billy Strayhorn story. It connects to a broader thread of the town as a haven of diversity and arts over many decades and generations and through many kinds of times.
And, it's just a short drive from Cary. Go for a visit.
Happy Black History Month to everyone!
"The Intimacy of the Blues" from "…And His Mother Called Him Bill," Duke Ellington, 1967, composition by Billy Strayhorn.
Hal Goodtree
https://carycitizenarchive.com/wp-content/uploads/2020/03/cc-archive-logo-450-v3.png
Hal Goodtree
2011-02-27 14:21:56
2019-12-07 13:05:59
Black History Month: Billy Strayhorn of Hillsborough, NC