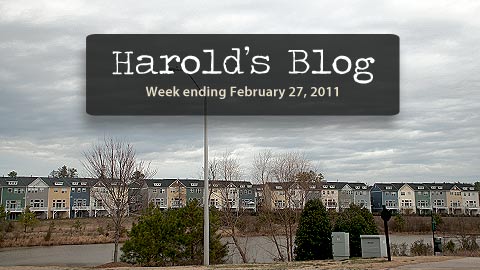 From the blog of Cary Mayor Harold Weinbrecht, covering the week through February 27, 2011. Photo by Hal Goodtree.

This was a week of recovery from the flu and getting back on track.
Monday I was supposed to present our legislative agenda to the Wake County delegation. Unfortunately, the flu had the best of me and so the legislative agenda was presented by council member Erv Portman.
Later Monday I missed the monthly meeting of the mayors association. The only action that seemed to come out of that meeting was a request that each mayor individually issue a proclamation on Fair Housing. This proclamation for April marks the 42nd anniversary of the Federal Fair Housing Act of 1968 and the 27th anniversary of the North Carolina Fair Housing Act. Both laws prohibit discrimination in housing because of race, color, sex, religion, national origin, handicap and familial status.
Cell Towers Going Stealth?
Tuesday afternoon I was still feverish and contagious so I participated in the council work session via phone. The work session was a discussion on cell towers, options, future demand, and possible changes in ordinances. Council asked for information regarding a potential cell town master plan.
One of the biggest issues with cell towers is the appearance which draws a lot of neighborhood opposition. At the same time residents are demanding more and more technology requiring more cell towers and bandwidth. Some of the information presented addressed the appearance problem with "stealth" technology. Some included telecommunication equipment on streetlights, power poles, stadium lights, clock towers, etc.
Of course, Cary was one of the pioneering communities in stealth technology with the telecommunications "pine tree" on Harrison next to I-40. Of course it looks MUCH better than it did several years ago.
Parks & Rec Volunteer Banquet
Later Tuesday I was supposed to give remarks to 400 volunteers at the annual Parks, Recreation, and Cultural Resources volunteer banquet. Since I was still sick, council member Frantz delivered my comments. Here is an excerpt:
"…Volunteers are so valuable across all programs and projects of this Department. From our youth sports, which are totally staffed with volunteer coaches, to the many events offered by the Town of Cary, to monitoring Cary's extensive Greenway System, these activities are supported by seasoned volunteers.

Eight citizen advisory boards/committees work closely with staff in planning and budgeting, reviewing national benchmarks…..all of these seat approximately 80 volunteers.  Both our teens and our seniors are forces to reckon with; they present their agendas and accomplish goals and still find the time to volunteer at events!

Even though our theme is "There are no words to describe", I have come up with a list of words that I think embody what our volunteers are:  community leaders; eager; creative; challenging; committed; spirited and the list goes on.

I want to thank each of the approximately 400 volunteers here tonight for the variety of work you do with pride, dedication and professionalism."
Back to Business
Wednesday I started easing back into things. I made calls to council members about questions or concerns they may have about Thursday's council meeting agenda. I was able to contact all council members except Smith and Robison.
Later Wednesday I met with staff to go over the agenda. The only two issues brought up by council members were moving forward with Cary Park and the proposal for apartments in Weston.
After the agenda meeting I taped the March episode of Cary Matters with Julie Robison. The main topic was on public records and open meetings law. Our session lasted about an hour.
Cary Park
Wednesday night I made my first public appearance in a few days at the Cary Park Homeowner Association meeting at Panther Creek High School.
I was met by several residents from outside Cary Park who wanted to attend the meeting. I had to explain that it wasn't the town's meeting but I would ask that they be allowed to attend which I did and was denied by the property manager.
I was next interviewed by ABC11. Since there wasn't much new information from our last community meeting on Saturday, it was a quick interview and I don't think they showed any of it.
The meeting itself was very structured and only allowed a handful of questions from the audience. I was again joined by the police chief, the district captain, the town manager, council member Robinson, Mayor Pro-Tem Robison, and several other staff and officers.
We all stayed around and answered questions after the meeting. Once again the focus of the comments seemed to be on the Grove apartments. It is my understanding that the Grove is preparing to join project Phoenix which would require them to have a zero tolerance on crime among other things.
Council Meeting
Thursday the council met in regular session for our second council meeting of February. The meeting was fairly straight forward with little discussion.
One interesting and unusual action was that council decided not to send a staff initiated proposal to change the Comprehensive Plan Amendment to the Planning and Zoning Board. This proposal was initiated because of another proposal to create an activity center. To avoid creating a gap in the proposed activity center the staff proposed the additional change.
The problem occurred because the property owners were not interested. So council voted it down. The other proposal is now in question and it will be interesting to see what the applicant does since council doesn't seem to be interested in creating an activity center with the two proposals.
Other items included the approval of $70,000 towards a police substation at the Cary Park Town Center Shopping Center. The council also approved the apartment complex proposal in the Weston Office Park.
Cary Mailbag

Items of interest from staff included in email this week: the Chatham County Commissioners have agreed to allow Cary to have an effluent line from the new wastewater plant; a hostage from the Cary Park bank robbery has filed a complaint against the town; and Bowden has changed his sign and says he now has lung cancer. My prayers and best wishes go out to Mr. Bowden as he begins his journey against this horrible cancer.
Emails from citizens this week include several related to the apartments proposed for Cary Parkway and Tryon, several related to Cary Park, a few on the Motiva expansion in Apex, and a few asking us to keep fighting the Bowden case. I also received a few best wishes as I recovered from the flu. I REALLY appreciated that. That is one of the reasons Cary is such a great place, the caring and loving people.
Next week's highlights include a Cary Youth Leadership talk, reading at Kingswood Elementary, and a talk at the Heart of Cary Association.
Well that is all for this week. My next post will be on Sunday, March 6th. Please feel free to email me with a comment. Email all Town of Cary questions or comments to Harold.Weinbrecht@townofcary.org. Email personal comments to augustanat@mindspring.com.
Harold Weinbrecht
https://carycitizenarchive.com/wp-content/uploads/2020/03/cc-archive-logo-450-v3.png
Harold Weinbrecht
2011-02-28 13:31:15
2016-01-09 11:46:57
Harold's Blog: How to Hide a Cell Tower, Cary Park and More