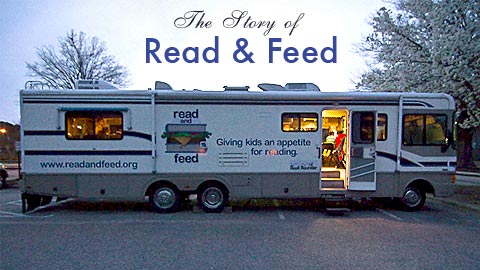 Story by Mary Beth Phillips. Photos by Brooke Meyer.
Cary, NC – Several years ago, Jan Elmo was volunteering as a tutor at Northwoods Elementary when she had an epiphany that every child does not have the opportunity to develop a love of reading.
In October of 2007, after spending  months researching what she could do about the problem, Elmo quit her corporate job and purchased an RV Van to start Read and Feed at Penny Road Elementary in Cary.
Books and Pizza
In the Spring of 2008, she worked with her first group from Northwoods.  Last Monday, Elmo and other volunteers including youth from the Cary Teen Council, arrived back at Northwoods with an RV full of books and pizza, and organized the eighth 12-week session at Northwoods for two dozen children.
They will continue to meet with these same children for 12 weeks during two different evening sessions.  The program that began in Cary just a few years ago has expanded to serve approximately 50 children a night five days a week, or about 250 children each week in two RV vans, with additional sessions held in Communities in Schools and in an area church.  The RVs also visit Raleigh, Apex, Garner, Fuquay-Varina and Holly Springs.
In the future, Elmo envisions a fleet of RVs, serving hundreds, or even thousands, of children.
This Week at Read and Feed
On Monday, there was a bustle and flurry as parents, mostly on foot from a neighboring apartment complex, dropped off their children.  Inside, children gathered around the two tables, sitting on comfortable chairs and couches and talking quietly among themselves.  Several were old hands, having attended other 12-week sessions, but others were new and tentative about the expectations.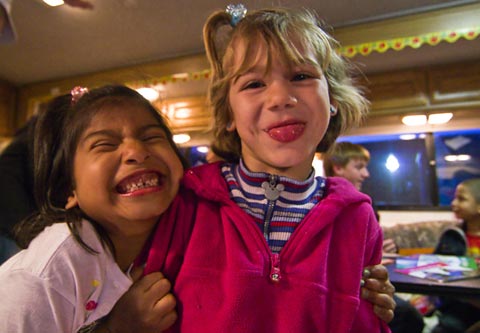 Volunteers greeted them warmly and handed out all the pizza they could eat.  Later, each child would read to a volunteer to determine their reading level and a program directed at their needs for the rest of the sessions.  They were all ages, from first through fifth grades, and many different races and nationalities.
"The kids are all excited about it, even though they've gone to school all day," said Jay Franz of Cary, retiree and long-time Read and Feed volunteer.  "They look forward to it because they are hanging out with some people who care about them, and care about reading, and enjoy reading."
Antonia Beh, teacher of English as a Second Language at Northwoods and liaison for the program, chooses children who don't have someone at home who can read to them.
"These parents are doing all they can with their abilities," she said. "They might be working two jobs, they might speak English as a second language, they just might be too busy."  She appreciates the opportunity to expose the children to books, and "the rich background of literature all around them" in the RV.
Bringing Books Home
At each session, the children are given books of their own to take home.  They also get a textbook, which they bring back each week.  They are excited to have their own books. One parent said that prior to Read and Feed the only book they had at their house was a Bible.
In fact, when Elmo started the program, she took it for granted that these children would have the same resources that her own children had.  After starting a coloring project with a young girl and running out of time, she asked her to finish it at home.
"But I don't have any crayons," the young girl replied.  So today, each child also gets a tote bag full of goodies, including pencils, pens, crayons, a ruler and gluesticks.
Individual Attention
But most of all, they get that one-on-one attention.
"We encourage them, we give them praise, we just give them help," Franz said.  "We're not perfect, but they seem to enjoy it.  Children never hide their emotions, they are right there.  You know they are really happy.  Nobody loses." The gentle support is borne out by improvements in their schoolwork.  "The proof is in the pudding that the teachers and principals see it," Franz said.  "They have improvement in how they do in all their subjects, just because someone is giving them attention."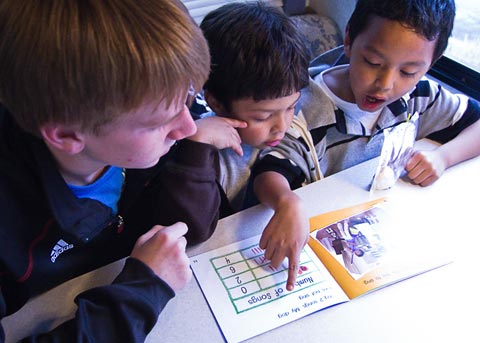 Cary Teen Council
It seems that the Teen Council is everywhere, doesn't it?  Members of the Cary Teen Council enjoy volunteering for Read and Feed.  They are responsible for a certain number of volunteer hours during the course of the year, but many said they preferred to volunteer for  Read and Feed because of the reward of working with the children.
Elmo is grateful for their support.  One of the limitations of the program is the number of volunteers.  Because of the size of the RV, her goal is one volunteer per two children.  And there are plenty of other volunteer jobs available besides working with children, including picking up the meal each night, sorting books, filling up tote bags with supplies, and driving the RV.
Can I Take One Home For My Mom?
Initially, after Elmo realized that many of the children were hungry, she began making her own "sloppy joes" for them.  Today, she has an agreement with Interfaith Food shuttle to provide most of the meals.
"A lot of times that might be one of the few good meals that they have in the evening all week," Franz said.  "You can always tell because we never throw any away, and we always have children and families asking if you have any extra food can we take it home this week.  We give them snacks at the end of the session as well, and they are always asking, very respectfully, if they can take one for my brother, my little sister, my mom."
Donations are also always welcome, particularly gently-used or new books, gas cards, or school supplies.  Franz spends some of his time in dollar stores picking out reading prizes for the children.  He also spends a lot of time working with the children at sites all over Wake County.
"I have the opportunity to put footprints on a child's heart," he said. "Just seeing the light in a child's eyes is more than enough pay.  The pay is so much better than what most people get at their regular job."
For more info contact Read and Feed through email: janelmo@readandfeed.org or agriffin@readandfeed.org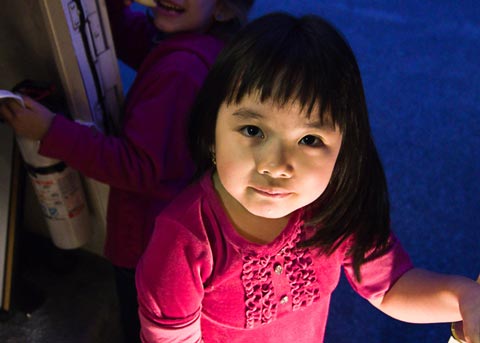 Community Contributor
https://carycitizenarchive.com/wp-content/uploads/2020/03/cc-archive-logo-450-v3.png
Community Contributor
2011-03-10 16:00:42
2015-12-29 22:58:47
The Story of Read and Feed