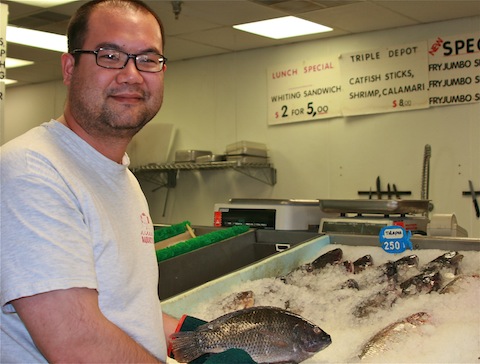 Story and photos by Leslie Huffman
Cary, NC – I am a fish out of water when knowing how to choose fresh seafood from the store. Unless you caught the fish yourself, it can be difficult to tell exactly how fresh it is or where it came from.
Fresh North Carolina Seafood
The great thing is I don't have to learn to fish to feed my family fresh seafood straight from the North Carolina coast, I just have to pick it up from The Sea Depot. For over 30 years this Cary family-owned business has been connected with the local fisheries from up and down the North Carolina Coast.
Li-Ping Hsu's father owned and operated the Cary Seafood Market near Walnut Street and has been buying and shipping shrimp from the NC coast up north for years. Five years ago Li-Ping, who has grown up in Cary, stayed in the family business and opened The Sea Depot on East Chatham Street.
You can be sure that the fish you find here is fresh caught. Li-Ping travels out to the coast to pick up the seafood from the fishermen directly.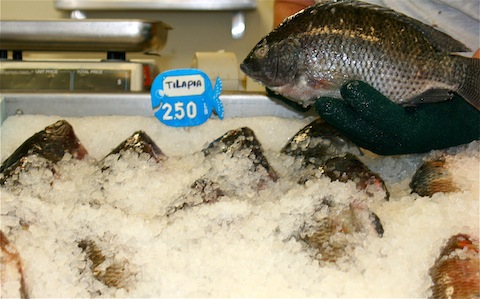 They carry almost every kind of fish in the sea. Fish is displayed on ice with scales, heads and tails intact. Pick your fish and with lightening speed they will clean, fillet and wrap your choice ready to take home.
My family and I eat a lot of fish. Fish is a great source of protein and contains omega-3 fatty acids that will reduce cholesterol and is heart healthy. If you would like to eat more fish but not sure how to cook it, just give Li-Ping a call.

Buy It and Fry It
They have a saying at The Sea Depot, "You buy, we fry". They don't just clean your fish, they will even fry it for you too. They cook to order so you can be sure your fish is not hanging out under a heat lamp.
They hand bread the fish Calabash style, using breading from local Atkinson's Mill in Johnston County. Just pick your choice of either regular or Cajun seasoned breading.
The day I visited The Sea Depot, I bought some tilapia that I planned to saute with tomatoes, basil and olives. I was very happy at the great price I received and I don't plan to buy my fish at the supermarket anymore.
There may be plenty of fish in the sea, but there is only one Sea Depot and it's right here in Cary.
The Sea Depot
750-G East Chatham Street
Cary, NC
(919) 469-8889
Leslie Huffman
https://carycitizenarchive.com/wp-content/uploads/2020/03/cc-archive-logo-450-v3.png
Leslie Huffman
2011-03-13 18:00:23
2015-12-29 22:54:35
Go Local: I'm Hooked on the Sea Depot