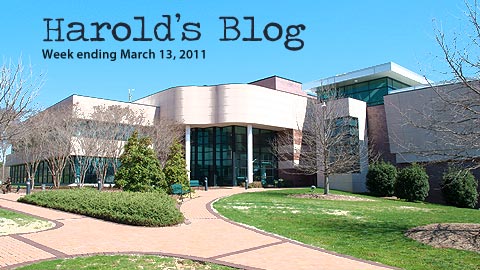 From the blog of Cary Mayor Harold Weinbrecht, covering the week through March 13, 2011. Photo by Hal Goodtree.

This week was much slower than previous weeks, which is exactly what the doctor ordered as I slowly got back into the swing of things following my bout with the nasty stomach bug.
Monday I attempted to call council members for their concerns and questions about the agenda for Thursday's regularly scheduled council meeting. Since there were really only two items under discussion, council members did not have much to say.
Monday afternoon I met with staff to go over the agenda. We talked for a few minutes about the second discussion item which was a proposal to change the standard sidewalk width on Walnut Street from five feet to four feet to address the concerns of one of the residents that lives along Walnut.
After the agenda meeting with staff I met with the town attorney to go over a few items. We talked about the quasi-judicial process and potential changes to that process. Our other items of discussion have to remain confidential.
Morrisville-Cary Health Event Connection
Monday night I met with Morrisville Mayor Holcombe and two of the organizers of a free health fair in June for Morrisville and Cary residents. They are interested in promoting the event in Cary and Morrisville. We brainstormed on several ways to get the word out.
In case you are wondering, Cary policy prevents using town resources for non-profits. Why? Because if you provide resources for one you have to provide resources for all. Some of the non-profits can be very undesirable such as the KKK.
Cary Biz
Tuesday I had my weekly meeting with the town manager. Most of our discussion centered on intergovernmental issues.
Wednesday was supposed to be a rescheduled meeting with Senator Atwater and Representative Hackney from Chatham County. Since they are in session it is always a risk that they will be caught on the floor and unable to make commitments. Such was the case once again. Later in the week I received an email from Representative Hackney. We plan to hold a conference call with the town manager on Monday morning.
Cautiously Optimistic on Budget
Thursday started with a meeting of the Economic Development Governing Board. We met for a little over an hour. The Cary Chamber reported that they are within budget and will be looking to renew their contract with the town.
The economic climate in Cary remains cautiously optimistic. Our housing inventory dropped from a high of 12 months to 8 months while normal is around 3 to 4 months. Member activity within the chamber continues to pick up. However, new inquiries are down significantly which matches what other municipalities are seeing around the region.
The job situation continues to improve in the region but the region has a long way to go to get back to pre-recession levels. At a recent ULI seminar it was stated that this region would need to add 45,000 jobs in the next 5 years to get back to pre-recession levels. Recruitment to the area remains active as several companies are looking to expand and relocate to Cary.
One interesting startup company has developed a process that will eliminate airborne and surface bacteria. That could be HUGE. They are currently with the chamber and representatives from Senator Burr's office.
Town Council
Thursday night's council meeting lasted just over an hour. There were only two proposals approved by council.
The first was to allow ETJ (Extra Territorial Jurisdiction) members to be considered for the town's School of Government.
The second was to change the standard sidewalk width from 5 feet to 4 feet for the section of Walnut Street from Ralph Drive to Kildaire Farm Road. This change will require DOT approval.
We had a short closed session and adjourned in time for folks to catch some basketball on TV.
Sunshine Week – It's Really Nothing New
This week is national Sunshine Week which is celebrated year round in Cary. I read a proclamation at the meeting which speaks to the town's commitment to openness. Here is the proclamation:
RECOGNIZING MARCH 13-19, 2011, AS "SUNSHINE WEEK"

IN THE TOWN OF CARY

WHEREAS, "Sunshine Week" is a national initiative to open a dialogue about the importance of open government and freedom of information. Sunshine Week is a good public relations opportunity to empower citizens to play an active role in their government, which can make their lives better and our community stronger.

WHEREAS, an open and accessible government is vital to establishing and maintaining the people's trust and confidence in their government and in the government's ability to effectively serve its citizens. Officials and employees at the Town of Cary understand and support both the spirit and the letter of North Carolina's Sunshine Laws.

WHEREAS, two of the Town's Statement of Values reflect this strong commitment to maintaining a culture of openness and transparency:

Our organization exists to serve our citizens. We will be open, ensure access, encourage involvement and be accountable to our citizens.

We will be honest, ethical and diligent. Our actions will comply with local, state and federal laws.

WHEREAS, the Town of Cary commits during Sunshine Week and throughout the year to work diligently to enhance the public's access to government records and information, to ensure that all official meetings are fully noticed and open to the public and to proactively reach out to our public to learn how we can improve in this area.

WHEREAS, the Cary Town Council fully supports the Town's 2011 Sunshine Week activities, which include: expert led sessions for Town employees about the Sunshine Laws; roundtable discussions about record-keeping practices; non-traditional learning opportunities including interactive team activities and individual word games and quizzes for employees to test and expand their knowledge; and sessions with elected and appointed officials to ensure they understand the laws. In addition, the March episode of Cary Matters focuses on the State's Sunshine Laws and asks our citizens to let us know how we can serve them better. The Town has even paid for advertising in our local newspaper leading up to and during Sunshine Week to highlight the importance of open government.

NOW, THEREFORE, I, Harold Weinbrecht, Jr., Mayor of the Town of Cary, North Carolina, on behalf of the Cary Town Council, do hereby proclaim March 13-19, 2011 as Sunshine Week in the Town of Cary as an expression of support for this open government initiative that is consistent with the Town of Cary's culture and practices.

PROCLAIMED this 10th day of March, 2011.
Parenting
Friday night I attended the final performance of my daughter's Irish Dance career. It is hard to believe that the years of practices, performances, traveling to competitions, etc is over. As this portion of my/our lives transitions to the next I am so blessed to have a daughter like Cara. I am so proud of all her achievements inside and outside of school. Thank God for all the memories.
Mailbag
Emails this week included a suggestion about the naming of the Cary Cultural Arts Center, a suggestion about the town's Wayfinding project (town directional signs), a complaint about sidewalks, and a suggestion about cell towers.
Next week will be slow. It includes a conference call with Representative Hackney, a meeting at CAMPO, the Matt Cossa Memorial run, and the Tobacco Road Marathon.
Well that is all for this week. My next post will be on Sunday, March 20th. Please feel free to email me with a comment. Email all Town of Cary questions or comments to Harold.Weinbrecht@townofcary.org. Email personal comments to augustanat@mindspring.com.
Harold Weinbrecht
https://carycitizenarchive.com/wp-content/uploads/2020/03/cc-archive-logo-450-v3.png
Harold Weinbrecht
2011-03-15 09:00:09
2016-01-09 11:43:31
Harold's Blog: Let the Sun Shine