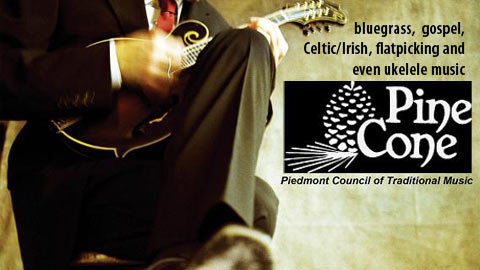 Cary, NC – North Carolina, and specifically the Piedmont, has a rich tradition in, well, traditional music.
Upon my arrival in the Piedmont some 17 years ago, I stumbled across The PineCone Blue Grass Show on 94.7 FM, which I listen to pretty religiously. Come by pretty much any Sunday before dinner and it's coming from my garage, especially when I'm smoking ribs or fish in the driveway. Neighbors make fun, but the homeowner's association hasn't stopped by yet.
Not Just Bluegrass
My assumption was that this was North Carolina traditional music. That's not the entire story, as I learned after spending time with William Lewis, Executive Director of the Piedmont Council of Traditional Music (a.k.a. "PineCone").
He told me, "Piedmont traditional music is bluegrass, gospel, Celtic/Irish, even ukelele music." I had to ask the obvious question. "The world comes through North Carolina. With the tremendous number of people we have had come through here serving in the military, we've had a large population of Hawaiians settling here after their tours of duty for generations." So there you have it. "Traditional music," he went on, "is grassroots-formed, organic and home-grown." Of course, music tradition is an evolutionary process, generating originally from somewhere else and changing over time. The Piedmont has been and is a center for this process.
William said that at different times in history, there's a resurgence of Piedmont music traditions, often brought about by current pop culture. Those of you that are old enough may remember the TV series – "The Beverly Hillbillies". That was my first introduction to bluegrass, by the way, and my first introduction to Flatt and Scruggs (bluegrass icons). Earl Scruggs popularized the "3 finger banjo roll" technique. And, P.S. – Earl Scruggs is from Shelby, N.C.!  Another resurgence of local music traditions, this time Celtic music, happened when "Riverdance" hit the stage. You get the idea.
Events
PineCone, a non-profit organization, organizes and gets sponsors for 150 events a year, and 30+ concerts – many here in Cary. And many that the CaryCitizen has covered.
"Everything we do is to tell the rich story of the diversity and heritage of our local music," William told us. "Cary has played a great part in this promotion, we owe gratitude to Lyman Collins (Cary Cultural Arts Manager) and Sarah Preston (Cary Performing Arts Coordinator). "
Flatpicking This Weekend
This weekend, there will be a Flatpicking Guitar Workshop with Tim May and Dan Miller – Saturday, April 2, 2011, 11 a.m. – 1 p.m., 3 p.m. – 6 p.m., with a concert at 7:30 p.m.
The events will be held at the Herb Young Community Center in Cary. To register or reserve tickets with credit card, contact Dan Miller at 800-413-8296 (Workshop Registration: $80 general public, $70 PineCone members; Concert Tickets: $15, or $10 for anyone who attends the workshop).
Tim May and Dan Miller are co-authors of the popular eight-volume Flatpicking Essentials Guitar Course. The focus of instruction will involve how to use efficient left and right hand technique to increase speed, improve note clarity and fluidity, and develop good tone. Each student will have the opportunity to spend individual time and get direct feedback from one of the instructors. Tim May is an accomplished guitar player, singer, and songwriter—and one of Nashville's acoustic guitar "go-to guys." Dan Miller has been the publisher and editor of Flatpicking Guitar Magazine since 1996. He has also co-authored a number of flatpicking books.
More About PineCone
PineCone was formed in 1984 and is considered the largest and most active traditional music organization in the state, with a reputation for presenting the very best in all the varied forms that make up traditional music.  Each year PineCone presents 125-150 events, with approximately 100 that are free to the public.
For more information and upcoming events, visit PineCone.org.
I don't think you'll ever get enough picking.
– Banjo Legend Earl Scruggs
Matt Young
https://carycitizenarchive.com/wp-content/uploads/2020/03/cc-archive-logo-450-v3.png
Matt Young
2011-03-31 11:40:24
2015-12-29 22:54:36
PineCone: North Carolina's Rich Musical Tradition