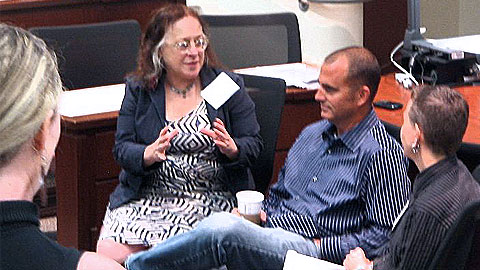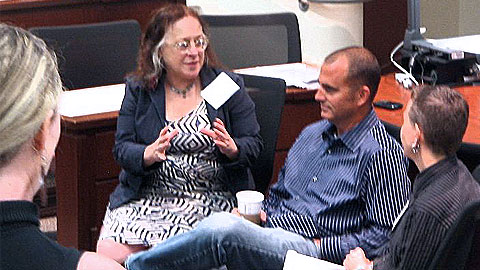 Story and photos by Lindsey Chester. L–>R Susan Mernit, Gerry Campbell and Barb Dybward, first panel at Knight Bootcamp.
Cary, NC – The lights seemed painfully bright at 4:45 am in Terminal 2 at RDU. The date was Sunday, May 15. I was headed to Los Angeles on a Knight Foundation journalism fellowship. News Entrepreneur Bootcamp at the University of Southern California was created by the Knight Digital Media Center to help publications like CaryCitizen become sustainable news organizations.
After the early morning transcontinental flight and a van ride from LAX to campus, I sat down to lunch with my fellow bootcampers. I felt like I'd already had a full day.
The Work
Our work included the perfection of our "elevator pitch", a one page media kit, a rate card, and the final product: a PowerPoint presentation that explains our business model.
The people in the group were very interested in CaryCitizen because our website is part of a growing breed of "alternative media".
We founded our website almost two years ago as a reaction to the reduced coverage and sensationalism of news at the local level. Our goal has been to provide a place where residents – or folks who might wish to relocate here – could find reliable information about our Cary community.
During the first three whirlwind days, I learned lots of valuable information about productivity tools, and new web sources to check out. I met other journalists working on projects similar to ours from Maryland, Florida, California, Ohio and West Virginia.
Projects
Other campers were engaging the community in other ways: Emilai Askeri is working to create a journalism game aimed at middle school curricula, Alan Gottlieb has a site that is a clearing house for education information in Colorado and Laura Amico tracks homicide information in Washington, D.C. All of us hope to scale up our projects and this camp helped us focus our energies.
Another benefit of the camp was the series of speakers that Vikki Porter, director of the Knight Digital Media Center, organized for the group each morning.
Barb Dybwad of Tecca spoke not only about her successful site, but also of productivity tools and networks of freelancers who keep their business on track. Tom O'Malia, a successful entrepreneur, presented how to prepare a profit and loss spreadsheet, and deal with financial and operational issues. It cleared up some of my questions about running a business.
A Typical Day in LA
Each morning there was a guest speaker who presented a topic pertinent to running a business.
After a short break, the next hour consisted of a panel of web journalists, to whom we could ask questions.
Every day at lunchtime we had the opportunity to arrange 30-minute appointments with that day's speakers. One day I met Julia Scott of BargainBabe.com who gave me excellent advice on sponsor-supported events and how to reach out to our audience.
Geoff Samek, of The Sacremento Press, employs a very user-friendly way to engage his community to contribute their own stories, and has implemented a "badge reward system" for good content.
Both Julia and Geoff were past participants of other KDMC Bootcamps.
The Final Project
I was nervous about giving my presentation on the final day. I have no great love of public speaking, but tried to speak from the heart about CaryCitizen.  I learned a lot in one short week and have made some valuable connections that will help guide us as we grow our CaryCitizen community.
For more info about what we experienced at camp check out Robert Niles' column from The Online Journalism Review (OJR).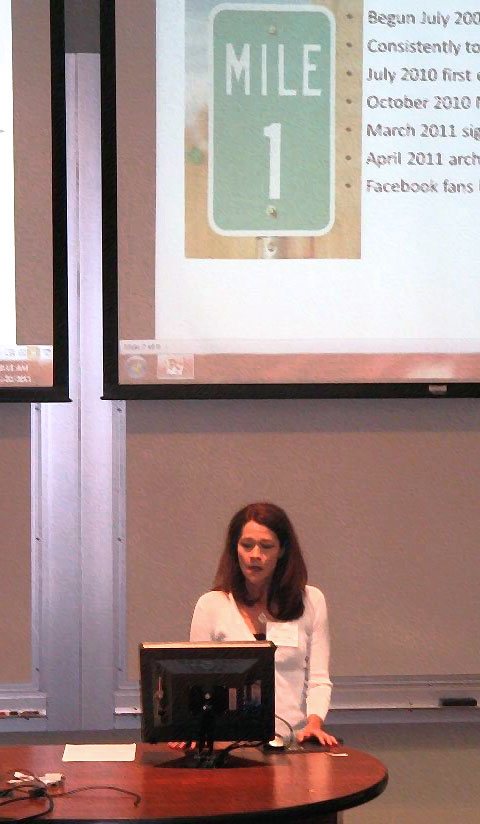 My presentation on the final day of Knight News Entrepreneur Bootcamp.
https://carycitizenarchive.com/wp-content/uploads/2011/05/kdmc-bootcamp-2011-2.jpg
270
480
Lindsey Chester
https://carycitizenarchive.com/wp-content/uploads/2020/03/cc-archive-logo-450-v3.png
Lindsey Chester
2011-06-01 15:38:17
2019-12-10 15:54:49
Inside Knight Foundation News Entrepreneur Bootcamp