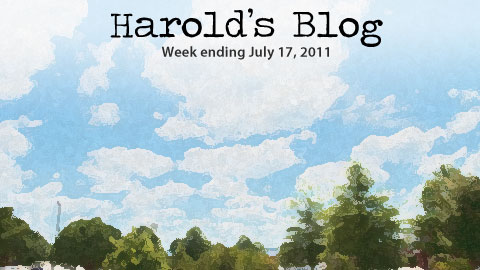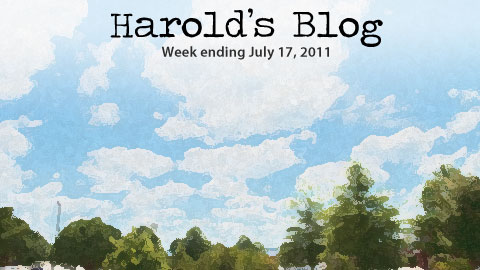 Cary, NC – From the blog of Cary Mayor Harold Weinbrecht, covering the week through July 17, 2011. Photo by Hal Goodtree.
This week included a council meeting as well as a resolution on the controversial potential ICE facility.
Parking, Sidewalks, Wellington Traffic
Monday I called all council members to ask if they had any questions or concerns about the agenda. I was able to contact all council members and discuss the agenda. There were no major issues or concerns. Later that day I met with directors, administration, and management to go over the agenda. There were a few things of interest that we discussed. On the consent agenda there was the recommendation of reverse angled parking on Waldo Street next to the Methodist church. This will be a first in Cary. I asked several questions about how it will function. Like the description says, it is angled parking that you back into. It will be interesting to see how this works especially if someone is tailgating you.
Another topic of discussion was a proposal to move a sidewalk for Louis Stephens Road to the top of the sidewalk list. One option has this sidewalk going to the top of the sidewalk list which may be problematic since it would take all sidewalk funding for one and a half years. It is probably best to have it put on the list and use existing prioritizing criteria to decide if it should jump in front of other projects. We also might want to consider funding this as a separate capital project.
Additional items discussed at the agenda meeting included a council initiated request to look at traffic problems in Wellington near Tryon Road and Cary Parkway. To most people this would mean putting in a traffic light. Unfortunately, traffic lights have to be approved by the DOT so even if we agree to fund it they could reject it. We'll see what other solutions we can come up with.
Jordan Lake Water
Monday night I met with a Political Action Committee to discuss several issues. They were concerned about development near Jordan Lake, growth causing us to run out of water, and our land development ordinance. We talked for about an hour and a half.
Lord Adds Employees
Tuesday started with a ceremony at Lord Corporation to announce the addition of 117 high paying jobs over the next 5 years. As part of this expansion they will add a sixth building with roughly 51,000 square feet their campus in Cary. This expansion will be an investment of $20 million. The governor was the key speaker and I was also able to say a few words. Here is an excerpt of my comments:
…I've been in Cary a long time, and for longer than I can remember, the Lord Corporation has been a strong partner in the success of our community.  I want each of you here today from Lord to know how much we value you, and how much we truly appreciate your being and staying in Cary.  We know you could take your business anywhere and are so glad that you choose to continue calling Cary home. Cary is called the technology town and Lord Corporation was part of that definition. …
Included in the audience of about 50 to 100 were several representatives from congressional offices. One of the representatives from Congressman Price's office and I talked about the proposed ICE facility in Cary.
ICE and Congressman Price
To give a little background I, along with many staff members, had been working with Congressman Price's office to stop the location of the ICE facility in Cary at the Kroger site on Highway 55. In my conversation with this representative he said that he was waiting on a phone call to pull the plug on this site. Fortunately, this did happen and Congressman Price's office sent a press release stating this later in the day. This issue showed that when the public, local officials and federal officials work together they can overcome huge obstacles.
Working With Raleigh: Cary Parkway Extension
Later Tuesday I headed over to Mayor Meeker's office in Raleigh. I was joined by two Raleigh council members, a transportation expert, a Raleigh staff member, and a few others. The discussion was on the removal of the Cary Parkway extension from Holly Springs Road to Gorman Street from transportation plans. Some interesting facts presented to me included:
•This extension was put on the plan in the 1970s.
•The original plan had it going to Garner. Garner removed it from their plans in the late 1990s.
•Some of the original interest of Cary included access to I-40. Originally they were interested in an interchange at Jones Franklin Road.
At the end of the meeting I agreed to see if there was any interest on the Cary council on bringing this to the council table.
Western Wake Wastewater
Wednesday I participated in a meeting with the Western Wake Policy Advisory committee for the Western Wake Regional Wastewater Facilities. The partners, consisting of mayors from Apex, Cary, and Morrisville, considered and approved several contracts. We approved construction contract 1, the consultants management contract, and changes to the effluent conveyance facilities. We asked that staff bring us back more information on the consultant for the community outreach contract. Some committee members felt the amount proposed was excessive. The meeting adjourned after about 30 minutes.
GSA Explained
Thursday afternoon I met with representatives from the GSA (General Services Administration). The leader of this group was Presidential Appointee Shyam Reddy who is the regional administrator for the GSA and is based in Atlanta.
He spent a lot of time explaining the roles of the GSA. It was interesting that the GSA is the technology arm of the government and manages about 1/3 of the federal fleet. He explained that they are very interested in green initiatives. After talking about roles we focused on the proposed facility at the Kroger site in Cary that had been removed from consideration a couple of days before. Mr. Reddy stated that the proposal should have never gotten this far for many reasons. He also apologized for the way it was handled.
I explained that our perception during this period was that the federal government can do what they want when they want and there was nothing we could do about it. He responded by saying that is opposite of where they are trying to be as an organization and promised to work with me and Cary in the future. I told him that it was very important that he say this in public so that the people are aware of his commitment. After about an hour of conversation we headed to town hall for the regularly scheduled council meeting.
The first 45 minutes of the council meeting consisted of Mr. Reddy explaining what he had told me earlier. He also asked the audience for questions and so we had an impromptu pseudo public hearing. He received an answered a couple of questions from the audience. I am grateful that he and his team took the time to come and speak to us and commit to work with us in the future.
Being Green, Sidewalks, Traffic Lights
The rest of the council meeting was used to discuss a few items mostly involving sidewalks. First the council decided to set the width of the Walnut Street sidewalk maintained by Cary from Kildaire to Walker Street to 4 feet. The remainder of the sidewalk, which is maintained by DOT, was mandated to be 5 feet. We also talked about adding a sidewalk on Louis Stephens road. This created several motions that were withdrawn before one was eventually passed. Some concerns were that this project was one and a half years of our sidewalk budget which was mentioned at the agenda meeting on Monday.
Other concerns were that this project should be considered with other major sidewalk projects. The council also briefly discussed traffic improvements in the Wellington area. It was pointed out that DOT has the final say on traffic lights. The recent traffic study from the approved apartments at nearby Tryon and Cary Parkway showed that none of the intersections warranted a traffic signal. It is council's hope that other solutions could be found to help with traffic in Wellington.
The council meeting ended at approximately 8:15.
Boz and Michael at Booth
Friday night I attended the Boz Scaggs and Michael McDonald show at the Booth Amphitheater. There were roughly 3500 people in attendance and all seem to have a good time.
Email
Emails this week included several on the proposed ICE facility. Other emails included concerns about a violation of wildlife laws related to capturing foxes, an expensive solution for hooking up to the town's sewer, transportation for seniors to the new Cary Arts Center, landscape maintenance on West Lake Road, and trash around the Cary depot under renovation.
Cary Scavenger Hunt is Saturday
Next week will be busy with a Mayors' Association outing, a council work session on the downtown, several meetings, and a forum in Mid-Pines as the campaigning kicks into a higher gear. One fun item is that I will be one of the judges in the Cary Scavenger Hunt.
Well that is all for this week. My next post will be on Sunday, July 24th. Please feel free to email me with a comment.
Email all Town of Cary questions or comments to Harold.Weinbrecht@townofcary.org. Email personal comments to augustanat@mindspring.com.
https://carycitizenarchive.com/wp-content/uploads/2011/07/harolds-blog-0717.jpg
270
480
Harold Weinbrecht
https://carycitizenarchive.com/wp-content/uploads/2020/03/cc-archive-logo-450-v3.png
Harold Weinbrecht
2011-07-18 17:30:43
2016-01-09 11:46:57
Harold's Blog: ICE Resolved and More