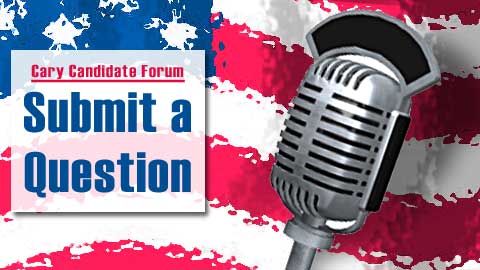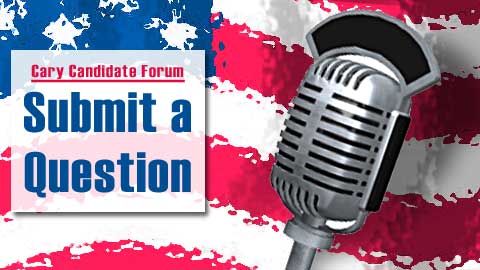 Cary, NC –  Here in Cary, we are the only town in the Triangle that has a tradition of  holding a public forum for candidates for local office. Now is the time to submit your questions for this year's candidates.
2011 Cary Candidate Forum
This year's forum will be taped September 14, 2011 in the Cary Town Council Chambers. The public is invited to attend.
The NC Center for Voter Education is the forum moderator. The North Carolina Center for Voter Education is a non-partisan, non-profit organization dedicated to informing and involving citizens so they may fully participate in democracy.
Invitations to participate in the Forum will be extended to candidates for:
Wake County School Board District 5 and 8
Cary Town Council District B and D
Cary Town Council At-Large and Mayoral candidates
This year's forum will be taped September 14, 2011 in the Cary Town Council Chambers. The public is invited to attend.
Submit a Question
Cary citizens interested in submitting questions may do so now through September 7. You can email your question, fax it, send it in a letter or videotape it and post it on YouTube. New this year, citizens will be able to submit questions to potentially be used during the forum via Facebook and LinkedIn.
Submit your Question:
CaryVotes.com
You can also ask a question on Facebook at Facebook/NCVoterEd but no one appears to have taken advantage of that option at the time of this writing. Be the first one.
The forum manager will review, select, and read the questions to candidates for the first time during the forum. The Town of Cary is paying the NCCVE $1,500 to serve as this year's forum manager.
History of Candidate Forums in Cary
The idea of the Town's hosting a forum dates back to the fall of 2001 when a record number of candidate forums sponsored by special interest groups were cablecast on the Town's government access channel, Cary TV 11.
Complaints about that situation led the Town Council to develop alternatives. After nine months of research, which included meetings with past forum sponsors, staff recommended in August of 2002 the concept of one large "mega forum" – now known as the Cary Community Candidate Forum.
Benefits of this approach include:
Allowing for increased community focus and involvement
Eliminating the issue of candidate endorsements
Providing a better product for viewers
Reducing the amount of time candidates and Town staff spend in forums
Reducing the amount of politics and bias potentially brought to the forums by outside sponsors
Visit CaryVotes.com to ask your question to 2011 Cary and Wake County candidates now.
https://carycitizenarchive.com/wp-content/uploads/2011/07/candidates-forum.jpg
270
480
Matt Young
https://carycitizenarchive.com/wp-content/uploads/2020/03/cc-archive-logo-450-v3.png
Matt Young
2011-07-20 13:27:47
2016-01-01 18:35:24
2011 Cary Candidate Forum - Submit Questions Now