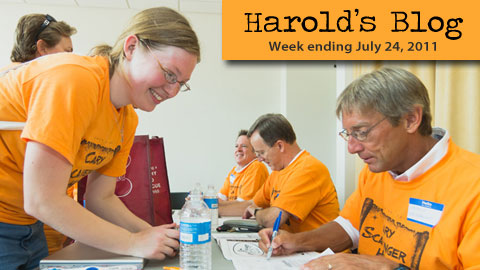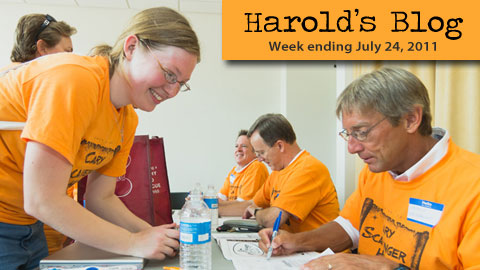 Cary, NC – From the blog of Cary Mayor Harold Weinbrecht, covering the week through July 24, 2011. Photo by Brooke Meyer.
This week was dominated by a candidates' forum and meetings that included a council work session on downtown.
Mayors and Mudcats
On Monday my wife and I headed out to Zebulon for a Mudcats game hosted by the Mayors Association. This is an annual event arranged by Zebulon Mayor Bob Matheny and his staff. It is usually well attended and this year was no exception. Nine of the twelve mayors were in attendance and several staff from various municipalities. All together there were probably about 50 of us. The Mudcats must have wanted to put on a show because they scored 8 runs in the first inning.
1/2 ¢ Transit Tax?
Tuesday started with a short meeting between the town manager, the mayor pro-tem, and me. We focused our discussion on transit and an upcoming meeting of elected officials regarding transit and a future county ½ cents sales tax referendum.
Downtown Developments
Tuesday evening the council met in a work session on downtown. The downtown manager and budget director gave a presentation and council made several decisions.
First, we decided to adopt the work plan which includes:
•Finish Town Site acquisition
•Restore the old Cary Theater
•Create public parking on Chatham
•Make street improvements on Chatham
•Create signs for welcome points into downtown
•Support downtown businesses
•Make Academy Street the signature street
•Begin Wayfinding installation and have signs ready by opening of the Cary Arts Center
•Focus on new development in the core area
•Be more aggressive in recruitment and marketing
No Impact Fees Downtown
Next, the council decided that there should be no impact fees for water, sewer, transportation, and parks in the town core for three years. The town core is defined to include Academy Street, portions of Harrison Avenue, and Walker Street from Dry Avenue to Chapel Hill Road. Staff estimates the potential lost fees would be less than one million dollars.
The council also decided to waive street improvements and onsite parking requirements in the core area for the next three years. The council discussed the possibility of financing development but asked staff to come back with more information. After the work session the council went into close session.
Cary's National American Miss North Carolina Junior Teen
Wednesday first appointment was a meeting with the newly crowned National American Miss North Carolina Junior Teen 2011-2012, Shivali Patel. She was accompanied by her father and we talked and did a few photos. In addition to being a beautiful young lady she expressed desire to volunteer in the community and get more involved which was great to hear.
It is very encouraging to meet someone her age (sophomore at Athens Drive) who understands the importance of giving back to her community. God bless her and best of luck to her. Maybe we will work together at the town's next Spruce litter sweep.
Sidewalks and Roads
Later Wednesday I participated in the Planning and Development committee meeting. I will be attending these meetings until a new council member is elected this fall.
We went over two items. The first item was a request to waive improvements along Chatham near the Austin Food site. The applicant will be mitigating a brownfield and explained it would be cost prohibitive to do that and sidewalk and road improvements. The committee recommended that council approve this waiver.
The next discussion focused on Land Development Ordinance amendments. We gave staff feedback to create a proposal to go to public hearing.
Pocket Gardens
Wednesday evening I visited with Keith Bliss who is a realtor in downtown and hosts the downtown pocket garden. We mostly talked about downtown and its history.
I explained that I grew up on Waldo Street in the 1960s and was the nephew of former Mayor Bond. Next we headed over to the pocket garden. This is an absolutely incredible community garden. It is a must see if you are in downtown. They are growing all kinds of goodies and I was fortunate enough to leave with a golden tomato and a head of cabbage.
Hopefully, this idea will catch on and we will see more of these around town.
Thursday Political Meetings
Thursday was reserved for political meetings. These lasted for about 2 ½ hours.
Chamber Annual Conference Candidates Forum
Friday morning I headed down to Mid Pines to speak at the Chamber annual conference. The focus of my comments at the candidates forum was that creating an exceptional environment and providing exemplary services has helped Cary move forward even in tough times. And that steady proven leadership will keep a positive business environment for our future.
Candidates in attendance besides me were council members Adcock and Frantz, and challengers Muir and Bridges.
Visiting Injured Officer Chad Penland
Friday afternoon Lieutenant Barker and I visited Officer Chad Penland at a local hospital. This was the motorcycle cop that was seriously injured in an accident Friday, July 15. He hit a van at about 35 mph and flew 20 to 25 feet in the air. A nurse, who lives in Virginia, was on the scene and helped keep his airway open which saved his life.
His serious injuries seem to be rapidly improving and he is doing surprisingly well. I have been informed that, for privacy sake, I am not allowed to disclose his injuries.
When I walked in his hospital room Chad actually stood up to shake my hand (against my protest). What an amazing young man! He was actually apologizing for the motorcycle. Of course, I let him know that was not a problem.
We talked about many things as he chatted freely even though he had difficulty speaking. He realizes that the nurse saved his life and said many times how he was so happy just to be here. I let him know that there were a lot of people thinking about him and praying for him. His parents were also there having traveled from South Carolina.
The Cary PD has been taking care of them making sure there hotel expenses are paid for and they are provided food. They were amazed by the overwhelming support of the Cary officers, the town, the highway patrol, and other neighboring police departments.
Needless to say my visit with Chad was inspirational. I look forward to seeing him fully recovered and reuniting with the nurse from Virginia who plans to come back to see him.
More on Downtown
Saturday I met with long time downtown resident John Duncan to talk about downtown issues. He has a unique perspective of downtown and good ideas. I encouraged him to meet with Ed Gawf our downtown manager.
Cary Scavenger Hunt
Later Saturday I attended a training session to be a judge in Cary Citizen's scavenger hunt. This lasted about 30 minutes and then the fun started.
There were 30 teams that competed and I was fortunate enough to judge the answers, pictures, and items for 3 teams. This looked like a LOT of fun. I have already talked with some council members, who were also judges about having a council versus staff competition in parallel to this event next year.
Emails: Foxes, Noise
Emails this week included complaints about foxes being trapped, towing, a red light camera ticket, loud and unruly people at an amphitheater concert, and town vehicle backup noise.
I will be on vacation for part of next week and won't return until late Tuesday night. Therefore I have a light schedule for next week. The week's most notable events will be a video shoot, a dinner, and a welcome at the Triangle Aquatic Center.
Well that is all for this week. My next post will be on Sunday, July 31st. Please feel free to email me with a comment. Email all Town of Cary questions or comments to Harold.Weinbrecht@townofcary.org. Email personal comments to augustanat@mindspring.com.
https://carycitizenarchive.com/wp-content/uploads/2011/07/harolds-blog-0724.jpg
270
480
Harold Weinbrecht
https://carycitizenarchive.com/wp-content/uploads/2020/03/cc-archive-logo-450-v3.png
Harold Weinbrecht
2011-07-25 18:30:18
2016-01-09 11:58:25
Harold's Blog: Impact Fees Downtown, Officer Penland and More