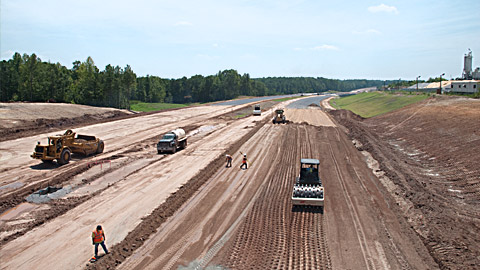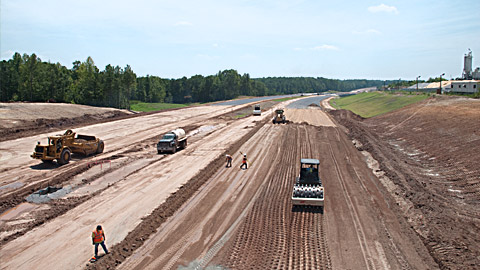 Story and pictures by Hal Goodtree.
Cary, NC – Local news media has made much of the construction noise on 540. For those affected, it is indeed an unfortunate situation. But there's more to the story of this road than just noise.
Where will it go? What will it cost? When will it be open? For answers, CaryCitizen turned to Joe Milazzo, Executive Director of the Regional Transportation Alliance.
CaryCitizen: When will the new portion of 540 be open for traffic?
Joe Milazzo: The new portions of 540 (south of the NC 55 interchange near the Amberly Subdivision and Panther Creek HS) will open by the end of 2012.  That section is known as the Western Wake Freeway, and will comprise part of the new Triangle Expressway ("Tri-Ex") turnpike.
CC:  When will the tolls go on?
JM: Tolls will go on the new portions of 540 as the sections open to traffic.  The section of 147 that opens later this year will be tolled upon opening.
CC:  Can people register now?
JM: Transponders will be available in early September.  The transponders will be branded "NCQuickPass".   Please note that patrons will not need to purchase a transponder to travel on the turnpike freeway, and they will never need to carry cash.  The transponder will provide a discounted toll rate for frequent travelers, but bill-by-mail options will be available from day one. (Editor's Note: Bill-by-mail works by reading the license plates of cars as they go under the toll gate. No stopping or even slowing down. If you don't have a transponder, you'll get a bill in the mail).
CC:  Will the transponders work with EZ-PASS to the north, or PeachPass, PalmettoPass, or SunPass to the south?
JM: When the turnpike opens later this year, full transponder compatibility with all states will not be available.  However, in the future, travelers will have three options:
NC Quick Pass transponders will provide compatibility with all toll roads in North Carolina (Triangle Expressway will be the first), along with all toll roads in the southeast that use a "sticker tag", including SC, GA, FL, TX.  There will be a low one-time fee for this, no more than $10, and it will provide travelers with discounted rates for using electronic toll collection (where applicable).
NC Quick Pass "plus" (name has not been finalized) transponders will provide additional compatibility with all EZ-PASS toll roads in the mid-Atlantic, northeast, and midwest.  This will have a slightly-higher one-time fee, and it will provide travelers with discounted rates for using electronic toll collection (where applicable).
Travelers will never need a transponder to use the Triangle Expressway.  They can instead be billed in the mail retroactively for their usage.  They will pay higher rates than electronic toll collection.
The key is that travelers will have three options — two different transponder types, plus a no-transponder option.  Actually, they will have four options, since travelers can always use roadways like NC 55 and Davis Drive instead of traveling on the turnpike.
CC: How far south will people be able to travel on the new stretch of roadway?
JM: By the end of 2012 travelers will have a stop-light free option past Cary and Apex south to the Holly Springs bypass.  This will create an option to bypass dozens of traffic signals from southern Wake County to RTP and nearby points via the 540 portion of Tri-Ex.
CC: Will it be called I-540 or stay NC-540?
JM: It will open as NC 540.  At some point it might be signed as I-540, but there are no immediate plans to make the change.
CC: When will the Triangle Expressway be open?
JM: The first section — NC 147 toll — actually opens later this year.
CC: Where does that go?
JM: NC 147 (Durham Freeway) currently ends at I-40 in Research Triangle Park.  By the end of this year, NC 147 will extend south as a toll road through the southern section of RTP — with a new interchange serving Hopson Road and Davis Drive — and connect directly with NC 540 with a high-speed interchange.
CC: Has the Turnpike Authority set a firm toll rate?
JM: Yes.  The rate will be 24c/mile when the turnpike opens for patrons who do not have a transponder.  But, patrons can receive a 33% discount by getting a NCquickpass transponder.  That will provide a 16c/mile rate upon opening.
CC: What if I don't have correct change?
JM: You will never need change (or cash) to travel on the Triangle Expressway turnpike.  All billing will be done electronically — either by taking a picture of your license plate (like a red light camera does) and sending you a bill, or by using a transponder.  There will be no slowing down for toll booths, because there won't be any toll booths constructed.
CC:  What's the next big transportation project in the Triangle?
JM: The Triangle Connector to I-85 is slated for right-of-way acquisition during the next 12 months, with construction beginning within 24 months after that.  It will provide Research Triangle Park (and the Triangle Expressway) a direct, stoplight-free connection with Interstate 85.  It will link NC 147 south of Downtown Durham with US 70 east of Durham and then interchange with I-85 north.  This proposed freeway project is formally known as the East End Connector since it is located on the east side of Durham.  For more information, you can visit:  letsgetmoving.org/connector or ncdot.org/projects/eastendconnector/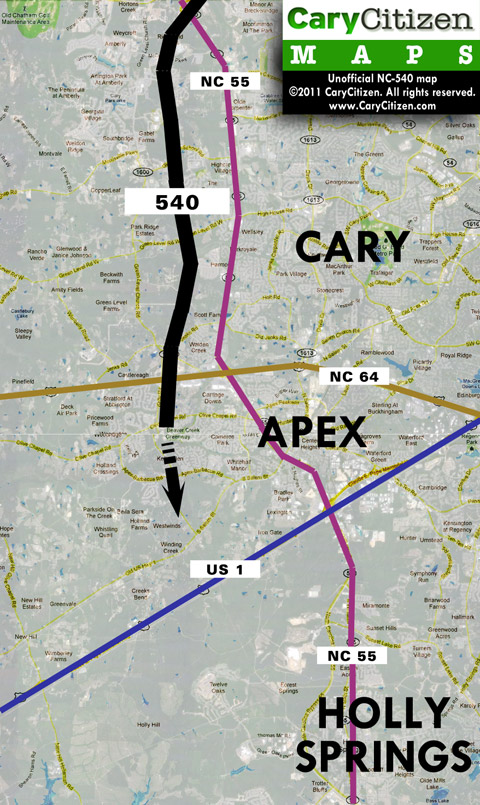 https://carycitizenarchive.com/wp-content/uploads/2011/08/western-wake-expressway.jpg
270
480
Hal Goodtree
https://carycitizenarchive.com/wp-content/uploads/2020/03/cc-archive-logo-450-v3.png
Hal Goodtree
2011-08-02 23:00:42
2019-12-07 17:00:28
Transportation: Western Wake Freeway Update