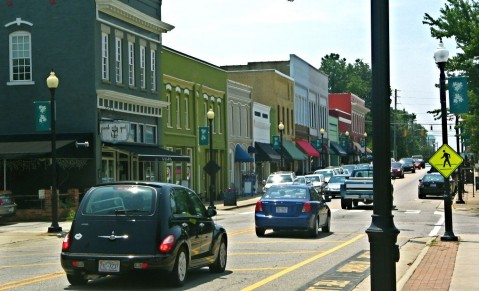 Story and photos by Lindsey Chester.
Cary, NC- Last week I spent quite a bit of time in Downtown Apex where my daughter attended a camp at the Halle Cultural Arts Center. Salem Street has got it going on!
A Trip Down Salem Street
What a visitor notices right away in downtown is the closeness of the shops to the street. Great for browsing. There are also numerous benches and tables set up on the side walk where you are invited to sit down and relax. Store owners have also provided their own landscaping with colorful planters of fresh flowering plants.
The main shopping is all in one short block which extends from Chatham on one end and up to Center Street at the other. Most buildings are original and date back to the turn of the century. All have been colorfully painted for an eclectic mix. Two additional buildings up the road, The Salem Street Promenade and the Tobacco Mule Exchange have interior hallways with more stores inside. A gas station has recently been converted to a farmer's market and garden center.
The Pleasures of Downtown Apex
For The Home
Several stores have opened just in the last year on Salem Street. One of these was Lilly's, carrying home decor and garden accents. The interior bursts with flowers and accessories and smells wonderful. I noticed  many bird items and owner Cathy East informed me that birds are a hot commodity in her store. In fact she can't keep these reasonably-priced accents in stock. She added that she recently purchased 2 live white doves that keep her company near the register.
Another recent addition is Aria (think Opera). The owner, Gia Miele, relocated it from Pittsboro. Her store carries gifts with a distinctly modern flair and it highlights local talent. These include: jewelry from organic materials by Jay, and sustainable materials by Aria, and fused glass pieces from local artisan Robin Robinson (who I got to meet!). She also added you won't find a monogram anywhere in her shop.
Clothing Shops
In the last several years the shopping offerings have exploded downtown. The most recent addition is Flaunt that opened in April. I spoke with Melissa, a former New Yorker , who said her friend and store owner,  Jessica, a transplanted Coloradan, wanted to offer women something a little different. The clothes are artsy, with sparkly embellishments.
Fedora is across the street, a store that was formerly located in the Preston Area of Cary. They stock clothing that can be appropriate for a savvy teen or a mom looking for something "younger", yet appropriate. Most clothing is washable and priced under $100.
Nativa has been a mainstay on Salem Street for about five years. The owners live in Apex and have a second store in the North Hills shopping center. Prices here are also reasonable and they specialize in pretty dresses. The also have an e-commerce site for direct shipping to your home.
OP Lauren is another women's clothing store, slightly higher in price and it prides itself on being trendy. This store opened last winter with an official ribbon-cutting in January.
My Girlfriend's Closet is a consignment shop located around the corner in an adorable house on Chatham Street. Owner Lois Cozart opened her shop six years ago and has many loyal customer who both consign and shop. Tucked inside an historic bungalow, Lois has filled each room with clothing merchandized by style. There is jewelry and a wide range of stylish shoes too. The former owner was a faux finish painter and her legacy is visible on the columns and the walls. Catch a seminar there by Michelle Little and learn how to be your most stylish self!
Clothing boutiques in Apex also include a stylish new Men's store – Charles Ryan & Co – and a baby store – Green Pea Baby. One thing my daughter thought was missing was teen or tweens shopping – maybe one day soon?
Not a fancy dresser? Try the Tobacco Road Outdoors Store.  It is locally owned and opened when the Tobacco Mule Exchange completed renovations in 2007. This place has all the quality names in outdoor wear. Find Northface, Patagonia and Columbia gear for hiking and camping. Into yoga? They carry Prana tops and bottoms. They even sell tents and fishing gear!
After all that shopping, its time to eat!
Eateries
Down the street is the Southern Belle and a Yankee Tea Shop. In July the shop was purchased from the former owners of the Pineapple Tea Room. The new owners, Angie and Kim, have it open everyday for tea and gift shopping but also take reservations for parties. They serve an assortment of teas and scones and even have fun hats and gloves which children like to try on.
Salem Street Pub (formerly the Soda Shop) serves a great lunch in hushed wooden booths. One side of the establishment is a full service bar with stools and mixed drinks. The other side is tables and booths set for casual dining. On the menu are salads, burgers and sandwiches and their Spicy Buffalo wings- all priced right.
New on the street in what was formerly The Ocean Grill (and several others before that) is Majestic cafe. Unlike ealier restaurants in this location, Majestic is more family friendly and a little easier on the wallet, serving mostly deli type sandwiches. They are owned by the same folks that opened Peak City Grill which is their more upscale eatery across the street.
Peak City Grill features an outdoor patio and an upstairs as well as a beautiful antique bar. Peak City features acoustic music on the menu about every two weeks. Prices range from $11 for a gourmet burger to $28 for Angus Center Cut Filet. My mouth is watering just thinking about that!
Two other casual dining options include Rancherita for Mexican fair and Anna's Pizza. Both of these establishments are long time favorites in downtown Apex and have well earned reputations for satisfaction. Large booths to sit in and menu pricing that's friendly to the family wallet.
Just Dessert
After all that great eating, you might have room for dessert and there are 2 musts: The Ice Cream Shop, which has been in downtown for as long as I can remember (over 13 years) and new on the scene is Yummy Yogurt. Unlike many of the recent additions to our area in the frozen yogurt trade, this place is locally owned and operated and not part of any franchise. They also don't follow the "by-the-ounce" pricing that has become so popular (and expensive!).
Not to be missed is the bakery on the corner, Savory. They have several tables inside and a tempting display of sweets in the case. For something sweet and light, try a meringue, and they are only 75 cents!
Need a shot of caffeine? Try Common Grounds where they serve up fabulous coffee drinks, smoothies, teas and home baked goods. Some evenings there is also live acoustic music.
Browsing
After all that eating its time to stroll and there are great places to browse on Salem Street. Several antique stores and art galleries line both sides of the street. And most have been there since Apex first began promoting their historic downtown over a decade ago. Antiques on Salem Street  and the Rusty Bucket are great places to pick up something unusual and for an unusually low price.  All Booked Up sells used books and more. Sit a while and enjoy a good read. Tirza's Gifts and and Wine Bar is new.
Looking for some original art to grace the walls of your forever home? Try Studio 123,The Red Room or Apex Gallery which also offers custom framing. At these galleries you can purchase art from one of the many local talents who live in Cary and Apex.
There is a lot to see in this short stretch of road. All of it is locally owned and no chains call Salem Street home. It is walkable with ample free parking on the street and around behind the shops.
It has taken time to build to this level but the area seems to be booming.
https://carycitizenarchive.com/wp-content/uploads/2011/08/DNTN_APEX-e1312650383577.jpg
291
479
Lindsey Chester
https://carycitizenarchive.com/wp-content/uploads/2020/03/cc-archive-logo-450-v3.png
Lindsey Chester
2011-08-09 10:45:42
2015-02-13 10:57:32
Short Ride From Cary: Downtown Apex