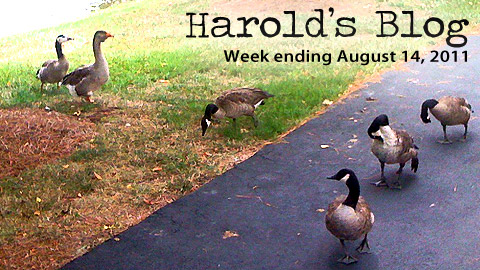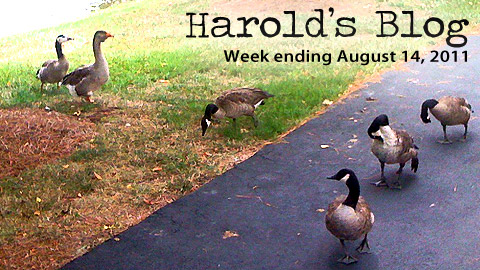 From the blog of Cary Mayor Harold Weinbrecht, covering the week through August 14, 2011. Photo by Hal Goodtree.
This week was a busy week that included a council meeting, a dinner with elected officials on all levels, and the dedication of the Cary Arts Center.
Monday
Monday started with calls to council members to see if they had any issues with items on the agenda for Tuesday's council meeting. I was able to contact all council members except council member Frantz. None of the council members had issues. Later in the day I met with management, directors, and other staff to go over the agenda. Our discussion was mostly on the facts surrounding the proposal to waive road improvements on Chatham Street next to the Austin Food site which has brownfields. Based on the agenda and what was discussed I projected the council meeting to go until about 8:30.
Tuesday – Council Meeting
Tuesday was a regularly scheduled council meeting. Regularly scheduled council meetings are usually held on the second and fourth Thursdays of the month. But early in the year it was identified that a major clerk's conference was held later in this week so the meeting was set for Tuesday. Keep in mind that we have Master clerks that are in high demand to teach, educate, and help. Having them at these conferences is great promotion for the town.
The council meeting had two issues which generated discussion. One was a quasi-judicial hearing to allow a cottage house across from the Cary Arts Center to be converted to a Scottish Dance studio without providing parking. Some of the objection expressed was concerns that cars queuing to drop off kids might block the road. Council discussed this and eventually passed three motions to allow this studio.
The other issue was the waiver for roads improvements I mentioned earlier. This waiver eventually passed 4-2 and included my affirmative vote. The proposal the way I understood it would allow the applicant to pave over a partial brownfield and to do some curb, gutter, and sidewalk to the driveway. This would allow the old Austin Food business to be used. Paving over part of the brownfield means the water runoff would go into the sewer system and not sink into the contaminated soil and spread pollutants further. A future developer of the remaining part of the site will have to clean up the brownfield which may be expensive.
Council also went into closed session at this meeting to discuss issues related to downtown. The opening of the Cary Arts Center was the first step and the purchase of the old Cary Theater was the second. I believe within the year we will see many more significant changes for downtown.
Wednesday – Leadership Dinner
Wednesday I attended the annual Cary Chamber of Commerce Leadership Dinner at Rey's restaurant. Elected officials from all levels of government were invited and in attendance. After about a 1 hour social we had dinner. I was seated at the table with Congressman Miller, State Senator Stevens, Town Manager Shivar, and two sponsors. After dinner I gave a few remarks on how government partnering at all levels has made Cary one of the greatest places to live. I then introduced council members in attendance. After I spoke Congressman Miller said a few words followed by Senator Stevens, House member Weiss, Wake County Commissioner Bryan, and Wake County School Board member Goldman. It was a very positive event and relationships were formed and strengthened.
Friday – Happy Birthday Koka
Friday I attended a VIP reception for the dedication of the Cary Arts Center with about 500 other folks. I gave remarks and the following toast:
"Here's to the legacy of the schools and their students and educators that have made this location a beacon for learning and now to the citizens of today who will continue in the legacy of enrichment that is the hallmark of this place. Here's to the Cary Arts Center."
At the end of the toast Jimmy Burns, former Cary High School Band director played "He's a Jolly Good Fellow" on trumpet. Then I let the crowd know we were celebrating Former mayor Koka Booth's birthday. Mr. Burns then led us all in "Happy Birthday Koka". It was a wonderful event attended by many who actually went to school in that building.
Saturday – Dedicating Cary Arts Center
Saturday I attended the official dedication of the Cary Arts Center. It was a little wet outside so we went into the auditorium for the ceremony. Previous council members in attendance include former Mayor Booth, former council member Godbold, and former council member Portman. Here is an excerpt of my comments:
"…This building was a vision for many of Cary's citizens long before the first pile of dirt was moved. In a very real sense, the Cary Arts Center was built before the first wall was torn down and put back in its new location, before the plaza was laid in beautiful North Carolina brick, and before the amazing glass wall designed by regional artists was installed in the lobby. It was built through your participation in the citizen input and planning processes that were so critical to lay the foundations under which this building will function. Those processes ensure that this new center truly is an arts hub for all.

Great care has been taken to continue to pay homage to the critical role education has played in Cary and the significance of this location as one of our State's most important historic sites. Now, we move from our past into our future, reflecting on the fact that the legacy of education continues in this building and it once again serves as an anchor to the heart of our community, our downtown. We believe that the completion of this arts center will be a sparkplug for our efforts to revitalize and rebirth our downtown area.

I believe that Frank Page, Cary's founder who built the original Cary Academy here almost 150 years ago, would be very proud of what the citizens of Cary have accomplished here today…"
Sunday – Indian Independence Day
Sunday I headed over to the Hindu temple in Morrisville to celebrate Indian Independence Day. I joined Mayor Holcombe of Morrisville in raising flags. Then we went into the fellowship hall and joined Congressman David Price and several Morrisville council members. Mayor Holcombe and I, along with Congressman Price gave comments.
Sunday evening I went over to Briar Creek to meet with His Holiness Sri Sri Viswamjee who travels the world spreading the message of Peace and Love. I was once again joined by Mayor Holcombe. We received blessings, gave brief comments, and were recognized for our service by His Holiness.
More on ICE
In addition to being a busy week for events, a lot of information was provided by Cary staff and other sources including location specifics about an ICE facility. According to an email shared with me from Mayor Holcombe the U. S. General Services Administration (GSA) will be soliciting approximately 9811 usable square feet of office and related space in Morrisville for the Transportation and Security Administration  (TSA) office, currently located at 1 Copley Parkway, Concourse Building, Morrisville, NC.
The agency has expressed a desire to remain in the following delineated area:
N: 1.5 Miles West of Brier Creek Parkway
W: 1.5 mile south of I-40
E: 1 mile east of Aviation Parkway
S:  1 mile south of Hwy 70
Geese
I also received information from staff about geese in Cary, how they are protected, and what we can do about them:
Canadian Geese are federally protected through a number of treaties with other nations signed at various times in the early part of the 20th century and, subsequently, through the Migratory Bird Treaty Act of 1918. Therefore, management of the geese population for public and private property owners fall under federal regulations.
Under these regulations, management of the geese population requires a "depredation permit" which means there must be property damage before such a permit can be issued.  Incidents of geese entering roadways will not rise to the level of depredation or damage to property in and of itself. While there may be some potential hazards to motorists associated with this, wildlife entering the roadways is generally considered to be a nuisance. Consequently, it is not possible to get such a permit for this type of situation or any other nuisance situation.
If the incidents of traffic accidents involving geese were more numerous it might be possible to secure a permit under those circumstances. However, the Cary Police Department reports no motoring accidents associated with geese. We have had some incidents reported involving deer but even in those cases, we do not make efforts to manage the deer population.
Another consideration the Town must take into account is the fact that Cary is designated a bird sanctuary in our own ordinances which provide protection for wild birds. This does not mean that we would not take measures, where appropriate, to address any damage created by such birds but only that we must carefully weigh the pros and cons of such issues.
Bottom-line, until the federal government takes action and removes the protections that are established for these birds, the Town (and private property owners) is very limited on what we can do.
Police Dog
Staff also answered a concern about spending money on a police dog from Europe. Here is the information from correspondence:
The Town of Cary and the Police Department strive to be the best stewards possible of the funds entrusted to us. I will try to explain in this email our process in the purchase of this dog. With the pending medical retirement of one of our current police dogs we started a search to locate a replacement.
Our first stop was to a local kennel and we were able to find one dog we were very happy with, but unfortunately our vet found pending hip issues with the animal and we did not purchase him. The kennel said they had no other dogs at the time and would not get any until they received a new shipment from their contacts overseas.
Most service dogs used for both police and military work actually come from Europe. We would love to purchase a quality dog here, but that is hard to find. Most all kennels operating in the US actually get their dogs from overseas and resale them here in the US. In this particular case we actually bought the dog from a kennel here in the US and the dog was shipped directly to us instead of to the kennel and back to us. This move actually saved us an additional shipping cost that the kennel would have charged.
I would also like to share that for the last several years we have used only canine donation funds and drug forfeiture funds for our canine program. Thanks to outstanding support from our citizens, we have had many donate funds to the program over the years. These funds are specifically for this program and are not used for any other purpose. The drug forfeiture money used is just that, drug money legally seized from suspects who are conducting illegal business in our community. We make every effort to use funds for this program other than tax dollars for needed services.
Barnes & Noble Wet Pond
In other news, staff issued a press release on stormwater management announcing the completion of its latest stormwater management project.
The 2.5-acre Barnes and Noble Wet Pond that will not only cut stormwater flow in the area but also reduce Total Nitrogen discharge by up to 25-percent and Total Phosphorus discharge by about 40-percent annually.
In addition to having purchased the land near the intersections of Walnut Street and Maynard Road and providing technical support, the Town of Cary will maintain and inspect the Innovative Wet Pond for the next 30 years.
Solar Power
In another press release, staff announced that Cary will host one of the largest solar projects in the state as the result of council's approval at our meeting on Tuesday.
The Town of Cary will enter into a public-private partnership with FLS Energy to install and operate solar panels on Town of Cary property. The 20-year agreement, which comes with no upfront costs to the Town, permits FLS Energy to install and operate photovoltaic equipment on leased property at the South Cary Water Reclamation Facility and on top of the Town Hall campus parking deck. All electrical power produced by these systems will be returned to the power distribution grid as a renewable source of energy.
Annually after year six, the Town will have the opportunity to purchase and operate the system at a depreciated cost.  Installation is expected to begin this fall, with the solar system's being fully operational in 2012.
Sidewalk Project
In other news releases the staff announced our sidewalk project list for this year. Starting Monday contractors will begin construction of eight new pieces of sidewalk totaling 2.2 miles along with 500 feet of new asphalt trail. The improvement project is set to cost $600,000 and features handicap-accessible sidewalks and marked crosswalks.
Once complete, the project will bring the total miles of sidewalk in Cary to 365 miles; the Town also has 60 miles of paved greenways and multi-use paths.
From August through January, sidewalk installations will take place at the following locations from 7 a.m.-6 p.m., Monday through Friday, weather permitting:
SW Cary Parkway from West High Street to Laura Duncan Road
SW Cary Parkway from Tarbert Drive to east of King George Loop
NE Maynard Road from Grande Heights Drive to east of Gregory Drive
James Jackson Avenue from NW Cary Parkway to the Garmon Operations Center
NW Cary Parkway from Thorpe Drive to Silveridge Court (asphalt trail)
SW corner of Kildaire Farm Road at Ten Ten Road
McCrimmon Parkway at Highcroft Drive
Weldon Ridge Boulevard at Cary Glen Boulevard
NBC Dateline
And lastly, NBC Dateline notified the town that the Cooper Murder story will air next Friday, August 19.  Dateline starts at 9 p.m., with the Cooper segment scheduled for the second hour, 10-11 p.m.  Dateline is carried locally on WNCN, NBC-17.
Emails
Emails from citizens this week included complaints about drainage, complaints about doing nothing downtown, complaints about the police dog coming from Europe, a complaint about a sewer manhole on a tennis court, and a complaint about the banners on the new Cary Arts Center.
Next week will be fairly light on the mayoral duties and will include a Mayors Association meeting and a CAMPO meeting. It is also the week I will take both daughters to school (one to ECU and the other to NY City). Next week at this time my wife and I will be empty nesters. THAT will be difficult to accept.
Get in Touch
Well that is all for this week. My next post will be on Sunday, August 21st. Please feel free to email me with a comment. Email all Town of Cary questions or comments to Harold.Weinbrecht@townofcary.org. Email personal comments to augustanat@mindspring.com.
https://carycitizenarchive.com/wp-content/uploads/2011/08/harolds-blog-0814.jpg
270
480
Harold Weinbrecht
https://carycitizenarchive.com/wp-content/uploads/2020/03/cc-archive-logo-450-v3.png
Harold Weinbrecht
2011-08-15 14:54:44
2016-01-09 11:58:26
Harold's Blog: Geese, Dogs, Solar and More ICE