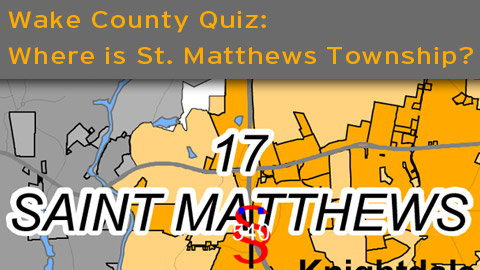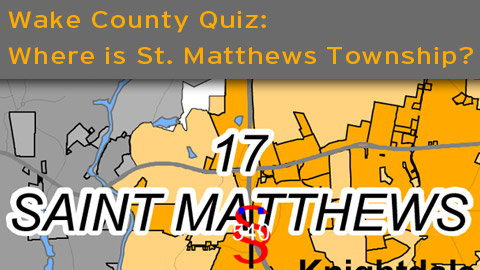 Story by Hal Goodtree. Maps adapted from Wake County GIS.
Cary, NC – Green Level, White Oak, St. Matthew's and Marks Creek – they are all Wake County townships. Do you know where they are?
Municipalities vs. Townships
Here's a hint: Wake County has 12 municipalities. Cary, Morrisville, Raleigh and Wake Forest are all municipalities.
Townships date from the 1800. They divide the entire county, underlying the municipalities.
Wake County has 20 Townships.
Wake County Townships
Barton's Creek
Buckhorn
Cary
Cedar Fork
Holly Springs
House Creek
Leesville
Little River
Marks Creek
Meredith
Middle Creek
Neuse
New Light
Panther Branch
Raleigh
Saint Mary's
Saint Matthew's
Swift Creek
Wake Forest
White Oak

See a current map of Wake County municipalities and townships to get a clear picture of what towns lie in which townships.
Just for the record, St. Matthews is the township which contains Knightdale.
The History of Townships
Here's where it gets really interesting.
Following the Civil War, Republicans (then known as the party of Lincoln) controlled the State legislature. A new State Constitution was adopted in 1868, authorizing, among other things, the creation of townships.
According to the NorthCarolinaRoom, the purpose of creating townships was to undermine the traditional power of landowners (Confederates). Townships had three officials – two justices of the peace on one clerk.
"These officials served two-year terms as the governing body for each township, regulating roads and bridges, as well as managing taxation and property assessment under the supervision of the county commissioner. Each township also had a school board (3 members) and at least one constable. This system resembles the townships of Ohio and Pennsylvania.

Power shifted from the Republican Party to the newly-formed Conservative party (mostly former Confederates) around 1875. The constitution was amended to permit the North Carolina General Assembly to change the system created in 1868, and townships were stripped of their government system in 1877. Township titles were maintained as informal county subdivisions (sometimes for the census and infrastructure maintenance) but townships would no longer have any official government function." – NorthCarolinaRoom
The Power of Townships
Today, townships have no power. Townships have no elected officials and no active government function.
But you can still find Townships on the current Wake County map. The reason is data collection. Unlike municipalities, which grow and change in size and shape, townships have remained fairly constant since the mid-1800's.
Echoes of the Past
Townships may be long gone as a political institution, but their echo lives on in maps, roads, place names and schools.
Sometimes, it seems like our region has been ripped from the wilderness in a matter of just a few years. Au contraire.
Townships are another reminder of the rich history of Wake County and North Carolina.
Acknowledgements
Special thanks to Wake County Commissioner Erv Portman and Wake County GIS Director Charles Friddle for help in researching this article.
https://carycitizenarchive.com/wp-content/uploads/2011/08/wake-townships.jpg
270
480
Hal Goodtree
https://carycitizenarchive.com/wp-content/uploads/2020/03/cc-archive-logo-450-v3.png
Hal Goodtree
2011-08-17 08:30:04
2011-08-16 23:40:50
Wake County Quiz: Where is St. Matthews Township?