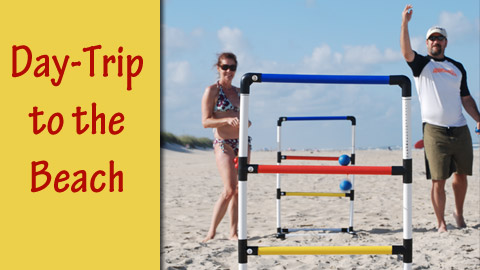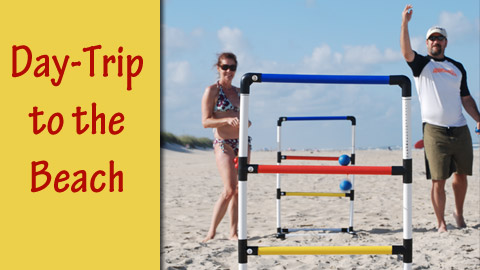 Story and photos by Hal Goodtree.
Cary, NC – When we tell folks we day-trip to the beach, sometimes they react with surprise. "Where do you go," they ask. "How long does it take?"
Herein, I will tell all about our secret North Carolina beach spot, just a short trip from Cary.
Day-Tripping to the Beach from Cary
Here's our secret recipe for a day-trip to the beach from Cary, NC.
First of all, you have to get going by 8. That is, if you want to spend the day in the sun. If you don't mind driving home in the dark, leave anytime you want.
1. Pack a picnic – Cut up fruit is very refreshing and popular. Lots of thirst-quenching beverages. Bottles of water are just fine, but maybe try mixing lemonade and iced tea to make a jug of Arnold Palmers. A few sandwiches are nice. Cold fried chicken is divine. Take nothing that requires utensils because you will never see them again.
2. Beach chairs and buckets – A couple of beach chairs make for a relaxing afternoon. No matter how old your kids are, bring buckets and shovels. Everybody likes to dig and build. Who knows why? My younger daughter likes to prospect for crabs at low tide.
3. Hillbilly Horeshoes – Some people like to throw a football. I always bring a frisbee. In the last couple of years, my family has been partial to Hillbilly Horseshoes (pictured above). I know of no other name for this amusement. It looks like a pair of ladders. Players throw a string with two balls attached at the ends. It spins through the air and you try to hook it on the highest rung of the ladder.
Why Hillbilly Horeshoes? Isn't that redundant? I mean, regular horsehoes (another fine beach game) aren't exactly an urban entertainment. In fact, the only thing you can say about the name Hillbilly Horeshoes is that at least it isn't called Cornhole.
Our Secret Beach Day-Trip Spot
From years of traveling to the beach, we've found the closest public ocean beach spot from Cary.
It's a beautiful beach, wide and clean, just north of Wilmington.
Directions
Take I-40 East from Cary. As you curve around Raleigh on the 440 Beltline, make sure you take the exit for I-40/Benson.
From there, it's a bout 115 miles to the end of I-40 in Wilmington. The speed limit on much of the road is 70 mph. My good wife Lindsey seems to blast on down there in about an hour and forty five minutes (lead foot). It takes me about two hours in the prairie schooner.
As you get into the outskirts of Wilmington, I-40 turns into NC 132.
Watch for a left on NC 74 (Eastwood Av). Big sign over the road directs you toward the beach.
It's about 4 miles on Eastwood Avenue over the intracoastal waterway and into Wrightsville Beach.
You'll come to a somewhat unusual "Y" intersection. Big sign at the corner welcomes you to Wrightsville Beach. Take a left at this Y, crossing Eastwood onto Salisbury St. Be careful – it's a dicey intersection.
From there, it's about a mile to the beach. Salisbury t-bones with Lumina Ave. in front of the pier. Make a left onto Lumina.
You can make a right on almost any street to get to the beach. We always turn onto Mallard St. If no street parking is available (seldom is on Mallard), drive to the end and unload your stuff and your family at the beach access point.
Driving Map from Cary to Hal's Secret NC Beach Spot
Parking
Parking can be a bit of a chore in Wrightsville. Here's my double-secret methodology. Don't tell anyone!
Drive back up Lumina to Salisbury. Make a right onto Salisbury. Make your first right onto Lagoon Drive.
Lagoon is one of the longest streets near the beach. I just drive slowly around the block until a spot opens up. Never fails. Short walk back to Mallard from there.
BTW – you must buy a parking pass for the number of hours you will be staying and leave it on your dashboard. A couple of kiosks on Lagoon vend tickets.
Bathroom Breaks
On the ride down:

On the eastbound side of I-40, there is a reststop around mile marker 364 (Warsaw). Very nice and clean.

At the beach

– Mallard Ave has no facilities. A five minute stroll back up the beach to the pier is where to go.

On the ride back:

You can of course access the Warsaw reststop from the westbound side of I-40. If we stop on the way home, it's usually farther up the road around milepost 324 (Benson).
What's Your End-of-Summer Day Trip?
If you have a favorite day-trip for the end of summer, write to me at hal.goodtree@carycitizen.com.
Have a happy Labor Day, y'all!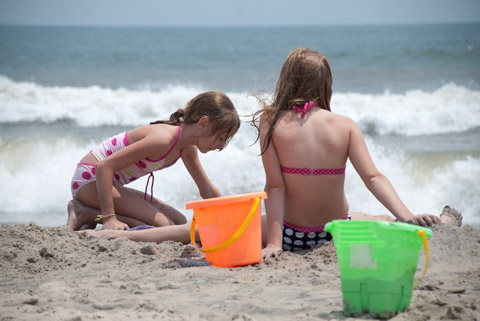 https://carycitizenarchive.com/wp-content/uploads/2011/09/day-trip-beach.jpg
270
480
Hal Goodtree
https://carycitizenarchive.com/wp-content/uploads/2020/03/cc-archive-logo-450-v3.png
Hal Goodtree
2011-09-01 16:28:28
2011-09-01 16:28:28
Day-Tripping to the Beach