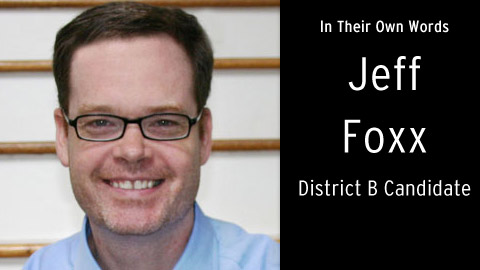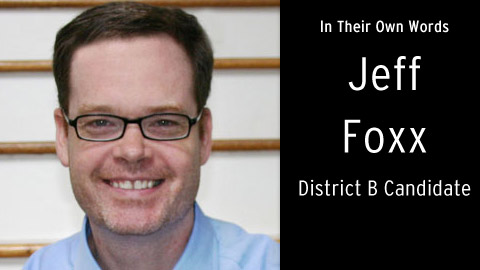 Cary, NC – Today, we continue our four-week series called "In Their Own Words," in which we let candidates for Cary Town Council tell you who they are and what they stand for. This week, we've covered District B, pitting incumbent Don Frantz against Jeff Foxx. Mr. Frantz had his say yesterday.
All candidates have been asked the same three questions. We have not edited on word, vowel or comma of their responses. Decide for yourself how to vote on October 11, 2011.
1. Why are you running?
JF: The primary reason I am running for Town Council is to give voters a choice.  Democracy doesn't serve the people if there is only one name on the ballot.  District B is as diverse as all of Cary, and the needs of District B extend beyond downtown.  I feel like my opponent has spent an inequitable amount of his attention on downtown issues, ignoring the other parts of District B.
As a resident of Silverton, I witnessed my opponent's handling of a developer/resident negotiation over a parcel of land adjacent to our low-density neighborhood.  I believe he has become an advocate for developers, choosing their interests over those of the people who he is supposed to represent.  I am running because I want to be the voice of the residents.
Finally, partisan politics has become too much of a part of Town business.  My opponent champions the fact that he works "on both sides of the aisle" but I don't believe there should be an aisle on Town Council.  My opponent has demonstrated that he has aspirations for higher elected offices and to be an ambassador on behalf of his political party.  Those are fine personal goals, but it doesn't help the people of District B.
I am running to work with and for the people of this district.
2. What are your top 3 priorities and how will you get it done?
JF: My main priority is to improve the way the Town engages citizens.  When a development impacts existing residents, they should have a say, early on, in the process.
Secondly, I would like to expand Cary's land acquisition efforts.  Real estate is at a low now, and it would be an excellent opportunity to capture open green spaces to ensure they are permanently part of Cary's character.
Finally, I would like to increase transparency and accountability of elected officials. I'd like to make it easier for citizens to see exactly how their elected officials are voting, without having to read through pages of minutes. And I would support an anonymous grievance system to allow citizens to report ineffective or unethical behavior of elected officials.
3. Biography & Relevant Experience
JF: With 14 years of experience as a technology professional, I have developed a strong sense of teamwork and leadership.  The fast-paced, goal-oriented world of business technology demands agility and innovative thinking, qualities that I am eager to put to use serving the people of District B.
Having worked in a variety of environments, from small tech startups, to non-profits, to multi-national corporations, I have developed a very broad range of business experience, and understand how important it is to work collaboratively to achieve goals and stick to a budget.
Like many of the people in District B, I'm a hard-working professional who wants to see Cary remain the best place to live and raise a family.  I am not interested in partisan politics, or playing sides.  I'm not a politician with higher aspirations, I just want what's best for Cary and the people who call it home.
I earned a BA in Communication with a double minor in Spanish and Journalism from North Carolina State University.  I work at SAS, and I live in Silverton with my wife and two young daughters.
More Information
Campaign website: jefffoxx.com
https://carycitizenarchive.com/wp-content/uploads/2011/09/candidates-jeff-foxx.jpg
270
480
Community Contributor
https://carycitizenarchive.com/wp-content/uploads/2020/03/cc-archive-logo-450-v3.png
Community Contributor
2011-09-14 18:30:55
2015-12-29 22:58:45
Cary Candidates: Jeff Foxx, District B