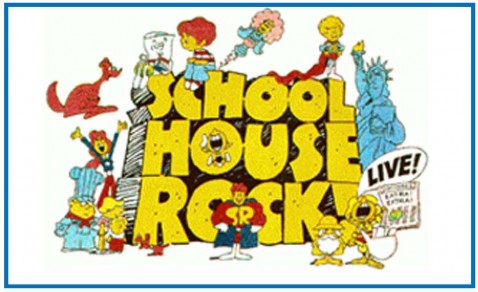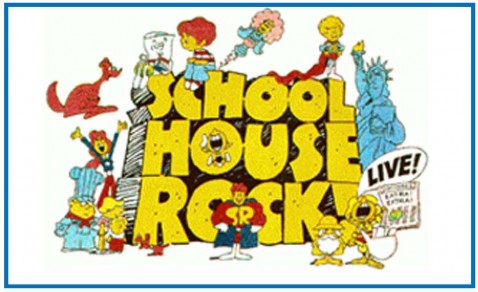 Story by Lindsey Chester
Cary, NC – If you grew up in the early 70's you probably remember educational cartoons like "Conjunction Junction"and "A Noun is Person Place or Thing" on  ABC's Saturday morning lineup. These shorts were produced as "School House Rock".  Next month Applause! Cary's Youth Theatre group is bringing the stage version to the Cary Arts Center Oct 14-16. 
I can still sing the words to Conjunction Junction and tell you it was about words that link "phrases and clauses" so I guess they were onto something back then. Based on those old cartoons which were created by George Newall and Tom Yohe, School House Rock Live! was originally adapted and produced for the stage by theatre BAM (Brooklyn Academy of Music).
The adaptation will feature many of your favorites. The plot goes something like this: Tom, a nerve-wracked school teacher nervous about his first day of teaching, tries to relax by watching TV when various characters representing facets of his personality emerge from the set and show him how to win his students over with imagination and music, through such songs as "Just A Bill," "Lolly, Lolly, Lolly" and my personal favorite: "Conjunction Junction".
Rachel Green, Youth Theatre Coordinator, says they chose this play "because we wanted to honor and celebrate the history (and future!) of education at the Cary Arts Center – so we're bringing the Schoolhouse to the schoolhouse, literally! "
Rachel added that " This show is typically done with a very small cast – the teacher role, plus 5 or so personalities.  We've expanded it into a large ensemble cast of 30″ The many voices will have more of a school house feel with groups of children representing the various original songs.
Look for the set design to resemble the original Schoolhouse logo which has been designed by a team of ten kids under the direction of Cailen Waddell. Virginia O'Brien is the Music Director/Director and Aaron Edwards is the Choreographer.
Here's a couple of the original Schoolhouse Rock videos:
Conjunction Junction
History of Schoolhouse Rock
The series was the brainchild of David McCall who noticed that his son had trouble with his multiplication tables, but was able to memorize the lyrics to rock songs. He pitched the concept of math tables being set to music and animation to ABC 's children's programmers. ABC network's children's programming division then  had producers of its regular 30- and 60-minute programs cut three minutes out of each of their shows, and secured General Foods as a sponsor for the segments. The series stayed on the air for 12 years, starting with multiplication (Math Rock) and then Grammar Rock, American Rock in 1976 ( remember "I'm Just a Bill"?).  In total thirty-seven episodes were recorded and produced between 1972 and 1980.
Kids Helping Kids
The Applause! group has agreed to perform Sunday Oct 15 at 2 pm as a special encore performance. Tickets being sold for this date will benefit the Relief For Recreation Scholarship fund to provide financial aid to residents who qualify when registering for town programs. Ticket prices are the same and there will be a special reception after this performance.
(hint hint- I'm selling some as a Parks & Rec advisory board member)
Event Info
Show dates: Oct 14-16
Showtimes: Fri & Sat 7:30pm, Sun 2pm
Cary Arts Center auditorium
Tickets:
$10 for adults, $8 for students/seniors and $5 for children age 5 & under.
Available in person at the Cary Arts Center Box Office
(open Mon-Fri 10 a.m.-8 p.m. & Sat 10 a.m.-1 p.m.)
Online at www.etix.com
or through the eTix Phone Center (1-800-514-3849)
https://carycitizenarchive.com/wp-content/uploads/2011/09/Schoolhouse-rock-logo-1-e1317170319680.jpg
292
478
Lindsey Chester
https://carycitizenarchive.com/wp-content/uploads/2020/03/cc-archive-logo-450-v3.png
Lindsey Chester
2011-09-28 13:21:01
2019-12-07 17:01:31
School House Rocks!