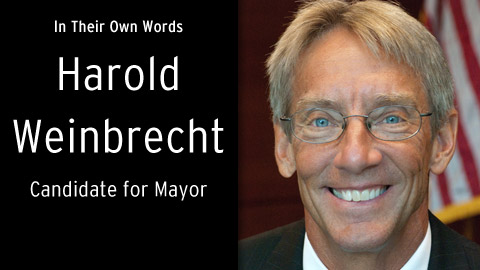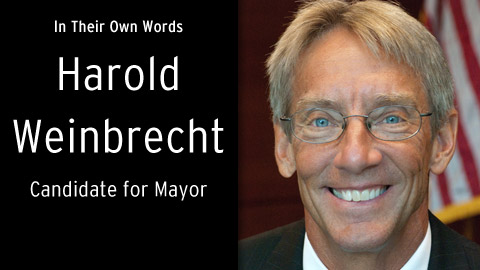 Cary, NC – This week, we are continuing our Cary Candidate series with the race for Mayor. Today, we'll hear from incumbent Harold Weinbrecht. Yesterday, we featured challenger Michelle Muir.
All candidates have been asked the same three questions. We have not edited one word, vowel or comma of their responses. Decide for yourself how to vote next week on October 11, 2011.
1. Why are you running?
HW: Many great things have happened in Cary during the past four years, and I want to continue to move Cary forward with vision, energy and integrity. Cary has enjoyed economic prosperity even during these difficult times, and that has been the result of experienced leadership. I believe that Cary needs a mayor with a proven record of making the right decisions at the right times.
Over the past four years those decisions have helped Cary achieve the lowest tax rate in the county while maintaining the highest quality of life. Under my leadership, Cary has returned to balanced growth and taken the first major steps toward revitalizing our town center. Together with the citizens of Cary, I have made our town one of the "greenest", environmentally friendly communities in North Carolina. I brought unprecedented levels of openness to local government to ensure that Cary's citizens are informed and their concerns are heard.
Four years ago, I promised balanced growth, low taxes, environmental protection and town government that puts citizens first, ahead of special interests. I have kept those promises.
I am running for re-election as Cary mayor because I want to keep Cary great. I offer steady, proven leadership that has made Cary an even better place to live, work, play and do business.
2. What are your top 3 priorities and how will you get it done?
As Mayor of Cary, I must routinely address many more than three issues. Leadership requires balancing many priorities, so choosing the top three is difficult, but among the most important issues that affect our citizens are:
– Economics & finances: citizens trust me to be an excellent steward of their tax dollars and keep our local economy strong even when our national economy is suffering. So we must continue to bring new, high-quality jobs to Cary, sustain our low tax rate and maintain one of the most efficient governments in the region.
– Balanced growth: In years past, we have seen the problems that can occur when growth is out of balance with the infrastructure that supports it. I put Cary back on a path of balanced growth that includes significant improvements to our roads, sidewalks, water, sewer and other infrastructure. I also brought our development fees back into balance so that development pays its fair share of the costs of growth so that our citizens do not bear that entire burden with their tax dollars.
– Environmental protection: Cary is among the greenest communities in the state of North Carolina and beyond. Protecting our environment is not only critical to our quality of life, by ensuring we have clean air and water; it also is a legacy for our children. It is difficult or impossible to reverse adverse environmental impacts. That is why I vigorously advocate for open space preservation, protection of the Jordan Lake watershed and environmentally responsible practices for town government.
I will accomplish these things and the many other issues that demand the mayor's attention in the same way I have gotten things done in the past four years: I will trust our world-class Town Staff to present us with the facts and alternatives that are needed to make sound decisions; I will lead the Town Council in reaching decisions that are in the public interest; and above all, I will always listen to citizens and ensure that their voices are heard at the council table.
3. Biography & Relevant Experience
I was born in Augusta, Georgia. I have been married to my lovely wife Belinda for 24 years and we have two beautiful daughters, Audrey and Cara. I've lived in Cary for more than 35 years and I grew up on Waldo Street in Cary. Not many people know this, but former Cary Mayor Fred Bond was my uncle.
I'm a graduate of Augusta College and NC State University with degrees in Mathematics and Computer Science. I have worked at SAS Institute since 1994.
I've been a public servant for many years. My relevant experience includes:
Mayor, Cary North Carolina 2007 to Present
President of the Wake County Mayors Association 2010 – Cary Town Council 1999 – 2003
Chairman, Cary Operations Committee 2001 – 2003
Cary Planning and Development Committee 1999 – 2003
Wake County Growth Management Task Force 1999 – 2003
Chairman, Cary Information Services Advisory Board 1998 – 1999
Cary Planning and Zoning Board 1998
Past President, Wynston Ridge Homeowners Association
Some of my other activities include the Cary Community Lions Club, Sunday School Teacher and former youth advisor at my Church, Cary Presbyterian and my Church softball league. I am an avid tennis player and certified teaching professional.
More Information
Website: www.ABalancedCary.org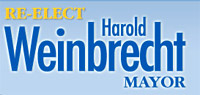 https://carycitizenarchive.com/wp-content/uploads/2011/10/cary-candidate-weinbrecht-2.jpg
270
480
Community Contributor
https://carycitizenarchive.com/wp-content/uploads/2020/03/cc-archive-logo-450-v3.png
Community Contributor
2011-10-05 16:00:05
2016-01-01 18:35:25
Cary Candidates: Harold Weinbrecht, Mayor