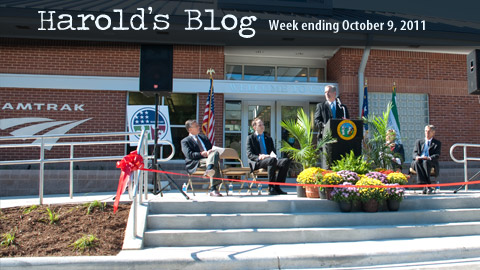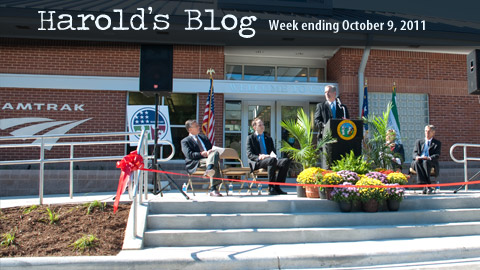 From the blog of Cary Mayor Harold Weinbrecht, covering the week through October 9, 2011. In compliance with North Carolina election law, CaryCitizen has edited Harold's Blog this week if necessary to omit any campaign-related references. You can read Harold's Blog in its complete form at http://haroldweinbrecht.com.
Monday at the Depot
Monday started with the grand re-opening of the Cary Depot.
I was honored to give remarks along with Joseph Szabo, of the Federal Railroad Administration, and Paul Morris, the Deputy Secretary for Transit at NCDOT.
This was a $2.2 million dollar project funded with the American Recovery and Reinvestment Act. The project employed 53 contracting firms as well as vendors. The improvements included expanding the station to accommodate full-service Amtrak service with ticketing and baggage handling. A lengthened boarding platform, adding parking, and a larger waiting room were also part of the project. The town will maintain the facility which will have free Wi-Fi access to both Amtrak and C-Tran passengers. Here is an excerpt from my remarks:
"… Great things happen with good planning, hard work, talented people, and a little bit of luck. And there's one more critical element to success: Partnerships. The paintings decorating the station were so graciously provided by our own Jerry Miller, a Cary citizen deeply rooted in our cultural arts community. So, I want to close by thanking both Jerry and the Federal and State governments for their support of this project and tell you how proud we are to have worked with you. …"
It was a great event capped off by outstanding music from the Cary Town Band.
Tuesday – Board of Ed
Tuesday I headed down to the new location of the Board of Education in Cary (in Crossroads). It was a packed house in anticipation of the new assignment plan. After the pledge I was recognized by Chairman Margiotta and gave welcoming comments. In my comments I praised their decision to relocate their headquarters in Cary and assured them that we have the finest police department in the state. Chairman Margiotta said that he enjoyed the location because of the many restaurants in the area.
Wednesday – International Walk Day
Wednesday morning I headed over to Godbold Park to join about a 100 kids and parents from Northwoods Elementary in the International Walk to School day. On the walk I talked with dozens of kids, most of who lived in the area. Once we arrived at Northwoods Elementary we posed for pictures and then they headed into class. I had a blast. I love talking with the young people of our town and hearing what is on their minds.
Saturday – Eid Festival
Saturday I headed over to the EID festival at Bond Park. Here is a portion of my comments:
"… Events like Eid are so important.  They help ensure that as a community, we can continue to be strong and successful by getting to know the values, experiences, and talents that each of us offers.  I always say and truly believe that it's only through mutual understanding, respect, and value that we can reach our full potential and happiness.

Of course festivals are just part of Cary's diversity story.  In Cary, we have a long tradition of not just celebrating but also encouraging and exploring diversity …"
I was followed by Congressman Price who also gave a few comments. The event featured a great performance by 120 members of the Cary Concert singers who sang gospel hymns, African-American songs, and finished with a great song in Arabic. It was a great way to showcase Cary's diversity.
Sunday – Church and Save-A-Life
Sunday I had the privilege and distinct honor of giving comments to the congregation at White Plains Methodist Church which is celebrating their 50th anniversary. I am especially grateful to Pastor Jean-Baptiste who invited me and took the time to meet with me for over an hour a few weeks ago. This is a very special event in the life of the church; my church celebrated its 50thyear a few years ago. After attending their 11 AM service I, along with Pastor Bradford and other members of the church, headed to the fellowship hall to make a few comments before sealing the time capsule. The time capsule was filled with items from today, including today's paper, and will be opened in 25 years. It was really a joy for me to be in attendance and I thanked them for their missions which help so many people.
Sunday afternoon I joined others at the Wake Med Soccer Park to run a 5K benefiting Save-A-Life which was founded in 2010 to help prevent teenage suicides. I was invited by Victoria Bennis who lost a brother to teenage suicide. She is committed to helping prevent future teenage suicides. I offered to help in any way I can. The weather was perfect for a 5 K and I had an enjoyable run. There were about 100 in attendance including Superintendent Tony Tata.
Staff Notes
Information from staff this week included a couple of announcements; one about road construction and the other about communication with the GSA regarding the proposed ICE facility.
Here is the announcement about Morrisville Parkway from Highway 55 to Carriage Way Trail:
Starting October 10, contractors working on behalf of the Town of Cary will intermittently close one lane of Morrisville Parkway from Highway 55 to Carriage Way Trail Monday-Friday to complete minor road improvements. Work to be completed as part of this project include: pavement sealing from Carpenter Upchurch Road to Louis Stephens Road and from Preston Village Way to Ashmore Drive; installing additional traffic signage from Highway 55 to Davis Drive; and adjusting the grade, curb/gutter, sidewalk and crosswalks from Davis Drive to Carriage Way Trail. Closures are expected weekdays from 9 a.m.-4 p.m. and as needed on Saturdays from 7 a.m.-6 p.m. through the end of the year. These improvements are part of the Town of Cary's efforts to transition maintenance of the road to the North Carolina Department of Transportation. For more information, search "Morrisville Parkway" athttp://www.townofcary.org or call (919) 380-4204.
On the subject of an ICE facility near Cary, the latest communication with the GSA included: "Buildings located within 3000 linear square feet radius… Of schools, daycare centers, residential zoning / concentration, hotels or other areas of civilian activity or vulnerability will not be considered."  A link to the Solicitation# 1NC2136 on the Town's website homepage under "Get the Facts – ICE in Cary" or http://www.townofcary.org/Departments/Administration/pio/icecary.htm.
Mailbag
Emails this week included complaints about Cary TV. Cary TV uses Triangle Reading Service as the default audio while showing information and traffic cams. The Triangle Reading Service reads local newspapers including editorials. The complaint was that Cary TV was broadcasting biased comments against a school board candidate.
In other emails there was a request for a traffic light at the Bond Park entrance (I'm for that!), a complaint about children under 12 riding golf carts on the street, and a complaint about cell phone coverage in Cary Park.
Next week will continue the busy trend. Of course there is the election on Tuesday. Whatever you decision, PLEASE VOTE! Men and women put their lives on the line every day to protect our freedom and this right. After Election Day there will be ribbon cuttings, award ceremonies, other events, and a council meeting.
Well that is all for this week. My next post will be on Sunday, October 16th. Please feel free to email me with a comment. Email all Town of Cary questions or comments to Harold.Weinbrecht@townofcary.org. Email personal comments to augustanat@mindspring.com.
https://carycitizenarchive.com/wp-content/uploads/2011/10/harolds-blog-1009.jpg
270
480
Harold Weinbrecht
https://carycitizenarchive.com/wp-content/uploads/2020/03/cc-archive-logo-450-v3.png
Harold Weinbrecht
2011-10-10 20:00:10
2016-01-09 11:46:57
Harold's Blog: Cary Depot, Eid, Church and a Run