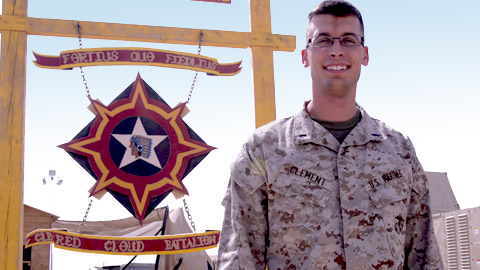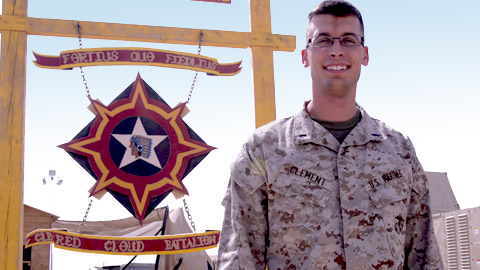 Cary, NC – This is not a story of battle, nation-building, heroism or pain. But then again, maybe it is.
Two items came in last week about Cary men currently deployed in Afghanistan.
Nathan Closen and Jeff Clement – one is a soldier, the other a Marine. Both share a passion for running.
This is just a simple story about everyday stuff warriors do to stay fit, stay focused and stay sane.
It is the everyday details that keep war from becoming an abstraction. Two young men from our town, running in the high terrain of Afghanistan, 11,500 miles from home.
Nathan Closen Runs for Breast Cancer Awareness
This story is from Defense Video and Imagery Distribution (DVIDS) in Atlanta:
116th Infantry Brigade Combat Team Senior Airman Nathan M. Closen of Cary, N.C., shows his support for Breast Cancer Awareness Month while running the Army 10-miler Race at Forward Operating Base Lagman, Zabul province, Afghanistan, Oct. 9.

Closen finished second.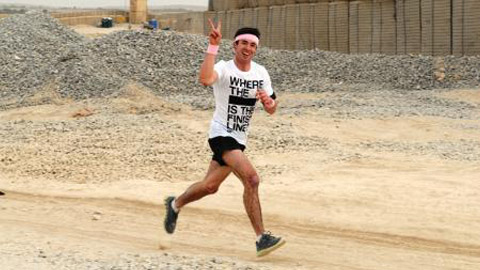 Photo by Sgt. Francis O'Brien.
Lt. Jeff Clement on "Why We Run"
The following story is written by Cpl. Katherine M. Solano. Photo at top By Lance Cpl. William M. Kresse.
CAMP LEATHERNECK, Afghanistan – For 1st Lt. Jeff Clement, fitness is what helps him fight the dangers of complacency while deployed in a combat zone.
Specifically, Clement runs. A lot. What began as a family affair 14 years ago has continued on throughout Clement's Marine Corps career.
"One day, my dad decided to become a runner and dragged the whole family into it," said Clement, the current operations officer for Combat Logistics Battalion 6, 2nd Marine Logistics Group (Forward), and native of Cary, N.C.
In the last decade and a half, running has taken Clement to some far-reaching locations where he has found himself participating in various races, to include the Marine Corps Marathon, the Virginia Beach Marathon, the Wrightsville Beach Marathon and the Washington, N.C. Half-Ironman Triathlon. But, according to Clement, the most interesting place his running shoes have taken him has been London.
"It was March and below freezing," he described. "I had only brought shorts, but was determined to run anyway. All the Londoners looked at me like the crazy American that I suppose I was. Then again, Americans regularly look at me like I'm crazy too."
Currently, Clement is preparing to run the upcoming Marine Corps Marathon aboard Camp Leatherneck, Afghanistan. He fits his training in any time and place he can.
"Out here, it's been tough to find enough time to do a full training plan," Clement said. "I have switched my focus to triathlon over the last year or so. Out here, I run as much as I can, but not nearly as much as I would in the rear. My approach for the actual race will just be to survive."
When describing the driving force behind his participation in the marathon, Clement says one of the important reasons he runs is to fight complacency.
"On my last deployment, I was outside the wire almost continuously," Clement said. "It's challenging, but it's exciting and constantly changing. Being a staff officer [here] is honestly harder mentally — the 'drudgery' factor can lead to complacency. Running helps to fight that."
"Running keeps me sane. It's a good way to relax. It's also a good way to have short term goals. There's always the next race to be working toward."
Clement says that after this marathon, he has no intention of slowing down. He plans on completing an Ironman triathlon in 2013.
"I can't imagine not running," he concluded.
https://carycitizenarchive.com/wp-content/uploads/2011/10/jeff-clement.jpg
270
480
Community Contributor
https://carycitizenarchive.com/wp-content/uploads/2020/03/cc-archive-logo-450-v3.png
Community Contributor
2011-10-18 19:00:20
2015-12-30 17:37:48
Notes From Afghanistan: Two Guys from Cary