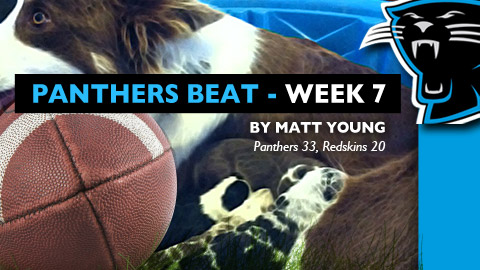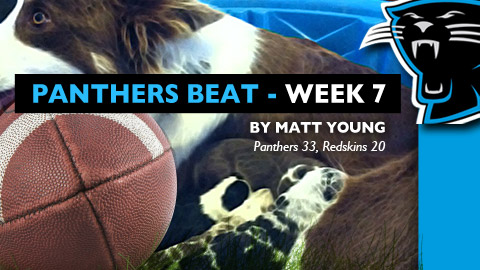 Story by Matt Young.
Cary-lina, NC – "Litter"-ally. Who let the dogs out?
"Cats" Rule Dogs Drool?
Saturday, as promised, I packed in a full day of honey-dos and outdoor sports as we enjoyed another beautiful day here in Cary. Friday and Saturday I had been making phone calls around to dog breeders looking for another border collie (enough time has passed – our Daisy passed away more than a year ago). Sunday, it would be just me and my 56-inch Panasonic.
I'll tell you about the border collie fascination some other time, but suffice it to say their IQs are higher than the average [team name deleted] fan.
Saturday, as luck would have it, one breeder's dogs had just had a litter. Perfect. "OK," I told her. "We'll be by Monday to pick one out."
Sunday morning, I call the breeder (in Carthage) just to confirm our appointment Monday. "What's that? There are people wanting to pick out their puppies NOW?"
Must…think…fast. "OK, well I guess my wife will drive down right now."
I am watching football at 1 pm. Mind you. Bet yer bottom dollar. I am the man.
"Chris," I explain to my wife, "you need to drive down and pick out a dog now."
Then something happened. I am not sure what. I may have blacked out. But in ten minutes, at about 11 am, I was on the road with my wife and youngest daughter, Sarah (who's boss actually let her leave work immediately – allegedly jumping up and down and squealing at the mere sound of the word "puppy").
Somehow in my trance I must have set the DVR.
More on this later.
The Right Stuff
The Panthers picked up win number 2 against a good Redskins team by a convincing score of  33-20 at home.
Steve Smith had 7 catches for 143 yards while Newton threw for 256 yards. The Panthers had 175 yards rushing. They held the ball for over 35 minutes. And brilliant defense, especially in the first half.
A recipe for success.
Highlights
The Panthers' Mare kicked 3 field goals in the first half,  the 'Skins' Gano kicked 2. It was 9-6 Panthers at the end of the first half.  Yet, it was an exciting first half, with lots of offense and action, but nothing in the end zone.
In the second half, things changed.
Another rookie record fell as Newton ran in his 7th touchdown of the year (in only 7 games!).
The Smith-Newton connection is becoming something to see. Smith was involved in 3 consecutive plays (2 passes and 1 run) that got the Cats downfield and into the end zone to take the lead 23-13 with 2:17 left in the third quarter.
It was 30-13 late in the fourth quarter after a "ridiculous" throw and catch between Smith and Newton on third down and a mile brought the Panthers to inside the 5 and eventually into the end zone.
With 5:05 left, the Redskins failed on an on-side kick.
Other Observations
The Panthers were hitting hard and tackling well. It took its toll on the Redskins with injuries to RB Tim Hightower. In addition to Hightower's injury, WR Santana Moss injured his hand and LB London Fletcher injured his hamstring and both left the game.
Way too much love from announcers Chris Myers and Tim Ryan for the Washington Redskins and Washington QB John Beck. I could not understand it. It seemed they were clearly rooting for The Redskins. I could think of very few explanations. Maybe it was the Joh Beck thing. See below.
Washington Coach Mike Shanahan announced that Beck would start against the Panthers on October 19 after pulling Rex Grossman out of the game last week. Shanahan has a reputation of being impatient with quarterbacks – possibly replacing them prematurely (remember the Donovan McNabb debacle of last year?).
It wasn't until very late in the fourth quarter that Redskins' QB Beck threw for his first touchdown since 2007.
Newton was a star again, playing well beyond his years: cool against an on-coming rush during screen plays, keeping the ball and running at the right time, making good decisions with the option and throwing passes with amazing accuracy.
Before The DVR Is Turned On – About 2 PM
My wife, Chris, is jealous of Susan. I'll lay it out for you.
Susan is the voice on my GPS. I can go someplace 20 times and somehow the information regarding that trip is wiped from my cranial hard drive. I can, however, sing the TV jingle for any consumer product marketed between 1965 and 1975. My wife remembers every place she has ever been. She still can recite the route her parents took when they brought her home from the hospital.
Susan never judges me.
She never even says "recalculating". She simply mentions an alternate route when I have zoned out and missed a turn. On the way home from the breeder Susan took us down some side streets in the beautiful NC countryside which added ten minutes to our trip home. On such a beautiful Sunday, I noted how thoughtful that was of her. Chris grumbled. My bride still hasn't forgotten the sidestreet in Newark Susan took us down where we had to wait while in the middle of the road as a drug deal went down. It was only five minutes.  Get over it!
Anyway, Susan also thoughtfully brought us past Bojangles where I picked up some chicken that I could eat while watching the Panthers.
Next up – Vikings. I'm thinking two in a row for our Carolina Panthers.
"Dogs have owners, cats have staff." – Anon
https://carycitizenarchive.com/wp-content/uploads/2011/10/panthers-week-7.jpg
270
480
Matt Young
https://carycitizenarchive.com/wp-content/uploads/2020/03/cc-archive-logo-450-v3.png
Matt Young
2011-10-23 20:53:59
2011-10-23 20:53:59
Panthers Beat: Who Let The Dogs Out?