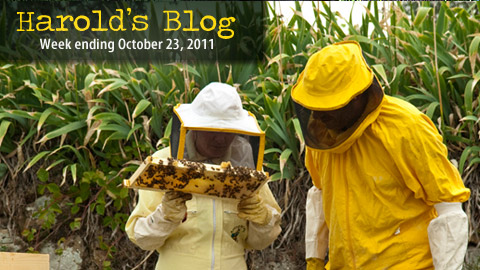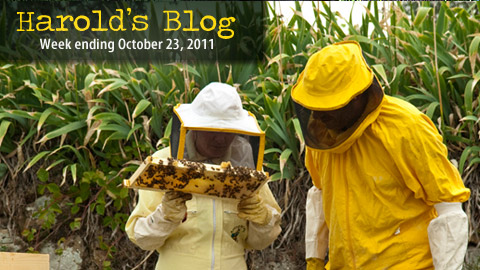 From the blog of Cary Mayor Harold Weinbrecht, covering the week through October 23, 2011. Photo by BWohack.
Cary, NC – This week was my first full week as mayor without campaigning in several months. It was nice to turn all my attention to mayoral duties.
Mayors' Association Meeting: Elections, Schools, Local News
The week started with a meeting of the Mayors' Association. This month's meeting was held in Rolesville Town Hall and was catered by a local restaurant. Nine mayors were in attendance. Absent were Raleigh, Morrisville, and Fuquay Varina's mayors.
Unlike most mayors' meetings this was open format. So after I blessed the food we talked about a variety of subjects which included: elections, the school board, the school assignment plan, the superintendent's performance, the mayors' legislative agenda, and poor local news coverage. The dinner meeting lasted about two hours.
Council Retreat, SK8 Park Noise
My first meeting Tuesday was with the town manager.
We only talked about two topics, the first of which is the council retreat. We discussed the costs and options associated with the council having a retreat away from town. The council expressed a desire to have one away from town so that there is non-structured time spent together. This is important since we are a new council with the addition of Ms. Bush and so we can reestablish relationships that may have been bruised by the election.
We also talked about a complaint next to the SK8 Park related to noise. Staff will be coming back with information about activities at the park and what can be done about the noise complaints.
Land Use Cost of Extending Water and Sewer
Tuesday night I met with an individual representing a group that is interested in a park and school site in the Chatham County area that is part of the Cary-Chatham County joint land use plan.
The purpose of this meeting was to present the idea and see if there were major objections. My concerns centered on cost of extending water and sewer. We will see what is proposed in the future.
Candidate Signage
Wednesday I interviewed with a Campaigns & Elections magazine reporter. His interest was on political signs in the right-of-way.
Apparently he had come across my blog after he had interviewed one of the NC Legislators who supported the legislation to allow campaign signs in public right-of-ways. My basic message was that having political signs in the median right-of-way are distracting and thus a safety hazard. In addition, they are aesthetically unpleasing and not in character with Cary appearance standards.
I explained we have a strict sign ordinance to protect the appearance of our town. I also explained that the purpose of political signs is for exposure and presence. In this election I participated in nine forums and filled out over a dozen questionnaires. One forum showed on Cary TV three times a day for weeks. So the exposure and presence were there for all candidates without the signs.
He stated that the legislator's expressed purpose of the legislation was to protect first amendment rights. I disagreed and said that those rights are provided within the existing sign ordinance. That is, anyone can place a political sign on their property expressing what candidate they preferred.
I continued by saying this legislation takes away local authority to decide what is best for their town. He responded by saying that is somewhat ironic since the legislation came from a Republican which touts less big government. The total interview lasted about 20 minutes and he promised to let me know when the story is published.
Dream Team
Wednesday night I attended a celebration dinner with my core campaign team. This team, which I refer to as the "dream team", is made up of incredible people dedicated to making sure my message gets out despite the negativity sponsored by special interests. We were once again successful and I am so grateful to them and all who supported me. It is truly an honor to work with such a fine group of experts.
Planning and Development: Highcroft Road and More
Thursday, the council's Planning and Development committee met.
I have been participating in this committee since former council member Portman resigned to become a member of the Wake County Commission. Usually, the mayor is not a member of the Planning and Development committee or the Operations committee.
The purpose of these committees is to have a subset of council review items in detail and make recommendations to the entire council. This way the entire council will have the option to continue discussion or approve the recommendation on the consent agenda without discussion. This helps make the council meetings more efficient. Usually, we will discuss any controversial issues at the council meeting even if there is a unanimous recommendation.
At this meeting of Planning and Development we discussed three items. All were unanimously recommended for approval.
We did spend a good amount of time discussing the Highcroft Road Waiver requests. Their first request was to give the town twice the cost of adding a turn lane at Carpenter Fire Station and Highway 55 rather than building the turn lane. Since the additional lane would not create significant improvement we believed it was in our best interest to take the payment and use it towards a bigger improvement project being planned that includes that intersection.
The second request for a waiver was of a bridge crossing a stream. This was difficult to understand but they are required to provide the bridge to the end of their property. Their property ends halfway across the stream. Since they can't provide half a bridge then they really don't have to do anything. The cost of the bridge is $600,000. So they are offering roughly $100,000. The entire committee meeting lasted about half an hour.
Lori Bush
Later that evening I had dinner with council member elect Bush to talk about her goals and expectations. She is an incredible lady and has tons of fantastic ideas. It will be nice to have "new blood" on council.
Green Hope Elementary Q and A:
Friday morning I headed over to Green Hope Elementary to talk with the student council. They had a list of questions that included:
Where did you grow up?
How long have you been mayor?
If you got to meet the President what would you say?
Is it hard being mayor?
What can we do to be a better school?
Where you involved in student government when you were a kid?
Have you ever been to DC?
What is it like being mayor?
How much money does our town run on?
How can we help our community?
What do you do as mayor?
Unfortunately, we ran out of time after these questions. I had a great time answering the questions and it was a fun visit. Hopefully, I will be invited back soon.
White Plains Cemetary Re-dedication
Saturday started with a re-dedication of the White Plains Cemetery in Maynard Oaks. This cemetery is the resting place of Nathaniel Jones who owned the property in the 1700s where most of eastern Cary is located. His property was a final four location for capital of North Carolina.
The ceremony was to rededicate the cemetery that was in disrepair and restored during the last thirty years. Speaking at this event were board members from the Friends of the Page-Walker Hotel, descendents of Nathaniel Jones, and me. One descendent, John Brooks, was former NC Commissioner of Labor.
Diwali
I left that ceremony and quickly headed over to the Booth Amphitheater to give welcoming comments for the 11th annual Diwali celebration. I was joined by council member Frantz who read a proclamation on behalf of the town. After a few acts I left for a little while knowing I would be back later in the day.
When I returned I was able to catch the last of 47 acts that had performed throughout the day. Then I, along with Congressman Price, gave comments. The grand finale of Diwali was an eighteen member Russian dance ensemble that performed Indian dance. What was remarkable was that these dancers came from a town in the arctic circle of Russia. Twenty-seven years ago they began studying Indian dance and became passionate about it. They even learned to speak Hindi. They became so good that they are some of the best Indian dancers in the world and have played in various places like New Delhi, Moscow, and St Petersburg. I was glad that Cary would be now added to their list of past performance locations.
Their performance was flawless. Everyone seemed to enjoy it. After their performance my wife and I were escorted to the back of the stage to watch a fireworks display. The Russians joined us, applauded after every boom, and really seemed to enjoy the fireworks. It was a great evening and I can't wait until next year's Diwali.
3rd Quarter Results
In news from town hall, staff released 3rd Quarter results for this year. Some of the highlights include:
62% of Cary's water meters are now automated with Aquastar
C-Tran fixed route service has increased by 20% during the last year.
C-Tran will have electronic fare boxes in all vehicles by December.
Energy efficient enhancements are in progress at the town hall complex, the public works operation center, Bond Park Community Center, Bond Park Senior Center, and the Herb Young Community Center.
Single Family residential permits are down from the previous quarter and during the last year but account for 20% of all permits in the county. Raleigh had 28% of all permits.
The Wake County Bus Plan has recommendations that will increase services by more than 150% during the next 25 years.
The town has funded new traffic signals at Kildaire and Highlands, Chatham and Dixon, and Penny Road at Ederlee.
The SPRUCE program continues to expand with its new Adopt-A-Spot that now has a total of 10 adopted spots town wide.
Cary's peak water demand was down slightly from last year. We have been virtually level during the last few years due to conservation efforts.
Project PHOENIX now has 26 apartment complexes participating in the zero tolerance crime.
Crime in Cary saw a slight increase in larcenies and robberies but a significant decrease in burglaries, aggravated assaults, and rape.
Our sports venues will once again bring in millions of dollars in economic benefit.
Five greenway projects are active with construction or design. They include Black Creek, Triangle Expressway, Higgins, NC 55 multi-use trail, Tryon Road, and West Oak Creek.
Staff Contractor Reports
In other news from staff contractors working on behalf of the Town of Cary will deconstruct the façade of its downtown theater located at 122 E. Chatham Street. The removal is set to begin October 24, weather permitting, and finish in November. Reconstruction of the building is anticipated to begin this spring.
Operation Medicine Drop
Staff also announced that it will participate in a state-wide Operation Medicine Drop October 29, 2011 from 10 a.m.-2 p.m. to properly dispose of prescription and over-the-counter unused or expired medications. The following Cary locations will serve as collection points on October 29 as part of Operation Medicine Drop:
Cary Senior Center, 120 Maury Odell Place
Christ the King Lutheran Church, 600 Walnut Street
Town of Cary Fire Station #3, 1807 Kildaire Farm Road
Email: SK8, Searstone, Trash Center Noise, Beekeeper Complaint
Emails this week included complaints about noise at SK8 Park, stalled development at Searstone, noise from the trash center on North Dixon, and a complaint about a beekeeper.
Next week will be busy with a council work session, a council meeting, a Cary Matters taping, Cary Band Day, and a Mayors' Association Hockey outing.
Well that is all for this week. My next post will be on Sunday, October 30th. Please feel free to email me with a comment. Email all Town of Cary questions or comments to Harold.Weinbrecht@townofcary.org. Email personal comments to augustanat@mindspring.com.
https://carycitizenarchive.com/wp-content/uploads/2011/10/harolds-blog-1023.jpg
270
480
Harold Weinbrecht
https://carycitizenarchive.com/wp-content/uploads/2020/03/cc-archive-logo-450-v3.png
Harold Weinbrecht
2011-10-24 16:15:49
2016-01-09 11:58:27
Harold's Blog: Life After the Election