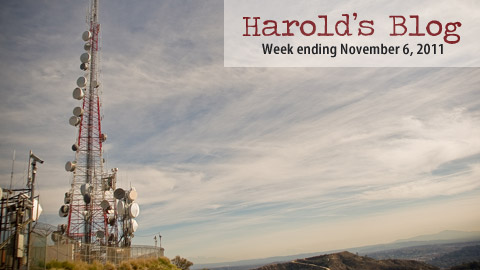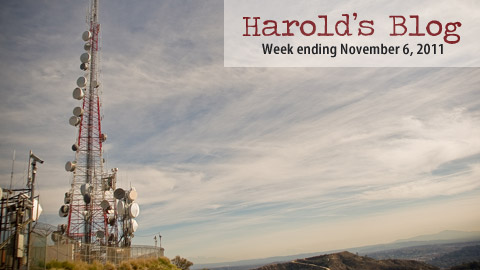 From the blog of Cary Mayor Harold Weinbrecht, covering the week through November 6, 2011. Photo by Jared Eberhardt.
Cary, NC – It was a relatively slow week for me as mayor. It included meetings, a ribbon cutting, a work session, and a charity event.
Monday was Halloween and there were no meetings and hardly any trick-or-treaters. I guess it was the bad weather that kept them away.
Tuesday with the Town Manager
Tuesday I met with the town manager on a couple of issues. First we talked extensively about ideas for team building at the council/staff retreat. I believe this council is a highly functioning group and I am hoping we can raise the bar even further. If we can accomplish this we will be an example for others to follow.
The next topic of discussion was about a proposed contract from the GSA about future ICE facilities in Cary. They would like for us to agree to a contract that would basically state that we would be provided information about ongoing proposals, would be allowed to give feedback, only if we agree not to tell anyone including the public. This would fall under federal procurement. Being a proponent of open and transparent government, I have a problem with this. On the other hand, we would be left in the dark if we don't agree. We decided to look at alternatives and possible counter proposals.
Wednesday at Wells Fargo
Wednesday I participated in the ribbon cutting for the Wells Fargo at High House and Cary Parkway. I was joined by council member Robinson and former Mayor Booth. Interestingly, Mayor Booth's son and grandson work for Wells Fargo. It was almost like a family reunion meeting people with the last name Booth.
Wells Fargo, which was Wachovia for many years, is transitioning to its new name and management. This ribbon cutting signified the completion of the transition at this branch. After talking with management and other employees I found that not much changed at this branch including their participation in the community. Wells Fargo/Wachovia both have consistently given to the community for years. This year was no exception. At the ribbon cutting they presented a $2500 check to "Children's Flight of Hope" and a $5000 check to the "Miracle League". Both of these are outstanding organizations that provide a huge benefit to our community. God bless Wells Fargo for their charity.
Turkish Thursday
Thursday I met with the President, Treasurer, and a representative from the American Turkish Association of North Carolina. This is a non-profit group dedicated to promoting awareness of Turkish culture and sharing Turkish heritage and has been involved in many town cultural events.  I was lucky to attend their "Expressions in Music and Dance" not too long ago. In our conversation they expressed an interest in a sister city in Turkey and shared their planned activities for 2012. I look forward to experiencing more of their cultural events in the future.
Thursday night, in a work session, the council went over the main topics for the staff/council retreat in January. There will be five main topics covered over the two day period. They include: Taking the town's customer service program to the next level, Land Use Plan update focusing on what Cary will look like in the future, a comprehensive review and discussion of the town's advisory boards, a discussion on how to proceed with funding future general capital projects, and enhancing the town's effectiveness with local, regional, state, and federal organizations and agencies.
Saturday Stuff
Saturday I attended the third annual walk for Food Allergies at Booth Amphitheater. This walk was a fundraiser to help with awareness and a cure for food allergies. Most people think of food allergies as an annoyance that can be controlled by diet but it is in fact a life threatening condition. What is interesting is that last year over 300,000 children had to seek medical care for food allergies. This event had plenty of children with food allergies and they were having a great time. The walk included about 500 people and they raised at least $30,000 for the local campaign. I was honored to be with these incredible brave young people. One of them, Dylan Youngberg, presented me with a project about the town and me that he received an A on in school. What a wonderful gift!
Later Saturday I interviewed with a high school student. His project was to create a biography of a known public official. Our interview lasted about 45 minutes and he promised to share it with me when he was done.
Information from staff this week included all plans in review through October 31st. You can see them by going tohttp://www.townofcary.org/Assets/Planning+Department/Planning+Department+PDFs/planreview/Active+Projects+in+the+Review+Process+(sorted+by+date).pdf.
Cell Phone Coverage in Cary
Because of the holiday schedule in November, I had to write the December version of Cary Matters early. The main topic will be on cell phone coverage in Cary and what we are doing to resolve some of the issues. Of course I couldn't get all the information in the Cary Matters script so I thought I would provide it here in question and answer form:
Why is cell phone coverage poor in some areas of Cary? Cell phone coverage is poor in some areas of Cary due to several issues. First, growth in the western and southern part of town has occurred in a more rural setting which didn't have much if any cell service. As that growth occurs there is a time lag between demand and service provision by the cell carriers. Second, particularly in the western part of Cary Highway 55 is the approximate fall line as the topography descends toward Lake Jordan. The towers on the east side of 55 aren't very efficient in reaching the areas west of 55 due to topography and tree coverage. Third, there aren't many existing structures that can provide location potential for cell sites. In other parts of Cary there were existing water tanks, buildings and towers that could be utilized. In the more newly developed areas most of the sites must be constructed as new sites so it takes more capital and time to get services in these areas. Fourth, particularly during certain times of the day (particularly peak traffic times on NC55 and Davis Drive) the usage spikes and many of the existing sites are overloaded. Finally as more and more people use handheld wireless devices (particularly pad type devices, and smart phones) the bandwidth demand for each device is growing exponentially resulting in less capacity for everyone.
Why do towers have to be so tall? Cell towers have to be so tall due to the nature of radio frequency technology itself. In the transmission frequencies that cell technology uses, vegetation (trees both coniferous and deciduous) and buildings interfere with the signal transmission. Towers are built taller to allow the signal to travel from a high vantage point to the coverage area and therefore have to penetrate fewer trees and buildings. This is the same reason that radio and television towers are built so tall.
Explain why more towers mean lower towers? Lower towers have less coverage footprint due to the answer above. So if you build lower towers it takes more of them to cover the same geographic area. In addition if maximum bandwidth or capacity is reached additional towers may need to be added. As cellular use increases in a given area a single site (which has a finite amount of capacity) will become loaded to the saturation point. This requires dividing the geographic area that this single site covers into multiple sites and possibly adding additional towers to provide the needed capacity. The new tower will typically be built at a lower height and the existing tower may be lowered to the approximate height of the new tower. This is usually done for two reasons. First, if the old tower is left at its original height and the new tower is built lower the higher tower will have better signal coverage and the signal will go further. When this happens the site will continue to attempt to handle all the phone calls it receives including calls that should be handled by the lower tower. This results in the higher tower being overloaded and either busy signals or dropped calls occur. Second, cell tower coverage "cells" work best if the coverage and overlap is fairly close to the same. If one is significantly different it can affect both coverage and capacity.
What actions did council recently pass in a work session on cell towers?
Earlier this year, at the request of Town Council, staff conducted a comprehensive review of the telecommunications facilities regulations contained in the LDO utilizing a focus group comprised of various stakeholder representatives.  Staff documented concerns related to technology considerations, current ordinance requirements and the application review processes.  This feedback was summarized and used to develop preliminary staff recommendations regarding potential amendments to the LDO and other review process changes related to the telecommunications facilities regulations. Staff presented this information to Town Council at a work session in August 2011.  At that time, council discussed and commented on the preliminary recommendations presented by staff.
Most of the actions taken by the Town Council at the work session directed staff to prepare (for further consideration by Town Council) draft ordinance amendments  intended to encourage wireless service providers and tower companies to develop new telecommunications sites as stealth facilities, to the extent practical.  Council directed staff to develop draft Ordinance amendments that would accomplish the following:
Actions taken based on recommendations from staff:
1. Consider allowing certain types of concealed/stealth facilities as permitted ("by-right") uses in certain zoning districts provided use-specific standards are met.  (Currently, concealed/stealth antennae and towers are only allowed in residential zoning and Resource/Recreation (R/R) zoning through approval by Town Council as a special use);
Proposed concealed (stealth) antennae and towers could be allowed as follows:
In all residential zoning districts AND on residentially-zoned land used for non-residential purposes according to the following:
Up to 150-feet in height through approval of site plan by staff;
Greater than 150-feet and up to 175-feet in height, through approval by the Zoning Board of Adjustment as a special use;
Greater than 175-feet in height, through approval by Town Council as a special use;
All these scenarios assume the proposed facility meets the minimum required setbacks.  If reduction(s) in the required setbacks are requested, review and decision by either the ZBOA or the Town Council, as part of a quasi-judicial hearing, will be required;
2. Concept of reduced setback requirements for concealed/stealth towers.  (Currently, both concealed and non-concealed towers have the same minimum required setbacks from adjacent properties.)
Staff has reviewed ordinances from several NC jurisdictions, and has included proposed setback requirements in the staff report being forwarded to P&D Committee on November 9 (requesting to set a public hearing date in December on proposed LDO amendments).
3. Updated/revised application review procedures and submittal requirements, such as:
Mandatory neighborhood meetings for non-stealth facilities proposed in both residential and non-residential zoning;
Requirement for balloon test and notification of adjacent property owners for non-stealth facilities proposed to be located within 400 feet of residentially-zoned property;
Photosimulations (developed from balloon test) to be submitted by applicant;
Better documentation of applicant efforts to locate facilities on sites with less visual impact (including existing towers/structures);
Requirement for locating cables internal to structure unless not technically feasible.
4. Other Ordinance-related actions:
Establish design/location preferences for applicants to consider when preparing applications for proposed telecommunications facilities.
Expand the existing definition/examples in the LDO for stealth (concealed) facilities, such as: add "slick sticks" and flagpoles (poles with internally-mounted antennae), and similar types of stealth facilities;
5. In addition to the ordinance-related actions noted above, Town Council also took the following actions:
Staff to develop background information with facts about wireless facilities in Cary (such as the number of existing installations, history, example pictures, etc.);
Work with stakeholders to develop easy-to-use guides for explaining technical terms and concepts associated with telecommunications services/facilities.
What can residents with poor coverage do in the meantime (boosters, antennas, etc)? If a signal exists within an area and is just weak a signal amplifier can be installed usually with an external antenna and the signal amplified to a usable level. It is important to keep in mind that the weak signal could be due to the cell phone itself, the signal from the tower, or both. If no signal exists the amplifier will not help. If the cell service in a given area is near or over capacity then solutions might be to add additional capacity at the existing site or to add additional sites and re-sector the network. There are wireless devices called "femtocells" that can connect a wireless cell phone signal to one's internet connection and use that connectivity to make calls but one must have an internet connection to do so and you must stay within the coverage area of femtocell device.
Anything else that would help understand? All cell phone sites have a maximum number of simultaneous phone calls they can handle and the amount of data they can transmit. In the future since the number of devices is increasing and higher bandwidth applications are also increasing the result will be a multiple effect on demand for cellular services.
Morrisville recently conducted a public input session with about 20 people attending and participating. They were asked 22 questions and the Sunday, October 30th Cary News published a few of the responses:
50 percent of residents said they prefer a monopole over lattice or guyed pole. The remaining 50 percent said they would prefer no pole.
86 percent of residents chose concealed wireless towers over non concealed towers, and 40 percent said they would like to see antennas look like a flagpole. Thirty three percent said they would like the concealed towers to look like a tree.
87 percent said having a cell tower on town property was a good idea, to bring in additional revenue.
93 percent liked the idea of a dual-function tower.
The Cary News did say that Morrisville planned to put this survey on their web site to get broader citizen input.
Mailbag
Emails this week included complaints about noise and odor at a McDonalds, proposed apartments near Cary Park, and the intersection of Carpenter/Upchurch and Cary Parkway.
Next week is mostly made up of meetings and one event. Some of the meetings are crucial as I start talking with council members and others about the next four years.
Well that is all for this week. My next post will be on Sunday, November 13th. Please feel free to email me with a comment. Email all Town of Cary questions or comments to Harold.Weinbrecht@townofcary.org. Email personal comments to augustanat@mindspring.com.
https://carycitizenarchive.com/wp-content/uploads/2011/11/harolds-blog.jpg
270
480
Harold Weinbrecht
https://carycitizenarchive.com/wp-content/uploads/2020/03/cc-archive-logo-450-v3.png
Harold Weinbrecht
2011-11-07 18:00:06
2019-12-07 17:00:34
Harold's Blog: Cell Phone Towers