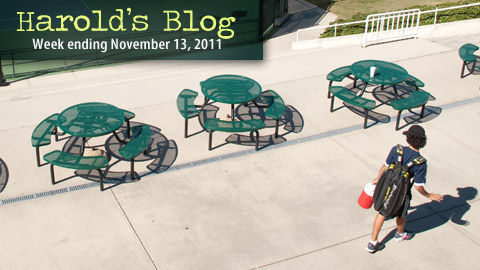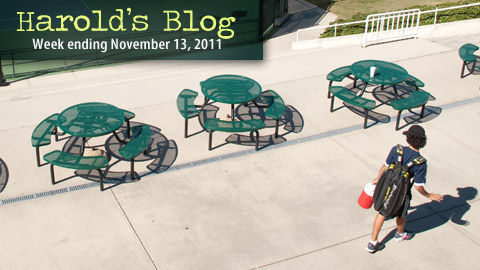 From the blog of Cary Mayor Harold Weinbrecht, covering the week through November 13, 2011. Photo of Cary Tennis Park by Hal Goodtree.
Cary, NC – This week was relatively light on mayoral duties and consisted mostly of meetings.
Possible Pink Slip of Cary Pkwy Extension?
My first meeting of the week was on Tuesday with the town manager. We talked at length about the downtown area. There is interest being shown that might create opportunities for the town to partner.
We also talked about me "pink slipping" an item on the agenda for next week's meeting. I would like to pass a resolution to CAMPO (Capital Area Metropolitan Planning Organization) that recommends the removal of the Cary Parkway Extension from Holly Springs Road to Gorman Street in Raleigh. Cary's portion is a few hundred yards. Raleigh has already passed a resolution that would remove their portion which is somewhere near Campbell Road to Gorman Street.
This route was added several years ago to help with East/West traffic. Studies now show that it would help but not as much as once thought. In addition, it is believed that the route would be more beneficial if it were moved toward Holly Springs.
2018 Youth Olympic Games
Wednesday I met with the CEO of the Triangle Sports Commission. He is currently working on getting the 2018 Youth Olympic Games to the Triangle.
The Youth Olympic Games, focusing on 14 to 18 year olds, was started by the International Olympic Committee in 2010 and includes Summer and Winter Games opposite from the Olympic Games. This event will bring 3500 athletes, 1800 officials, 20,000 volunteers, and over ½ a million spectators.
Economic benefit to this area would be roughly $260 million.
Cary's part would potentially host at two venues, the WakeMed Soccer Park and the Cary Tennis Park. The Triangle Sports Commission is heading up the bid which must be submitted by March of 2012. The announcement of the host city would be in May to August of 2013.
At this point all we are required to do is say that we are interested in having this event here. It is important to note that the Youth Olympic Games uses small cities with existing venues rather than having venues built like the Olympic Games.
The "Y"
Wednesday night I participated in the Cary YMCA "We Build People" celebration.
The volunteers raise money so that under privileged kids can attend after school and summer activities at the YMCA. They provide scholarships by raising money. This benefits the kids by keeping them off the street and away from bad influences. The positive environment from the YMCA encourages these kids and many have shown great improvement since being involved. Some who have been helped in the past have come back as adults to help today's kids.
This celebration was to thank the volunteers for all their work and was in the Letterman show format. I had the pleasure of reading the top ten reasons to volunteer for "We Build People".
I had a great time and can't say enough about what these great volunteers are doing for our community. So if you are looking for a way to make a positive difference in Cary, I would recommend getting involved with the Cary YMCA.
Flooding Issues
Thursday I, along with council member Adcock and several staff members, met with residents that live on Cedarpost Drive about flooding issues and to walk the properties. Their flooding issues have been getting worse and they want the town to fix the problem.
Usually flooding problems in town come from developments that were approved long ago with looser regulations. There are also cases where DOT builds or widens a road, like US 1, in which they don't have to provide any mitigation for runoff resulting in flooding issues.
So a few years ago the town created a policy to address the many problems in town. The criteria for this policy states that a home must first have damage. Damage can be defined as water in the crawl space, as it is in this case, or worse. If the home has damage then the town will pay half the cost of the repairs.
We will meet with the residents of Cedarpost Drive again to go over options.
Appointments in December, Aquastar
Friday night I met with the Mayor Pro-Tem to discuss appointments that I will have to make at the December meeting. I will be contacting each council member about these appointments to get their input.
Information from staff this week included an answer to a question about Aquastar antennas. The town currently has eight installed antennas for Aquastar on existing infrastructure.  Four are on water tanks. The other four are in various places that include the Operations center radio tower, two on building roofs, and one on a power pole. The ninth and final Aquastar antenna site is pending new infrastructure west of Highway 55 which will probably be a cell tower.
Emails
Emails this week included a request for employment assistance, a complaint about tethering a dog, a complaint about the Wake County Animal Shelter, and a complaint about Aquastar.
Next week will be a busy week and will include a joint meeting between Cary and Morrisville, a work session on the town's transportation fees and adequate public facilities ordinance for roads, a taping of Cary Matters, a council meeting, and an event.
Well that is all for this week. My next post will be on Sunday, November 20th. Please feel free to email me with a comment. Email all Town of Cary questions or comments to Harold.Weinbrecht@townofcary.org. Email personal comments to augustanat@mindspring.com.
https://carycitizenarchive.com/wp-content/uploads/2011/11/harolds-blog-nov13.jpg
270
480
Harold Weinbrecht
https://carycitizenarchive.com/wp-content/uploads/2020/03/cc-archive-logo-450-v3.png
Harold Weinbrecht
2011-11-14 16:05:53
2016-01-09 11:58:27
Harold's Blog: $260 Million Dollars