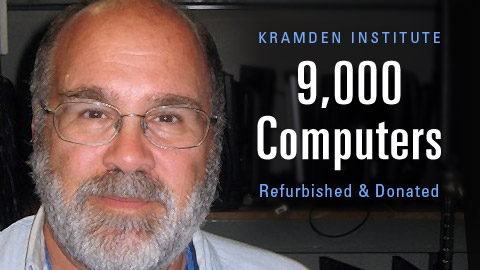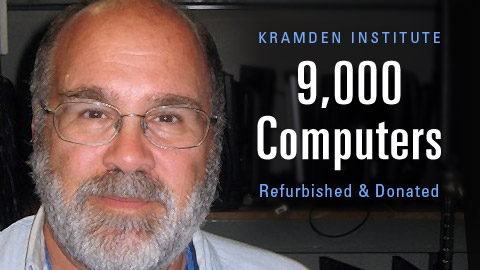 Story and photos by Lindsey Chester.
Durham, NC – I first came across the Kramden Institute when they were awarded a grant from the Cary Community Foundation last month. They refurbish used computers and donate them to deserving school-aged kids around the state, using thousands of volunteers in the process.
In a non-descript office park off of NC 55, Kramden Institute takes in used monitors, hard drives, key boards and more and with volunteer help, gives them new life. These volunteers are trained to do tasks from cleaning up the outside of the machine, to wiping clean the memory and installing new hard drives to the insides.
I spoke with founder Mark Dibner about how the Institute got its start. He described their humble beginnings. Back in 2003 Mark had seen a hard drive for sale on eBay, and intrigued purchased it for the $7 listed. With no computer background, he engaged his 13 year old son to help, stating that it would be his when finished.
The Start of Something Big
After a lot of online research and the purchase of more components, they were successful in refurbishing the machine. His son expressed how much fun he'd had and asked "if (they) could build more over the summer because he knew a lot of kids at school can't afford computers".
Armed with his son's enthusiasm (and how could you say "No" to that request?) he began asking his friends if they had any old computers to give him. Many friends did have machines collecting dust and were eager to put them to new use. His basement became the work area, which they quickly outgrew as people began donating an overwhelming amount of machines.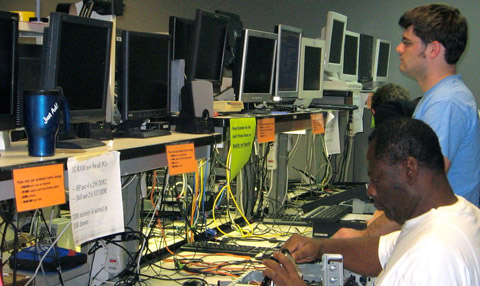 Whats in a Name
A sidebar here is that the company takes its name from Mark and his son, Ned's names spelled backwards.  Being a professor in entreprenership associated with the Fuqua School of Business, he knew to use his son's enthusiasm to propel him onward.
Next they tried to figure out to whom they could donate these machines. What Mark found initially was that by asking the kids that were already in National Honor Society about a need, 100% of these high achievers had computers at home.
Deserving Youth
So how to find deserving youth? They asked the teachers to recommend kids, and that is the model they use to this day. They look for kids who are hard working, and who would benefit from this additional tool to increase their achievement. Families are chosen who do not already have any computer in the home.
Upon being awarded, the student is given an orientation at Kramden (and on occasion Kramden goes out to far-reaching communities). They are taught how to hook up the machine, a bit about the Open Source software that is pre-loaded and some other basics. The machines are guaranteed for life, and should the new owners have a problem, they are free to come back for some Geek help provided free of charge.
The non-profit organizes thousand of volunteers. Mark said over 3,000 people are in their database. Most have no previous experience in putting together technology. Some area tech companies have team building days at Kramdem, notably Lenovo and Cisco who are big supporters. Volunteers must be at least 12 old. Work days are every Wednesday from 5-9pm (dinner provided) and every third Saturday from 9-5pm.
Over 9,000 Computers
Since 2003 over 9,000 computers have been awarded. The goal for 2011 alone is 2,200.
What machines do they accept? No Macs, in fact they have a standard, so that all the volunteers are doing the same work on all the machines.
Their biggest source of used computers is Lab Corp. Another company partner is Synergy, who arranges for machines to be trucked from Lab Corp, or also to award days outside of the immediate area. Any parts that cannot be used, are given to Synergy for scrap. Twenty pallets of equipment are delivered monthly.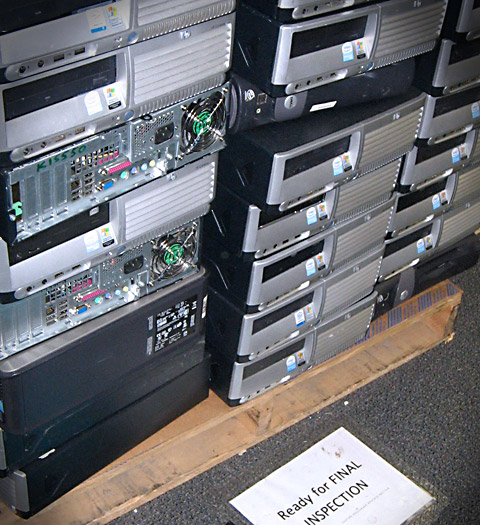 Here's some basic guidelines of what they accept. For the most complete list, visit the website.
Desktops:
Computers must have 800 MHz or higher processor. (All computers less than 5 years old should meet this requirement).
Computers should not be stripped of parts.
Monitors:
LCD flat panel monitors can be any size, please remember to include the power supplies
Not accepting CRT monitors at this time – go to your local county recycling website for CRT disposal.
PC Speakers with connecting cables
Laptops:
Laptops must have 800 MHz or higher processor.
Laptops should include an AC adapter or power cord.
To Donate
If you have equipment that meets these guidelines and wish to donate, first make a scheduled appointment by calling  919-293-1133.
To Volunteer
Volunteers are always welcome, and they are screened by ability. There is some level of work for every ability. Would you like to be a part of this exciting endeavor? Call Cari Delmariani at  919-293-1133 or email cdelmariani@kramden.org.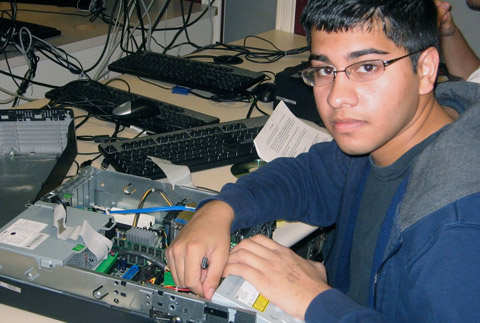 https://carycitizenarchive.com/wp-content/uploads/2011/11/kramden-institute.jpg
270
480
Lindsey Chester
https://carycitizenarchive.com/wp-content/uploads/2020/03/cc-archive-logo-450-v3.png
Lindsey Chester
2011-11-15 14:45:04
2015-12-30 17:37:52
9,000 Computers Refurbished & Donated