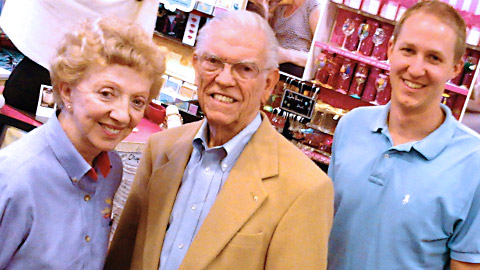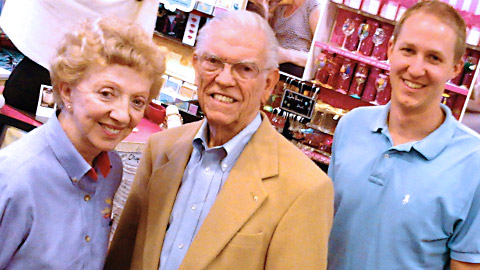 Story and photos by Lindsey Chester. L ->R: Daphne, Ralph and Scott Ashworth.
Cary, NC- It may be a down economy, but the Ashworth family is staying a step ahead. They own 15 Hallmark stores including one newly opened in Cameron Village and one will open on Friday (Nov 18) at Park West Village in Morrisville. In fact, they are the latest addition to our Hidden Giants business series.
Cameron Village "Brand Experience"
Scott Ashworth is rightfully proud of the latest addition to the Ashworth's Hallmark empire. Hallmark approached the family as preferred dealers to create the Cameron Village "brand experience" store, one of only 14 stores in the nation with the new layout.
The concept creates "neighborhoods" or in-store boutiques  within the store which have special store fixturing. Highlights include "girlfriend gifts", a personalized stationary area, and another holds holiday items. The signage and fixturing are unique and a great way for the family to test concepts before they roll them out to one of their other 13 stores.
Who's Lynn?
Ralph and Daphne have owned the Ashworth Drug store in downtown Cary since 1957.
Upon buying that store, Daphne says she knew immediately that they wanted to expand their greeting card offering and that they wanted to sell Hallmark. They approached the chain to be licensed dealers. The couple flew to Kansas City to talk to Hallmark about the corporation's new concept of "Lynn's Hallmark Shops." Hallmark had plans to franchise card shops across the nation under this name which they had just copyrighted. The name Lynn's was ideal because it met the following criteria: one syllable; easy to say and spell; identifiable with both sexes and it had not been previously copyrighted. The Lynn's Hallmark in Kinston was the 6th such shop to be opened nationwide.
When the couple asked Hallmark if they could open a freestanding Hallmark store in Cary, they were told the town was too small.  They opened their first store in Kinston,near one of the first malls in North Carolina.  The first Cary store opened when the new Cary mall (then called Cary Village Mall) was built.
Hidden Giant Employer
Everyone has heard of SAS, IBM and Cisco. Hidden Giants is a series about other businesses in Cary that are making a big impact.
Each store typically employs about 12 people, and the Ashworths own and operate 15 stores plus a warehouse/ distributon center. They estimate they employ roughly 250 people. National statistics frequently quote that small businesses are the economic engine of our economy, and the Ashworths certainly do their part!
They count family among their most valued employees. Ralph says he was thrilled when his sons, after graduating from college, decided to work in the family business. Paul is the drugist at the Downtown Cary drugstore, having graduated from the UNC-CH pharmacy program. Gary attained his CPA and conducts all the books for not only the drugstore, but all the Hallmark stores.
Both of Gary's sons came to work in the family business in the past decade. Chris Ashworth, who went to Appalachian, runs marketing & events, and purchases collegiate and souvenier collections. Scott Ashworth, NC State graduate, manages store operations. Having family involved in the business makes the Ashworths beam with pride.
Giving Back to the Troops
Last year sent recordable books to troops overseas who could then record their voices reading story books as gifts for their kids.
This year their Hallmark stores are part of a new initiative called Cards for Combat, which is not specifically for the Christmas holidays. For 99 cents, shoppers can purchase cards that are then sent overseas to the military.  Troops can then send handwritten, purchased cards home to their families for birthdays, anniversaries and other milestones.
This new initiative has been very successful. In two months, 15,000 cards have been sent to Iraq and Afghanistan.
Store Locations
You can find the family stores throughout the Triangle, they concentrate on the 919 area code.
There is the first store in Kinston, a store in Wilson, and Southern Pines, 1 in Virginia, 2 in Durham, Crabtree Valley Mall, Chapel Hill's east Gate Mall,  four in Cary (near Trader Joe's, Cary Towne Center, Maynard Crossing, and Crossroads Shopping) , Park West, Cameron Village, and one in Apex. For actual store addresses visit their website
Another Cary business Hidden Giant revealed.
https://carycitizenarchive.com/wp-content/uploads/2011/11/ashworth-family.jpg
270
480
Lindsey Chester
https://carycitizenarchive.com/wp-content/uploads/2020/03/cc-archive-logo-450-v3.png
Lindsey Chester
2011-11-17 15:45:46
2011-11-17 13:02:00
Business: At Lynn's Hallmark, It's All in the Family