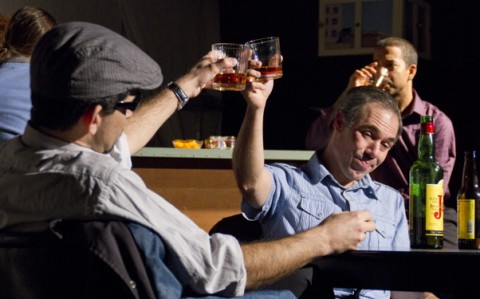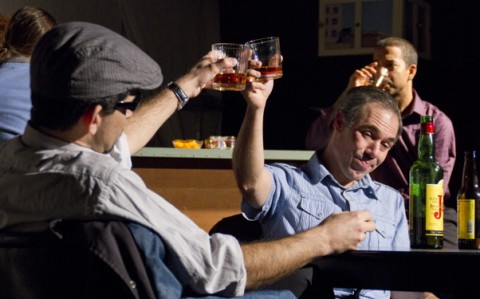 Review by Lindsey Chester, photos for by CaryCitizen Casey Toth
Cary, NC – Free Association Theater Ensemble (FATE) takes it to a new level with their latest show titled, Our Lady of 121st Street. Originally scheduled to open Friday November 4th, an actor's injury postponed the show til November 11.
Simultaneous Scenarios
FATE director, Julya Mirro has created a set where 3 scenes can be seen at all times. The main action is lit while in the background other actors silently portray parts of other scenes. A bar, a park bench, a stoop, and a confessional are depicted with minimal props.
The Set Up

The characters have come together after the death of a teacher, known as Sister Rose. Her death causes old rivalries and resentments to be confronted.
The play is set on 121st Street in New York, and if you know anything about New York, you know that's one tough neighborhood. The play reflects this raw toughness with rough characters who use "strong" language. This is no PG show.

Conflicts Abound
From the opening scene with a detective who practically accuses a black girl of murder to two brothers bound by their need for each other, and a divorced couple reunited at the funeral- these characters are filled with hate and self loathing. Yet they all have fond memories of the deceased.
Mystery
Its an unsolved mystery how Sister Rose died, but that is but one unsolved problem in this play. When the play opens the audience does not know anything about these angry characters, and by the end we see that they are all connected for one reason or another. Even a seemingly random tourist has a connection to the niece of the deceased.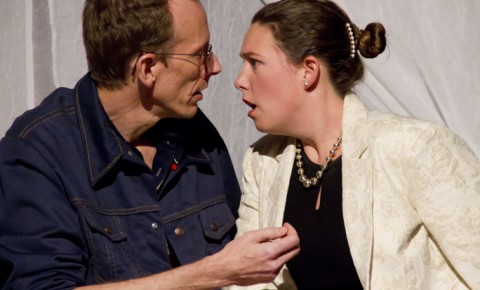 This play is one of the largest and more complex that the FATE troupe has performed. Its also one of the more radical: themes of homosexuality, infidelity, drugs, and mental problems surface amidst dialogue that frequently includes the "F" bomb to punctuate a character's point of view.
Its not all deadly serious, and there are several laughs throughout. The use of a strobe effect and "stop motion" action makes for some great transitions between scenes.
Don't expect everything to be neatly tied up in a bow at the end. The characters are complicated, and their lives are messy. Just like ours.

Show Info:
Friday & Saturday November 11 & 12, 18 & 19, Thursday, November 17
All shows at 8pm
Location
Harrison Pointe Shopping Center on the corner of Maynard Dr and Harrison Ave in Cary, approximately 1 mile from I-40 (exit 287).
Tickets:
General Admission tickets $15 / Students, Seniors, Military, Educators $10
$2 off when you pre-purchase with your credit card
$5 off for all current or 2012 Ensemble Members with 24 hour pre-reservation
**2 Free tickets with 2012 Season Pass Purchase!
For more reservations email  or call: 919-228-8184
https://carycitizenarchive.com/wp-content/uploads/2011/11/cheers-e1321039747564.jpg
299
480
Lindsey Chester
https://carycitizenarchive.com/wp-content/uploads/2020/03/cc-archive-logo-450-v3.png
Lindsey Chester
2011-11-17 20:58:35
2016-01-01 18:35:19
Theater Review: Our Lady of 125th Street