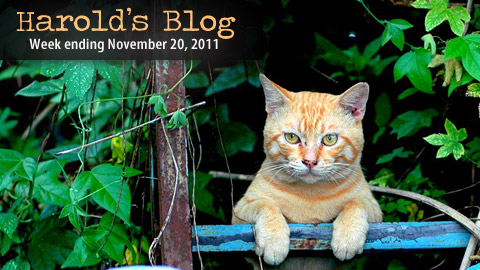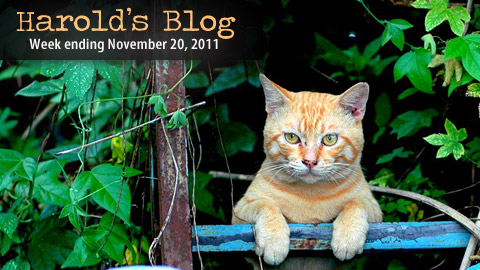 From the blog of Cary Mayor Harold Weinbrecht, covering the week through November 20, 2011. Photo by Angela & Andrew.
Cary, NC – This week was a busy one.
Cary and Morrisville Joint Subcommittee – Transportation and Development
It started with a joint subcommittee meeting of the Cary and Morrisville councils at the historic Christian Church of Morrisville. In attendance were council members Robinson, Adcock, and me from Cary and council members Diehl, Johnson, and Mayor Holcombe from Morrisville. Topics of discussion included Highway 54 corridor, bus service in the region as part of the regional plan, and land development comparisons. The bus service transit plan took up most of our discussion time. Presentations showed a more than 100% increase in bus service if the ½ cent sales tax referendum passes. It looks like that referendum will be on the November 2012 ballot. If it doesn't pass then Cary and Morrisville will work on extending C-Tran into Morrisville. To prepare for our next meeting in March, we agreed that we would discuss the hotel/motel/food and beverage tax.
Tuesday started with a round of calls to council members to see if they had any issues or concerns with Thursday's council meeting agenda. There were no concerns expressed by the council members I contacted.
I, along with a couple council co-sponsors, will add an item to the agenda to direct staff to present pros and cons of removing the Cary Parkway extension from the thoroughfare plan. If approved they will report back to council in December along with a prepared resolution to present to the Capital Area Metropolitan Planning Organization for removal of the road extension. The reasons behind this request include the fact that Raleigh, which has 90% of the extension, has already requested that their portion be removed. In addition, the planned road extension crosses environmentally sensitive areas in the Swift Creek watershed. Studies have also shown that a route further south would accommodate traffic better by eliminating North/South movement to reach the East/West connector.
That afternoon I met with administration and directors to go over the agenda. There was not a lot of discussion but we did talk about the presentations and the special use process. I predicted the meeting would last close to midnight.
Citizens Needed
Later that evening the council met in the first of two work sessions. The first work session was on transportation and growth strategies. A consultant presented a set of recommendation from two groups: a focus group of 20+ developers and a group of a couple of citizens.
Council suggested that a bigger group of citizens be involved for the input and that the focus groups be combined. In addition, council eliminated 6 of the 25 tools presented on the grounds they would never be considered. I have serious questions about most of the remaining tools because they involve lowering standards and levels of service and/or requiring more citizen subsidies of infrastructure for development.
Theater
Our second work session was to give direction on how to proceed with the downtown theater. The council had the option to just renovate the tiny theater or build an additional three story building annex.
The addition would allow for backstage facilities for expanded programming, provide for additional lobby overflow and address many of the storage needs.  The backstage would provide for both men's and women's separate dressing rooms, equipment storage, isolation of mechanical equipment and loading and unloading areas that would allow for larger-scale performances.  While all of the programming areas in the original theater would be accommodated, the additional building would allow larger bands to perform. In addition, larger theatrical events could take place and because of having equipment on site, programming time would be maximized due to not needing to take up time for bringing in equipment.  Lobby restrooms could be larger which increases audience satisfaction, concession storage could be on-site as well as the equipment needed to maintain flexibility for performances.  Similar to the Page-Walker expansion, the original building could be devoted to more of its original function while support areas which include an elevator (that is now required), storage, mechanical could be accommodated in the addition.  Finally, the upper floors in the addition could be rental spaces or accommodate additional programming.
The council approved the second option. The cost of the addition was an additional $1.7 million which will come out of the $8 million allocated for downtown.
Other Downtown News
In other downtown news given at the work session, the downtown manager reported that land acquisition of the town site across from the Cary Arts Center has almost been completed. He also reported that the Indian Bazar building, which was Mitchell's drug store when I was growing up, has been purchased. This building, adjacent to the Cary Theater, will be given a new façade and leased. The town manager also notified us that property that belongs to the Suggs has been purchased. Plans are forthcoming about this property.
Cary Matters
Wednesday started with the December taping of Cary Matters. My co-host for the month was council member Frantz. We usually do very well together and this taping was no exception. We were done within 30 minutes. The main topic for the December Cary Matters will be cell towers so make sure to tune into Cary TV or watch it online.
Saving Cats
Wednesday night council member Frantz and I met with interested parties of Trap/Neuter/Return cats (TNR) project in Cary. Currently TNR is ongoing in Chatham Estates and the mobile Estates mobile home parks with much success. They are totally funded by Cat Angels Pet Adoptions, Safe Haven for Cats, Operation Catnip, SPCA of Wake County, and Wake Voice for Animals.
Cary's ordinance only allows animal control to give callers one option when reporting a stray. That is to have the animal carried to the shelter to be euthanized. If the ordinance were changed to allow TNR as an option then more cats would be saved and the costs of the animal shelter would be reduced.
Council member Frantz agreed to bring this forward to our December meeting and I will co-sponsor.
2011 Hometown Spirit Award – Keith Bliss
Thursday was a busy day. It started with a reception for Cary's hometown spirit award nominees. The Hometown Spirit Award is awarded each year to one Cary resident who enhances the quality of life in Cary by preserving, promoting and carrying out positive and quantifiable traditional small-town community values and traits. This year we were blessed with four outstanding nominees that included Mary Lou Addor, Kerry Beach, Keith Bliss, and Scott Korbin. It's a shame that we could only pick one. Later that evening in the council meeting I, along with 2010 award winner Kay Struffolino, had the pleasure of awarding the 2011 Hometown Spirit award to Keith Bliss. Congratulations Keith!
Recognition of Jessica Elliott for Saving Motorcycle Officer's Life
Thursday night's council meeting was a long one. It not only included the Hometown Spirit award but  the recognition of Jessica Elliott who saved the life of Officer Chad Penland. On July 15, 2011, Ms. Elliott and her young daughter were traveling on Highway 55 and witnessed the vehicular accident of on-duty Town of Cary Motorcycle Officer Chad Penland. Ms. Elliott, a registered nurse, immediately called 911 and rendered life-saving aid and comfort to Officer Penland. It was an emotional ceremony to hear from both Penland and Elliott and to see the bond they have created.
After recognitions the council moved into the regular portion of the meeting which included two quasi-judicial hearings. These hearings and other business lasted until about 10 PM when the council went into closed session to discuss two issues. We adjourned our meeting around 10:30 which was better than I expected. Usually November and December meetings, since they are the only meetings of the month, last a long time. Our next meeting will be on December 15th when the elected council members take their oath of office.
Cary Hosts General Federation of Women's Club of North Carolina
On Friday I had the pleasure of giving welcoming comments to the General Federation of Women's Club of North Carolina. This group holds a fall conference every two years to coordinate and review policies, programs, and goals. My comments thanked them for choosing Cary as the host city and to enjoy all that Cary has to offer.
Emails
Emails this week included one from Dorcas ministry that had a link to their Capital Campaign video project. It was hosted by Bill Leslie of WRAL. I also had a small part. To see the video go to http://youtu.be/E5_mhw_Ye6k.
Emails this week also included complaints about the lack of schools in Cary inside Chatham County, various issues about the McDonalds on Cary Glen, lighting at the Cary Tennis Center, noise and odor at the Dixon dump, greenway repairs on weekends, and concerns about a potential ICE (Immigration and Customs Enforcement) facility in Cary.
Next week is Thanksgiving week so mayoral duties will be light. However, I will have to start on the State of the Town message though since it will be taped in mid-December.
Well that is all for this week. My next post will be on Sunday, November 27th. Please feel free to email me with a comment. Email all Town of Cary questions or comments to Harold.Weinbrecht@townofcary.org. Email personal comments to augustanat@mindspring.com.
https://carycitizenarchive.com/wp-content/uploads/2011/11/harolds-blog-nov20.jpg
270
480
Harold Weinbrecht
https://carycitizenarchive.com/wp-content/uploads/2020/03/cc-archive-logo-450-v3.png
Harold Weinbrecht
2011-11-21 16:00:46
2016-01-09 11:58:27
Harold's Blog: Transportation, Recognition, Downtown and Cats