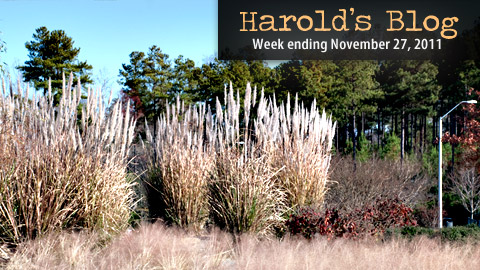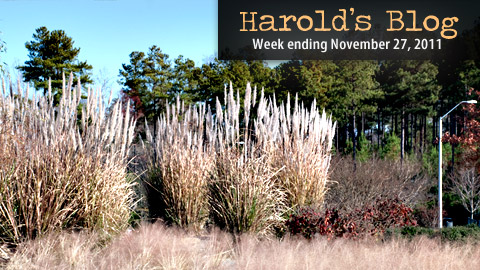 From the blog of Cary Mayor Harold Weinbrecht, covering the week through November 27, 2011. 
Cary, NC – This week was a holiday week so there were just a few events and meetings.
Mayors Association
Monday I met with the Wake County mayors at our monthly Mayors Association meeting.
All mayors were in attendance except Mayor Eagles of Rolesville and Mayor Sears of Holly Springs. Joining Mayor Meeker from Raleigh was Mayor-Elect McFarlane. We said our goodbyes to outgoing Mayor Meeker and Mayor Broadwell of Wendell.
In our first order of business we elected new officers for the Mayors Association. The new president will be Mayor Holcombe of Morrisville and the new vice-president will be Mayor Eagles of Rolesville.
Our meeting was full of great dialog. We were honored to find out that Mayor Byrne of Fuquay will receive Papal Honors from the Catholic Church on December 6th. He blessed us with the great story of his involvement in the church from an altar boy up until today.
In other discussion the mayors talked about the legislators and various topics associated with their actions. One general feeling was that municipality's authority is increasingly threatened. We adjourned around 8:30.
We Can't Support Lowerering Standards or Increased Cost
Tuesday I held a brief meeting with the town manager via the phone. Our main topic of conversation was on the last work session on the Adequate Public Facilities Ordinance and the Transportation Development Fees.
I expressed my displeasure with the direction the consultant was going and that I would find it difficult to support anything that would lower our standards or place more of the infrastructure cost burden on the citizens.
Police Oaths of Office
Wednesday I was the keynote speaker Oath of Office ceremony for nine new police officers. It was an honor and a privilege for me to address these new officers. While some of them were new officers most of them served in other police departments around the state. In my comments I talked about how the Cary Police Department is the best of the best and how the standards are set very high.
After the ceremony I was able to spend some time with motorcycle officer Chad Penland and talk about his recovery from the accident in July. He still has a way to go but remains very positive and is eager to get back to work. What an incredible guy.
Thankful
Thursday was Thanksgiving. I was blessed to have so many family members over to celebrate. In addition to my wife and daughters I had my brother, Aunt Fellas (former Mayor Bond's wife) and her youngest son, Tim and daughter, Lisa. We had a fantastic time and of course a lot of good food. My cousin, Lisa, gave me a lot of Mayor Bond's notes and pictures to look over. For example, there were old pictures of the dedication of town hall.  I will be going over to the copy machine soon to preserve these treasures.
Rallying with Morrisville's Rao
Friday started with a tennis meeting with council-elect Steve Rao of Morrisville. We hit tennis balls for about an hour and talked a little politics. Steve is very eager to serve in Morrisville. That should be an interesting council since it has so many new faces.
Council-Elect Bush
Later Friday I met with council-elect Lori Bush. We went over her ideas and goals. I am confident that she will be a fantastic addition to Cary's council.
Expanding WakeMed Soccer Park and Sewer Mains
Information from staff this week included the Wake Med Soccer Park expansion which has now begun and is expected to take ten months. It will increase stadium seating and will add new team facilities, restrooms, concessions and multipurpose space in a new three-story building that will be constructed on the stadium's east side.
In other news the town announced the beginning of a sewer main project along Holly Springs Road. This will go from Birkhaven to Penny Road. This is sure to cause traffic issues on this heavily traveled two-lane winding road. So be careful!
Cary – Low Fees/Low Taxes
Staff also issued an annual report on taxes and fees. Cary has the fourth lowest property taxes and utility fees in the county if you add city and county property taxes, water/sewer, solid waste and recycling fees. Based on property valued at $316,000, Cary's total taxes and fees would be $3935 compared to the highest in Zebulon at $4899 and the lowest in Raleigh at $3740.
The town's water and sewer rates were 6th out of the 12 municipalities in Wake County.  It was also important to see that out of the largest municipalities in the state, Cary taxes and fees were among the lowest. The report also gives a historic view of our property taxes which have gone from 54 cents, just a few years ago, to our current 33 cents tax rate.
Emails: Noise and Smells, and Events
Emails this week had continued complaints about noise and odor at our facility on Dixon Avenue, and a McDonalds at Cary Glen and Green Level Church Road. Other emails included several invitations to various events.
Next week will be busier and will include a trip to Northwoods Elementary, a homeowner's association meeting, an operations committee meeting, and the town's tree lighting ceremony.
Well that is all for this week. My next post will be on Sunday, December 4th. Please feel free to email me with a comment. Email all Town of Cary questions or comments to Harold.Weinbrecht@townofcary.org. Email personal comments to augustanat@mindspring.com.
https://carycitizenarchive.com/wp-content/uploads/2011/11/harolds-blog-nov27.jpg
270
480
Harold Weinbrecht
https://carycitizenarchive.com/wp-content/uploads/2020/03/cc-archive-logo-450-v3.png
Harold Weinbrecht
2011-11-28 16:00:19
2016-01-09 11:48:30
Harold's Blog: Mayors Meet, Police Pledges, Giving Thanks, Cary's Low Costs