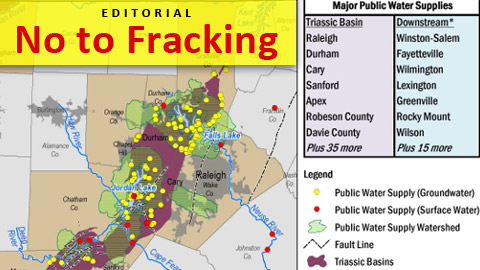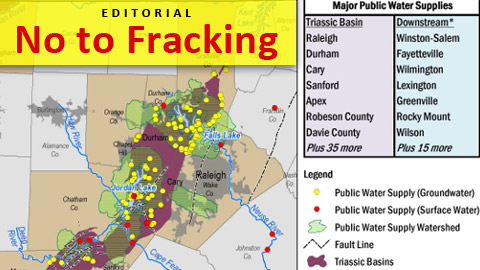 Editorial by Hal Goodtree. Map from Southern Environmental Law Center.
Cary, NC – Fracking has the potential to make North Carolina a net energy exporter. But serious concerns exist about contamination of water supplies. Until those concerns are laid to rest, Cary needs to ban fracking within our town limits.
What's Fracking?
Fracking, short for fracturing, injects water and a slurry of sand and chemicals at high pressure into rock formations. The rock formations form cracks (or fractures), creating channels for the release of natural gas, oil and other substances that can be recovered and brought to the surface for refining and sale.
Shale formations offer an enticing opportunity for fracking. The hydrocarbons in shale represent a bonanza of untapped resources for energy companies, but have been difficult and expensive to extract.
Fracking and North Carolina
Of interest to geologists and energy companies is an ancient seam of shale called Triassic basins running from Massachusetts to the South Carolina border.
In North Carolina, the seam of greatest commercial interest runs from north of Durham down through Sanford and into the Sandhills. A portion of this zone cuts through the western part of Cary.
What's Good About Fracking
Energy independence, that's what's good about fracking. Geologists and industry experts have predicted that fracking could make North Carolina a net energy exporter and provide a 40 year supply of natural gas.
Don't Drink the Water
The most serious concern about fracking is the release of toxic chemicals into water supplies.
State officials in New York, Pennsylvania, Colorado, Wyoming and elsewhere have raised serious concerns about fracking and enacted legislation to protect consumers and water sources.
In Wyoming, near a development called the Pavillion field, the EPA recently released a finding that detected contamination in test wells of groundwater.
"Residents of Pavillion long have said their drinking water stinks of chemicals and is giving them health problems. Health officials last year recommended that they not drink their water and ventilate their bathrooms while showering." – Business Week
The Deep River shale basin in N.C. runs through the western portion of Cary and along the eastern bank of Jordan Lake. Cary gets its drinking water from Jordan Lake.
Industry disputes the EPA finding and says that fracking is perfectly safe. But legitimate concerns and the first-hand experience of farmers, landowners and consumers across the U.S. have called that blanket pronouncement into question.
What's needed is more science – independent and peer-reviewed. Why rush into something that could contaminate the drinking water of 2.4 million people in North Carolina?
Disclose the Chemicals
For me, the biggest sticking point is the unwillingness of energy extractors to disclose the chemicals they use in the fracking process. Companies say revealing the ingredients of the mix would amount to disclosing trade secrets.
This is a disingenuous argument. Companies could reveal what chemicals they use, but not the exact amounts of each ingredient or the precise formula. If all companies were forced to disclose under the same standards, the policy would not affect the competitive balance. Lawmakers in several states have been studying this option.
Without a list of the chemicals used in the process, it's impossible to know whether groundwater contamination came from fracking.
Disclosure is a fair expectation. N.C. lawmakers should adopt it. Industry needs to accept it.
No to Fracking in Cary
Sanford has massive deposits of shale. It could become an oil boom town.
Deposits in Cary are certainly more modest.
But until concerns about ground and surface water are set to rest, Cary Town Council should place a ban on fracking within the limits of our municipality.
https://carycitizenarchive.com/wp-content/uploads/2011/12/fracking.jpg
270
480
Hal Goodtree
https://carycitizenarchive.com/wp-content/uploads/2020/03/cc-archive-logo-450-v3.png
Hal Goodtree
2011-12-11 08:45:04
2016-08-01 17:29:20
Editorial: Just Say No to Fracking in Cary