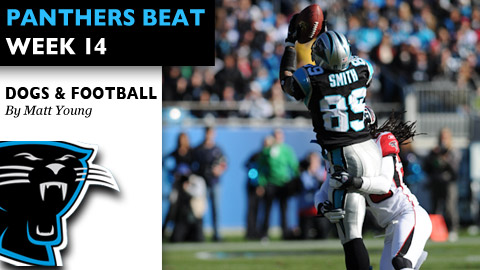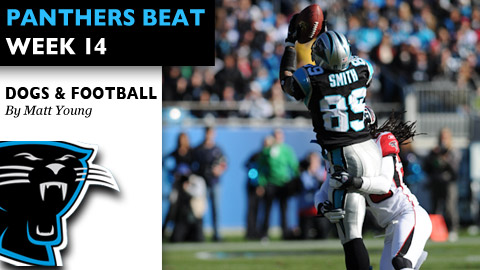 Story by Matt Young. Game photos by Suzie Wolf for CaryCitizen. 
Cary-lina, NC –  The always-underdog Panthers lost to the Falcons 31-23.  Speaking of gratuitous dog references…
Puppies Have Nothing To Do With Football
I told you about my puppy saga a few weeks back  in  Panthers Beat: Who Let the Dogs Out? (every time I hear that song, I wish that the NFL would allow stadiums to play it when Vick gets sacked. No wonder they say NFL stands for No Fun League!)
Anyway, I promised you "more later". Well,  here goes.
Despite the football gods doing everything in their power this year to keep me from the tube and the NFL on Sundays this fall, I have thus far prevailed. This Sunday was no exception despite the fact that I got 2 hours of sleep Saturday night.
Here's how: TWO puppies. Two BORDER COLLIE puppies. To those of you that are not familiar with the breed think of the movie "Babe". They are true servants to humans, clearly wiser than the rest of the animal kingdom – AS ADULTS. As puppies – different story. Raising one border collie puppy is not for the faint of heart. Two requires that the owners act like Lombardi and run like Hester. And padding and the team psychologist would help too.

A Man Among Women
I live amongst women. Many women. I raised three daughters. My childhood did not prepare me for this as I was one of four boys, no sisters.
I entered marital bliss firmly in charge. Now, after a quarter century plus I am  mere putty in all of their little manicured hands. I happily move their furniture to where they tell me. And my family leadership role is this – if a wild, rabid raccoon gets into our house and begins tearing the place up, I am the man. Or if we are on a family hike and we are charged by a grizzly bear, I am to run straight at it flailing my arms so that it can munch on me while the rest of them get away. You guys know what I mean. Heavy lifting and animal control.
Readers' Digest Version of the Dog Saga Year-To-Date
Here's the condensed Young Family dog saga, from Dad's point of view.
– Our dear departed border collie – Daisy – passes away over a year ago.

– "No more dogs!", I say waving my right arm in the air as if this was a sovereign decree. Nods of agreement from my female subjects.

– Sometime later I am told that this decree is no longer in effect and we are, after all, getting a dog.

– "One, then," I say. "One dog." "Maybe something little – a Yorkie." "AND I AM NOT CLEANING UP AFTER IT!" And there was great rejoicing from the masses agreeing that I am great and good.

– Sometime later I find out I agreed to a border collie. Rumor is I was asked on a Sunday afternoon on a 3rd and 1 from the 10 yard line. Apparently, I also said "'whatever." Footnote: "whatever" means "yes". Unless you are my kid, and then it means "I have no leg to stand on and therefore am no longer arguing with you, dad."

– Later I actually find myself searching for the "right breeder". I do. And I call early one morning only to find out that they had a litter hours ago. "Kismet," I am told. We pick one out immediately (see the CaryCitizen story referenced in the opening paragraph).

– Soon, Kate, the breeder, tells me that our soon-to-be-picked-up puppy has a sister who is now available. The deal on the sister fell through. Something about the potential buyer coming to his senses.

– My family squeals in delight. Once more, I am asked to make a decision. With great aplomb and pomp and circumstance I say "No way". Silence. Seems this was the wrong decision. Puzzled look on my face.  "Yes, this makes sense?" I ask, I mean – say. And once more I am told how wise I am by my adoring family.
The two new girls in the house agree.
And Now, Back to Football: Panthers – Falcons
The dog story played in the background of my usual Sunday. Week 14, Panthers vs Falcons. Woof!
The Panthers were hoping for three wins in a row – and revenge on the Falcons who soundly beat them earlier this year. But it would be the 6th time this year they lost after being ahead or tied in the 4th quarter.
Newton was last week's NFC Offensive Player of the Week. Just another one for the record books being written by this rookie phenom: he is now only one of two rookies to get that honor –   running back Fred Lane (1997) being the other.
He had also gone without an interception in four of his last six games. Cam had a couple picks in this game.
The first half was all Panthers, as Carolina was beating the Dirty Birds by a commanding score of 23-7. But the Cats from Charlotte were held scoreless in the second half to finally succumb 31-23 to the Falcons, who were fighting for their playoff lives.
Next up – the first place Texans.
[Editor's Note: Alternate headlines for this story included "Rulers and Droolers" and "Panthers Leave With Tails Between Their Legs."]
Panthers-Falcons Pictures
Thanks to photographer Suzie Wolf  for making the trip down to Charlotte over the weekend and filing these photos from the Panthers-Falcons contest.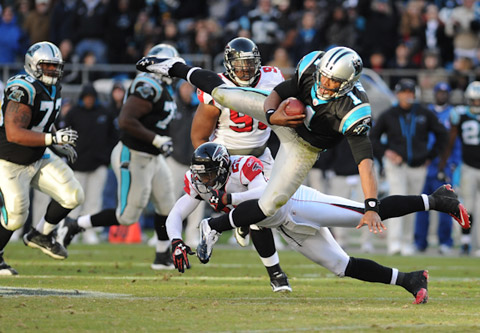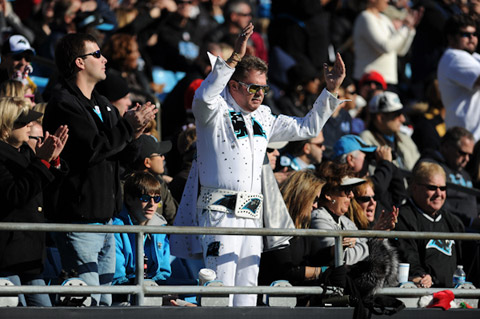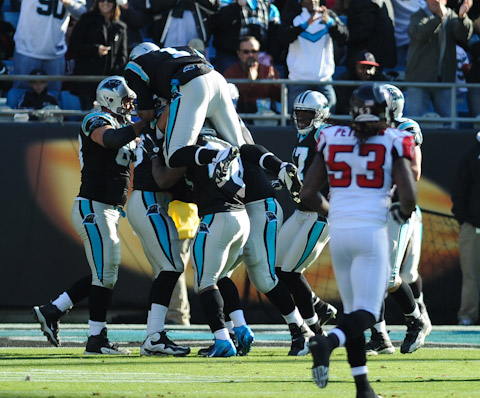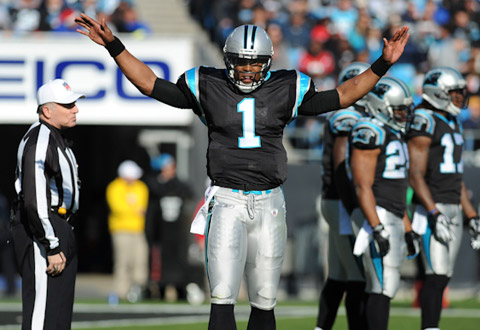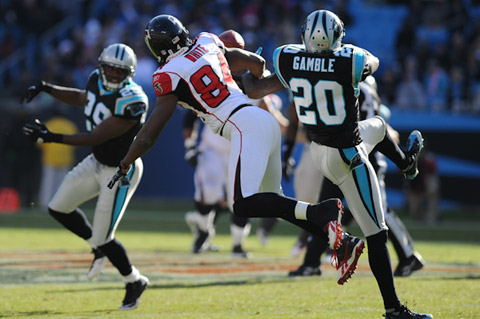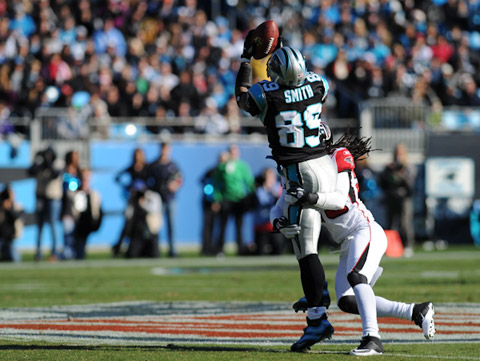 https://carycitizenarchive.com/wp-content/uploads/2011/12/panthers-week-14.jpg
270
480
Matt Young
https://carycitizenarchive.com/wp-content/uploads/2020/03/cc-archive-logo-450-v3.png
Matt Young
2011-12-12 16:05:29
2011-12-12 15:58:26
Panthers Beat: Dogs and Football