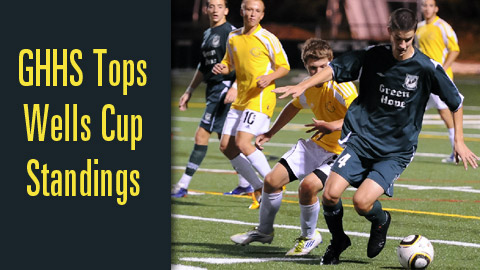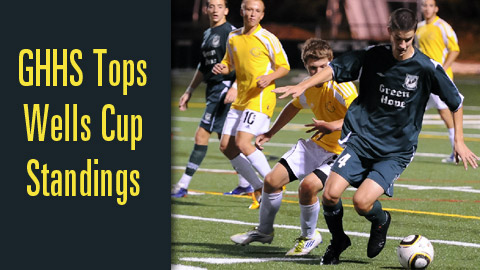 Story by Lindsey Chester. Photo of Green Hope vs Cardinal Gibbons by Tom Mousseau.
Cary, NC – The fall sports season has been put to rest, and the tally of points is in. Cary's Green Hope High School, 2 time Wachovia Cup winner, is on top for a third year in a row in 4A competition in the newly-renamed Wells Fargo cup.

GHHS Tops in Fall Sports
Green Hope clinched state championships in men's soccer, women's cross country, and a top four finish in women's volleyball racking up 195 points to put them safely ahead by 25 points of #2 Broughton.
Raleigh's Athens Drive High School is the only other Wake County Public School to make the top 15. Myers Park who has placed second to GHHS for 2 years, and who won the cup for 2 years previously is in 3rd with 165 points.
Gibbons On Top in 3A
Another local favorite, Raleigh's Cardinal Gibbons High School, is way on top in the 3A classification with 347.5 points.
In 3A competition, the story has been all about Gibbons which dominated in all 7 fall sports. Crusader teams earned five different state championships: volleyball, women's tennis, both women's and men's cross country and men's soccer.
Wells Fargo Cup Standings
The Wells Fargo Cup, formerly known as the Wachovia Cup, is sponsored by Wells Fargo and the NCHSAA. The award recognizes the high schools that achieve the best overall interscholastic athletic performance within each of the state's four competitive classifications. The Cup program is in its 33rd year.
Here's the official list of standings. Where a ranking isn't indicated, teams are in a tie.
4-A CLASSIFICATION SCHOOL POINTS
1. Cary Green Hope 195
2. Raleigh Broughton 170
3. Charlotte Myers Park 165
4. Charlotte Ardrey Kell 155
5. Asheville T.C. Roberson 147.5
6. Southern Pines Pinecrest 142.5
7. Watauga 127.5
8. Pfafftown Ronald Reagan 125
9. Charlotte Providence 107.5
Scotland 107.5
11. New Bern 102.5
Winston-Salem Mount Tabor 102.5
13. Raleigh Athens Drive 85
Greensboro Grimsley 85
Greensboro Page 85
3-A CLASSIFICATION SCHOOL POINTS
1. Raleigh Cardinal Gibbons 347.5
2. Charlotte Catholic 192.5
3. Waxhaw Marvin Ridge 157.5
4. Northern Guilford 152.5
5. Chapel Hill 147.5
6. Asheville 132.5
7. Weddington 117.5
8. Wilson Hunt 95
Orange 95
West Carteret 95
Franklin 95
12. Jacksonville 87.5
13. Havelock 85
Ledford 85
15. North Iredell 80
Crest 80
Hickory 80
West Rowan 80
Burlington Williams 80
Wells Fargo Cup points are determined by a system based on performance in state championship events. All schools that finish in the top eight positions (plus ties) earn points. In the playoff events involving teams from more than one classification, Wells Fargo Cup points are awarded based on the school's standing against other schools in its own classification. If fewer then eight schools from a classification compete in a sport, only those schools that are represented are eligible to receive the Wells Fargo Cup points.
Points are awarded for all sports as follows: 50 for first, 45 for second, 40 for third, 35 for fourth, 30 for fifth, 25 for sixth, 20 for seventh and 15 for eighth. In the event of a tie, the schools receive an equal number of points based on the number of teams that tie and the number of teams that finish higher in the standings. Five points are awarded for each sanctioned sport in which a school competes.
Wells Fargo Cup standings are announced three times each school year: once after the fall, again after the winter sports, and then concluding with the winner after the spring sports season ends in June. The engraved silver cups are presented during NCHSAA Day activities at UNC-Chapel Hill each fall.
https://carycitizenarchive.com/wp-content/uploads/2011/12/ghhs-wells-cup.jpg
270
480
Lindsey Chester
https://carycitizenarchive.com/wp-content/uploads/2020/03/cc-archive-logo-450-v3.png
Lindsey Chester
2011-12-18 12:53:01
2011-12-18 12:53:01
Green Hope Tops Wells Fargo Cup Standings