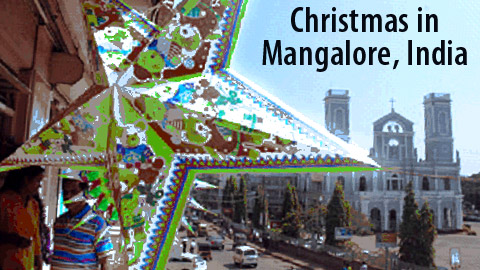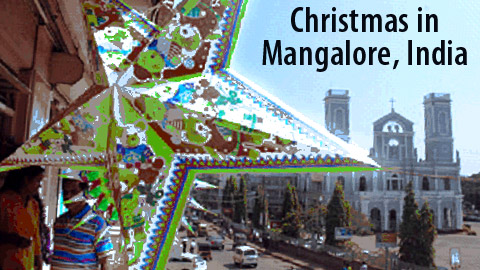 Story by Jayana Ira Saldanha. Edited by Matt Young.
Cary, NC and Mangalore, India – Many of us who work here in the Triangle in North Carolina have co-workers, contacts, clients and family in India. I was sharing tidbits about our traditions in the United States with a co-worker in India – Jayana Ira Saldanha – and she was kind enough to send this on. 
Matt,  
I wanted to tell you how we celebrate Christmas in my hometown-Mangalore, Karnataka, India.
The Mangalorean Catholics were converted to Catholicism by the Portugese, who landed in Goa around the late 15th century. Mangalore is known as "Rome of the east" because of the large number (about 155) of churches in its diocese.
Mangaloreans Catholics are very devout and make it a point to attend daily masses. We love family and celebrations with our family members. We are culturally a very happy, helpful and enterprising people. We have a unique culture and have myriad traditions and in many ways we are similar to the Goans. Our Mother-tongue is Konkani.
Christmas is celebrated in a grand manner. Christmas is a time to spread goodwill in being charitable and also to thank God for sending His beloved Son to save us.
The Christmas Star
The Christmas star is put up in every house in the 1st week of December. There is an electric bulb inside the star and at night the star glows brightly. This is a reference to the star that pointed the way to the three Wise-Men who were searching for the new-born messiah
"Kuswar"
Households start preparing the savories and sweets called Kuswar a month ahead of Christmas. Plum cakes and other types of cakes and baked goods are also prepared. Wine is also made by some.
This Kuswar is distributed to friends, neighbors and even tradesmen and servants who help us during the year. It is a gesture of goodwill towards them.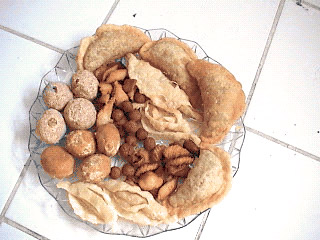 Preparing for Christmas
New Clothes are bought especially for the children. Churches are cleaned and decorated by the parishioners. Every church will have a large "Christmas Crib" or nativity scene made by the youth of the parish. There are inter-church prizes to be won on whose crib is the best! Also smaller cribs are done by every household and they too participate in the competitions. Charity events are organized during this time and people are urged by the priests to spread goodwill to all especially the poor and live the example of Jesus.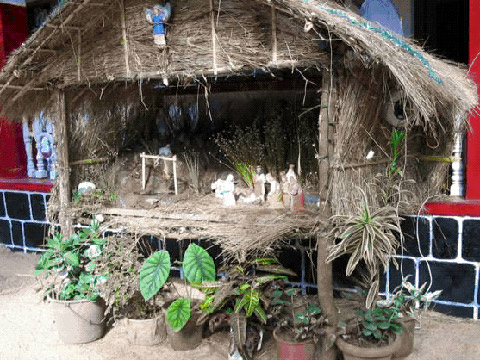 The West
Traditionally, we didn't have the concept of Christmas Tree and Santa Claus but we have imported it from the West. Also youngsters attend balls on Christmas Eve and New Year's Eve – this too is not something we traditionally do and is still frowned upon by many traditionalists.
Christmas Eve
On Christmas eve, we attend the "Midnight Vigil" mass along with our family. There will be carol singing in Konkani as well as English and Christmas skits in the Churches. Sometimes games and other fun activities are organized.
Christmas Day
Christmas Day is spent at home with family having a nice lunch – pork curry (we love pork!) and other items. Sometimes we visit our relatives and have lunch with them. Traditionally we go to our ancestral home and spend our Christmas with grandparents, uncles, aunts and cousins. We like to sing and dance to Konkani songs during our gatherings.
Have a very happy and blessed Christmas there in North Carolina. Please do send pictures of celebrations in Cary. I would love to see the snow and all the pretty decorations!
Jayana
https://carycitizenarchive.com/wp-content/uploads/2011/12/mangalore-1.jpg
270
480
Community Contributor
https://carycitizenarchive.com/wp-content/uploads/2020/03/cc-archive-logo-450-v3.png
Community Contributor
2011-12-21 11:16:20
2011-12-21 16:10:22
Christmas in Mangalore