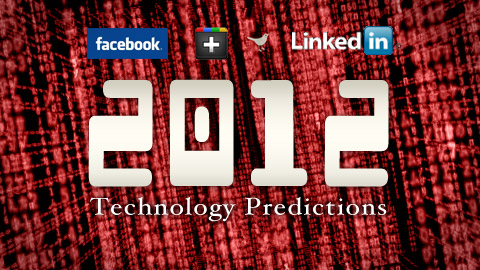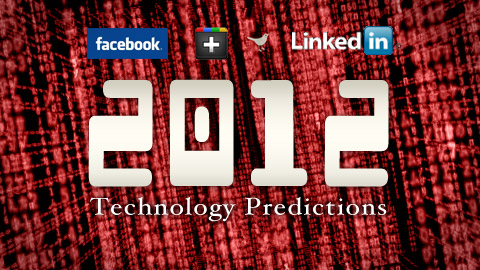 Story and illustration by Hal Goodtree.
Cary, NC – What would the last week of the year be without a few predictions? Gazing into the crystal ball, here's what I see for technology 2012. Some of it may surprise you.
Mass Market Tech
The term technology covers so much ground. In this story, I'm going to focus on the the mass market. Not IPv6 or HTML 5, we're talking Facebook, Electric Cars and Google+.
Linked In – Up
I climbed aboard the Linked In bandwagon way back in 2006. I'm the moderator (or "owner") of a couple of large groups. But since the beginning, I've been trying to figure out exactly what the benefit is for all the effort.
In the past year, Linked In has started to move more aggressively toward social interactions a la Facebook.
In 2012, I predict Linked In will finally leap the chasm and become actually useful to its millions of members.
Facebook – Sideways
By all measures, Facebook is a pretty revolutionary product. And, like all revolutions, the changes can sometimes be dizzying.
I've rolled with the tide during previous upgrades, changes and experiments on Facebook. But the latest round of "improvements" leaves me with vertigo.
I love Timeline, a re-design of the Profile page. But the news feed seems less interesting.
Until there's a viable alternative to Facebook, it will continue to be the world's most popular internet destination. But I predict a choppy year for Facebook with declining numbers for the amount of time visitors spend on the site per visit.
Groupon – Down
Groupon has many devoted fans. Local businesses don't seem to be among them.
Over the last few months, I've heard a lot of complaints from businesses about Groupon. Principally:
Groupon customers don't become "regular customers"
Groupon takes too big a chunk
Groupon takes its sweet time paying retailers.
None of this is good. Groupon debuted on Wall Street just a few months ago. It's already down 10%.
Prediction for 2012: Groupon loses altitude.
Google+ – Down
In 2011, all my techie friends jumped on Google+, a would-be competitor to Facebook. My non-techie friends, not so much.
Several weeks after a splashy rollout, not much has changed. Except for the militantly technophilic, Google+ is a big mystery. What's a circle, anyway?
In the parlance of the TALC – Technology Adoption Life Cycle – Google+ has hit the chasm. The Chasm is that unfortunate spot between early adopters and mass acceptance.
Prediction: Nothing will change for Google+ in 2012 unless Facebook falls off a cliff.
Technology in 2012
Here are a few more pet tech predictions for 2012:
3D Movies – Going down
3D TV – Dead
Blackberry – Takeover target
Electric Cars – Still not ready for prime time
Twitter – Sooner or later, we'll see a pay model or ads in stream. Maybe in 2012.
HP, Kodak, Olympus, Yahoo – adios
What Are Your Tech Predictions for 2012?
Like I said, I'm not a card-carrying techie.
But as Cary goes, so goes the world. So weigh in with your weighty tech predictions for 2012, no matter how geeky.
——————————————————————–
Hal Goodtree is Publisher and founder of CaryCitizen, winner of a 2011 Knight New Media Fellowship.
https://carycitizenarchive.com/wp-content/uploads/2011/12/tech-predictions-2012.jpg
270
480
Hal Goodtree
https://carycitizenarchive.com/wp-content/uploads/2020/03/cc-archive-logo-450-v3.png
Hal Goodtree
2011-12-28 16:45:59
2011-12-28 16:13:20
Technology: Predictions for 2012