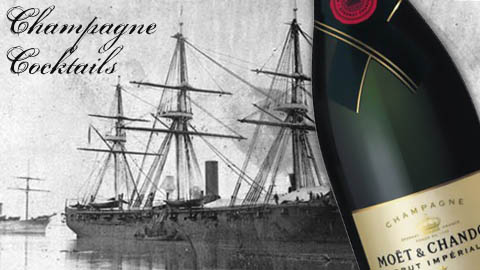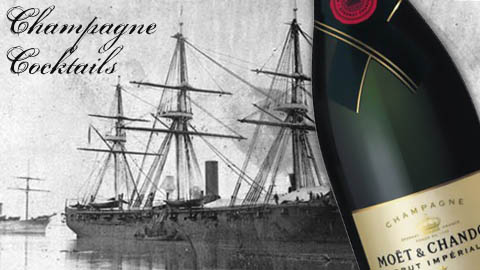 This is a recipe redux, republished from last year. Story by Hal Goodtree.
Cary, NC – The bubbly will be flowing on Saturday night in Cary and across the world for New Years Eve. Here are three champagne cocktail recipes from the basic (Grand Mimosa) to the party-sized (Richmond Punch) to the local and colorful (Moonshine and Champagne cocktail). Salut!
Champagne, Cava and Other Bubblies
Champagne is a denomination controlee in France, which means only wine grown and produced in the region can call itself Champagne. Moet & Chandon is a classic.
In the past few years, other sparkling wines have become popular, including Cava from Spain and Prosecco from Italy. I had a wonderful sparkling Vouvray from France on Christmas, available from Sip for less than $20.
All are good in champagne cocktails. Choose a sparkling wine that fits your taste and budget.
The Recipes
I've chosen three champagne cocktail recipes to satisfy a variety of tastes:
Champagne Grand Mimosa – If you're dressing up for New Year's, this might be the drink for you.
U.S.S. Richmond Punch – A historical cocktail, made famous during the Civil War. Great for parties.
Champagne and Moonshine Cocktail – something with a little local flavor.
Champagne Grand Mimosa
This is just a Mimosa (champagne and orange juice) with the addition of Grand Marnier (an orange liqueur).
1/2 oz Grand Marnier
1 oz freshly squeezed orange juice
3 oz champagne
Glass: flute
Garnish: strawberry
This cocktail really is all about the Champagne or whatever sparkling wine you're using. The Grand Marnier gives it some extra kick and a solid bottom, but the orange juice is just a splash to blend the other flavors.
You can substitute other sweet juices for the orange juice. The same cocktail with cranberry and passion fruit is called a Lanesborough. Pomi (pomegranate juice) is also a good choice. Fresh pressed apple cider would probably be good, too.
Experiment. Just remember to go easy on the juice.
U.S.S. Richmond Punch
The cocktail sounds fantastic but the story is even better.
The U.S.S. Richmond, a wooden steam sloop (pictured above), was one of the longest-serving vessels in the Civil War. They kept on hand a stock of special punch, to celebrate victories and near-death escapes like the ramming by the C.S.S. Manassas on the Mississippi.
The recipe can be made in advance and kept in well-sealed jars. The quantities involved suggest a party, but be your own judge.
1 cup Jamaican rum
1 cup brandy
1 cup strong black tea
1 cup Port wine
3 lemons
3/4 cup sugar
2 oz orange liquer
2 1/2 bottles of Champagne
Glass: punch glass, preferably the ones with little handles
Garnish: lemon slice
Serves: 10
Adapted from: Mary Louise Hoyt Boyle, Around the World Cookbook, 1913.
The day before New Year's, put a 1-quart bowl of water in the freezer. On New Year's morning, peel the lemons, trying not to get any of the white pith. Muddle the peels with the sugar (superfine works best) and let sit for an hour for the lemon oil to leach out.
Juice the peeled lemons. Make 1 cup of strong black tea (use 1 teabag). Combine tea, lemon juice and sugar/lemon oil mixture (strain out the peels).
In a gallon container, combine tea/lemon/sugar mix with the rum, brandy, port and orange liquer. Refrigerate for at least 1 hour.
To serve, un-mold the block of ice in a 1-gallon punch bowl. Add the chilled punch stock and top off with the champagne. Garnish with a lemon slice. For a more modern twist, you can also serve it by the glass (use a high ball or an iced tea glass). Pack the glass with ice, use about 1/3 base alcohols mix. Fill the rest of the glass with the Champagne.
Champagne & Moonshine Cocktail
Small batch, un-oaked spirits are a hot item, according to Liquor.com. Well, we've been making it in North Carolina for decades. The birthplace of NASCAR is the home of moonshine.
Folks have been making 'shine from leftover farm produce for generations. In some parts, corn or potatoes or rye are used. Those types of mash produce whiskeys.
In North Carolina, fruit is often used. Peaches in particular are popular, but watermelon 'shine is a delicious summer treat up near the Virginia border.
How do I know this? Never mind.
You can legally buy moonshine at the ABC store just a mile from my house in Preston Corners. It's sold in a a cute little jug under the brand name Carolina Moonshine. It's a peachy/fruity brandy and goes down smooth. This isn't your Uncle Willy's White Lightening.
Harking back to my days as a bartender, I've made up this champagne and moonshine cocktail just for you, Cary Citizens.
2 oz moonshine
1 lemon, juiced
.5 oz simple syrup
Champagne
Glass: Flute
Garnish: Maraschino cherry or a raspberry
The cocktail is based on the recipe for making a French 75, but substitutes the moonshine for gin.
Simple syrup is just sugar dissolved in water, 1 part each (1 cup sugar to 1 cup water, for example). Usually, it's done on the stove top or in the microwave.  Stir the sugar until it's dissolved in the hot water and refrigerate.
https://carycitizenarchive.com/wp-content/uploads/2010/12/champagne-cocktails.jpg
270
480
Staff
https://carycitizenarchive.com/wp-content/uploads/2020/03/cc-archive-logo-450-v3.png
Staff
2011-12-28 16:12:45
2020-02-24 19:02:36
New Year's Eve Champagne Cocktails