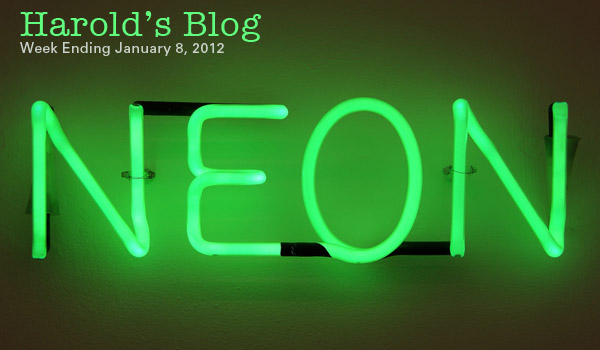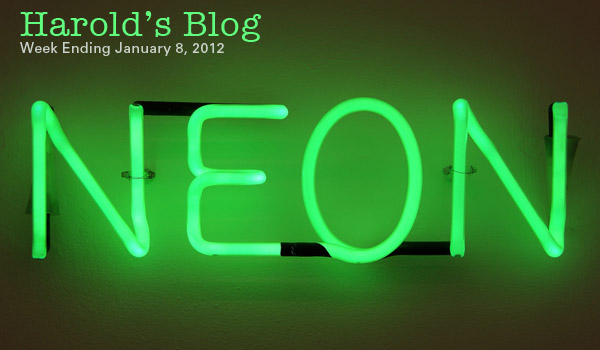 From the blog of Cary Mayor Harold Weinbrecht, covering the week through January 8, 2012. Photo by Martin Abeggien.
Cary, NC – This was the first full week of the New Year but included a holiday so things were still a little slower than normal.
On Monday I had dinner with a longtime supporter and talked about the next four years and the new council makeup.
Transit
Tuesday I had a work session on the Wake County Transit Plan. The presentation was given by David Cook, the Wake County Manager, and David King, the Triangle Transit Executive Director.
The transit plan work session lasted about two hours and included the following points:
The plan is a 25 year plan and includes the approval of the half cents sales tax.
The half cents sales tax can only be used for new service and cannot be used for existing service. To cover inflation and other costs of existing service the plan recommends increasing vehicle registration fees by $7.
If the half cents sales tax existed in 2011 it would have created over $53 million.
By 2017 Raleigh and Cary will combine for 57% of the county's population.
The plan would create an additional 322,000 hours of buses which equates to an additional 107 buses running all day.
Cary's service will go from approximately 31,000 hours to 85,000 hours.
The new plan will have a route from downtown Cary to the airport by 2017.
Currently, some of Cary's routes run every hour. Within five years all will run every half hour or less.
Cary will be a transit provider to other municipalities like Apex that do not have a transit system. Providing to other communities will be 100% paid for by the half cents sales tax.
Commuter rail will not be available for four to six years. New tracks will be needed to accommodate existing freight and additional passenger traffic.
Core transit, which is the bus along with commuter rail, would use existing state and federal funding along with the half cents sales tax.
Light rail would require significant federal funding. If funding were available it would still be ten years before it could be implemented according to the plan.
Total costs for the Wake County bus plan in the first five years would be over $343 million. Approximately $138 million would be from local funding and the rest would use existing state and federal funding.
After the work session the council went into close session to consult with attorneys about the Fairways lawsuit on the town's only billboard.
Fracking
Wednesday I was contacted by WRAL about fracking. I told them that in December the council directed staff to investigate the impact of fracking in Cary and bring back pros, cons, and recommendations. In addition, I stated that we do not believe fracking will impact Jordan Lake but may impact citizen's wells. Any request for fracking would require a permit and would fall under zoning regulations. Staff will bring back information to council in a few weeks.
Wednesday evening my meeting with Chatham County mayors was postponed until the 11th. The meeting, called by the Chatham County mayors, is to discuss issues of mutual interest for municipalities in Chatham County.
Costco Coming to MacGregor?
Thursday night and Friday morning WRAL did a story about a potential Costco coming to MacGregor Village Shopping Center. Here is the summation sent from staff to council about the proposal:
In September 2011, the Development Review Committee (an internal development plan review group) held a pre-submittal meeting with representatives from the Costco Wholesale Corporation. Prior to the meeting, representatives submitted the attached application which included an "Existing Conditions Plan," a "Preliminary Site Plan," and "Building Elevations." As with all pre-submittal meetings, staff provided preliminary feedback on the conceptual plan and held a discussion of town requirements and the review process.

The conceptual plan shows all the current buildings except for the existing bank (at the corner of Edinburgh and Highway 64) being demolished and replaced with a 147,000 square foot Costco Building and an associated gas station. Since it appears that nearly the entire site is being changed, the site plan will most likely need to meet all thoroughfare buffer and other Town standards. If the site plan does not meet buffer and other major requirements, the plan will need to be approved by Council. The plan can be approved by staff if it meets our land development requirements.

The site is approximately 21 acres in size and is zoned for General Commercial. A Costco store is a permitted use.

The representatives were asked to submit additional information regarding the uses within the Costco Building to determine whether a traffic impact analysis would be required. As of this date, the representatives have not submitted this information.
Today, I contacted a representative for Costco and they stated that corporation representatives were still negotiating with the current owner of the shopping center (CPG Partners, Indianapolis, Indiana) for the property. It appears that the site plan will not move forward until an agreement is reached.
A pre-submittal application does not constitute a formal site plan submittal so there is no decision before the Town. The next step would be for the applicant to transmit a site plan that meets our submittal requirements. Staff does not know whether or not the applicant will submit a plan.
Based on the emails I have received so far from citizens that live in the area, they have concerns about having a Costco at this location.
Neon
Friday I was interviewed by the Cary News about a marquee proposal for the Cary Theater on Chatham Street that is being renovated.
The reporter was focused mostly on neon. I told him I had not seen the proposal and that I envision a marquee that has very little neon. Needless to say my comments weren't used.
In my opinion what people want is something spectacular which does not equate to neon. I think we should even think about something creative like maybe using LED lighting.
State of the Town Speech in Glenaire
Saturday I gave the State of the Town live for the first time at Glenaire. There were about three dozen residents in attendance and it was broadcast throughout Glenaire. My presentation lasted twenty to thirty minutes and included slides and pictures. That was followed by a brief Q&A session. Afterwards I talked with residents and then had lunch. It was a good time and I have already been booked for the first Saturday in 2013.
Emails
Emails from citizens this week included a complaint about not seeing the word "Christmas" enough in the Bud publications, a complaint about "misfeasance in the execution" of my duties because of the lack of cell towers, a complaint about cell phone coverage in NW Cary, a recommendation to get involved in the Gig U initiative, a complaint about our automated water meter system, several complaints about the proposed Costco in the MacGregor Shopping center, a request to have police give out vests to those running and biking in the dawn/dusk hours, and a request to get Chatham County to build schools in the Cary portion of Chatham County.
Council/Staff Retreat in Wilmington Next Week
Next week will be a busy week for me and the rest of the council. We will have a regularly scheduled council meeting on Tuesday and travel to Wilmington for the Council/Staff retreat on Thursday. The retreat will be held at the Wilmington Riverside Hilton on 301 North Water Street. Council will start checking in at the hotel around 5 PM and meet for dinner at 6:15. Because a majority of us are meeting we cannot discuss any council related items. In addition, since it is social the council will pay for their own meals. The retreat will begin on Friday morning at 8 AM.
Well that is all for this week. My next post will be on Sunday, January 15th. Please feel free to email me with a comment. Email all Town of Cary questions or comments to Harold.Weinbrecht@townofcary.org. Email personal comments to augustanat@mindspring.com.
https://carycitizenarchive.com/wp-content/uploads/2012/01/harolds-blog-0108.jpg
350
600
Harold Weinbrecht
https://carycitizenarchive.com/wp-content/uploads/2020/03/cc-archive-logo-450-v3.png
Harold Weinbrecht
2012-01-09 16:30:38
2016-01-09 11:58:28
Harold's Blog: Costco, Fracking & Neon