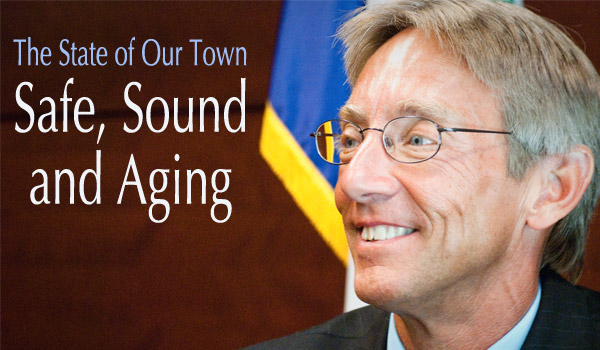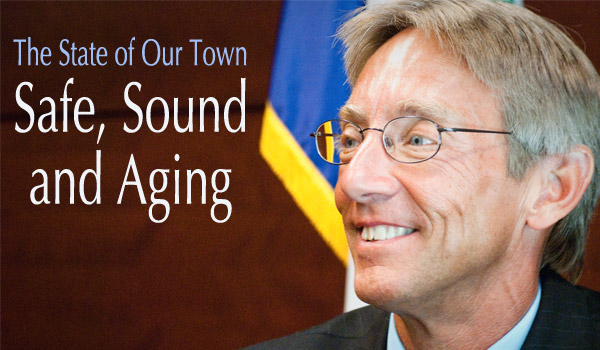 Story by Lindsey Chester. Photos by Lindsey Chester and Hal Goodtree.
Cary, NC- Each year in January, just after the President gives his State of the Union address (#SOTU for you tweeters), our own Cary Mayor delivers the State of the Town address to members of the Cary Chamber of Commerce.
January 25, Mayor Weinbrecht opened the morning at Prestonwood Country Club with some levity, asking the crowd to join him in wishing Mayor Pro Tem, Gale Adcock a happy birthday.
Mayor Weinbrecht's speech centered around Cary as a destination to live out the "American Dream". Much of his praise went to town staff, and town manager Ben Shivar. He also spoke about how the Town Council has been able to work well together towards one common goal: "making Cary the greatest place to live in the U.S." He pointed out Cary's high rate of volunteerism amongst its citizens and businesses as another factor.
Low Taxes
The town enjoys the lowest tax rate in Wake County, and the highest levels of service. The Town's debt is low, our reserves are at an excess of the 4 month requirement, and the town employs 8.3 staff for every 1000 residents (an average for most towns is 11). Cary benefits from the highest bond rating in all National agencies, which gives us the most favorable borrowing rates.
Still Growing
As the recession has lingered, Cary has continued to grow, adding over 3000 new residents last year alone. The town also issued the most single family home building permits of any municipality in Wake County. Our population as of January 1, 2012 stands at 141,132.
Weinbrecht lauded our sports venues as great economic generators, bringing in over $31 million of economic benefits and 3 million people. Companies located here have continued to add jobs, pointing out LORD, Biologics, Research in Motion and SAS. Our unemployment rate, at 5.5%, is well below the national average.
He reviewed the activity that is ongoing to create a vibrant Downtown, with the recent purchase of the theater, opening of Cary Arts Center and other historic properties. The makeover of parts of Chatham Street will begin soon. He mentioned that the Land Development Ordinance was revised to give more flexibility to redevelopment in Downtown including a reduction in fees.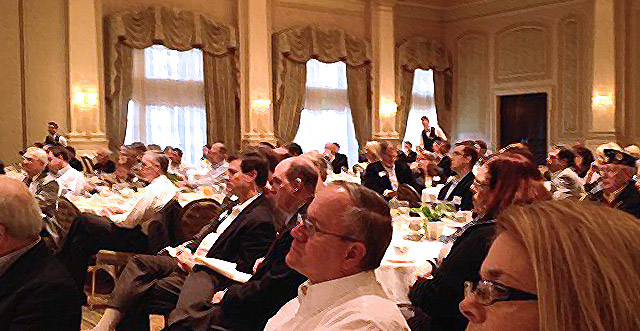 Town Tops Many Lists
As the safest city in the Southeast, Cary is also the third safest in the nation (for cities over 100,000 population). The town will open fire station #8 on Mills Park Drive in 2013 and it will include a much needed police substation. Firestation #9 is in the planning stages.
Of course Safest City wasn't the only accolade mentioned. Weinbrecht went on to mention that Cary has one of healthiest housing markets in the country and has been listed in the following categories:
Top 5 most inventive
Top 4 best quality of Life
Top 5 economic potential
2nd biggest Brain Magnet in US
Who Are We?
He ended his talk with a reflection on the character of our population. Our population is due to increase to approximately 180,000 by 2025.
Our demographics show that the median age has increased to 40, and that every year 4000 residents will turn 65. The largest demographic group is aged 40-49, and the smallest group are aged 20-29. Our average household size is decreasing.
We are becoming more diverse, with 1 in 5 residents being born outside the US. Our median income (recession anyone?) has decreased to $88,000 from $90,000+. And we are educated, with 60% of adults possessing at least a bachelor's degree and 1/4 have a masters.
Aging Population Questions
All of that leaves a resident feeling pretty great about living here, but one fact troubled me. How are we addressing this aging population? And how can we attract younger adults to settle here? Will we stagnate as our population heads to retirement without the input of younger minds? Have we become too expensive and boring for young folks to wish to live here?
Cary does so many things well, with thought we should attack those questions for the long term  health of our community.
———————————————————————————
CaryCitizen is proud to be a 2012 Member of the Cary Chamber. Join now.
https://carycitizenarchive.com/wp-content/uploads/2012/01/sott-2012.jpg
350
600
Lindsey Chester
https://carycitizenarchive.com/wp-content/uploads/2020/03/cc-archive-logo-450-v3.png
Lindsey Chester
2012-01-26 19:05:16
2012-01-26 19:48:16
The State of Our Town: Safe, Sound and Aging