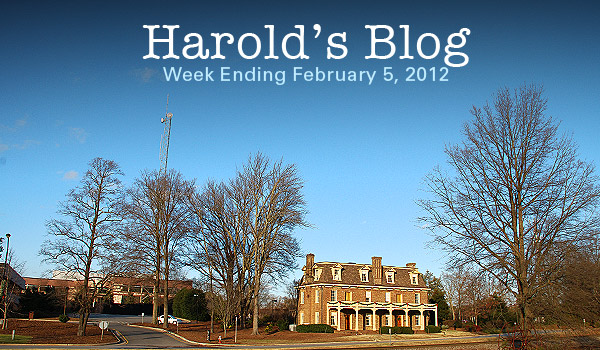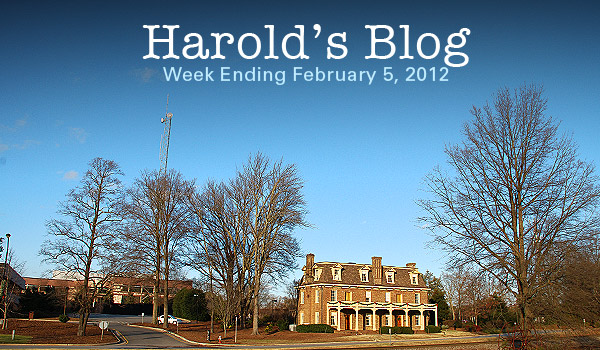 From the blog of Cary Mayor Harold Weinbrecht, covering the week through February 5, 2012. Photo by Hal Goodtree.
Cary, NC – A week that was supposed to be relatively light and have some open days, filled up quickly. So I was unexpectedly busy this week.
Technology and Communications in Cary
Monday I met with a friend about technology, social media, and the media. We tossed around a lot of ideas about how the town could improve. I believe this is the year for the town to catch up with the rest of the world in technology. And updating our web site would be a great start. Council member Bush has an excellent background in this area and I believe will provide invaluable input.
Tuesday
Tuesday I had my weekly meeting with the town manager. We discussed at length all the opportunities and issues related to downtown. So far, what has been surfaced is just a small portion of the exciting things going on or being negotiated. I hope to have exciting news to tell everyone within the next month or so.
Western Wake Dems
After meeting with the town manager I headed over to the Western Wake Dems meeting for about 15 minutes. I talked with Morrisville council member Rao, shook a few hands, and then was on my way to a private dinner.
Mayors Want Regional Centers
Wednesday, Mayor Holcombe and I headed to Fuquay Varina to meet with Mayor Eagles, Commissioner West, county officials and others about the Southern Regional Center and other regional centers.
This facility, and others like it around the county, brings county, community, and private services and resources to local residents by having them in one central location. These centers not only provide services to the needy but to all parts of the population.
Some of the services include: operating as a location for paying taxes, providing free flu shots, and providing shots for overseas travel. The purpose of our visit was to tour the facility and hear their pitch for creating one of these county facilities in Western Wake County. It was pointed out that the county commissioners have funded one of these facilities in each part of the county except Western Wake. And before they invest in a facility in the western wake area they want advocacy from the mayors and towns.
Mayor Holcombe and I asked for specific data of these facilities by zip code so we could analyze what part of Cary and Morrisville these facilities are drawing from. While a facility like this would be beneficial in Cary it would be a hard sell in many areas. The perception is that visitors to these facilities are the needy and down trodden and that it would run down neighboring property values. Their data proves this is not the case. At the conclusion of our meeting we stated once we receive data from them we will touch base with them again.
Thursday I had a meeting with Mayor Pro-Tem Adcock. It is important that we have regular meetings to keep each other informed of issues that are ongoing. Our meeting lasted a couple of hours and most of our discussion was about when to create a process for the replacement of council member Robison.
Saturday I joined the Xi Mu Mu Alumni Chapter of Omega Psi Phi fraternity for a blood drive at Mt. Zion Church in Cary. This is the 100th anniversary of Omega and these men are looking for ways to give back to their communities. And since blood is the give of life it is probably one of the best ways to give back to the community. God bless them!
There was a lot of information from staff this week.
Costco
The proposed Costco has generated a lot of information from staff. You can up to date information by visiting the town's "Get the Facts" section on the web site. The Planning Director sent detailed information on the proposal which included the following:
No site plan has been submitted to the Town of Cary for review, thus nothing has been approved by us.  Here is a summary of the status of this issue thus far, and how this project would be reviewed according to Town regulations if this site is pursued by the developer.
Zoning
This shopping center land is zoned for General Commercial (GC) uses, and a Costco retail store is allowed by law on this property.  Neither the Town Council nor staff has discretion whether such a retail use might be permitted at that location based on zoning.  No changes to the zoning will be necessary if the landowners decide to move forward with this proposal.  And because a Costco-type store is allowed, no public hearing is held.  This potential developer will, however, have to submit a plan that meets all established development standards related to transportation, landscaping, architecture, stormwater, and the like.  Determination of compliance with all of those requirements occurs at the next stage in the development process.
Site Plan Submission
Should they decide to proceed, the next step would be for the applicant to submit a formal site plan that meets our requirements.   Several months ago, at their request, Town staff did conduct a "pre-submittal" meeting with representatives from Costco to discuss a "conceptual plan" to remove all the current buildings except for the existing bank (at the corner of Edinburgh and Highway 64).  They would be replaced with a 147,000 square foot store and an associated gas station.  This pre-application meeting is a required first step in the Town's development process.  That conceptual plan does not constitute a formal submittal, however, so there is no decision before the Town at this time.  Staff does not know whether – or when – an applicant might submit a plan for development.  Sometimes the pre-application meetings do lead to developers taking next steps, but frequently we never hear from them again.
Site Plan Review
When/If a site plan is submitted, the Town will ensure that any proposal meets the Cary Land Development Ordinance (LDO).  Again, this is when traffic would be evaluated against applicable traffic and transportation requirements.  The site plan review process takes several months and is typically handled by Town staff as an administrative function.
A site plan typically undergoes several cycles of review.  At the beginning, staff conducts an initial review (to determine submittal completeness and ensure that it generally meets the basic Town requirements).  Then, when we receive a 2nd submittal, we notify landowners within 400′ of the property by letter that a plan is under formal review.  This is not required by law, and it should not be viewed as an opportunity to deny a project if it meets the zoning and development requirements.  The notification is a practice that Town Council has established as a courtesy to adjoining property owners to allow interested parties to look at the plan and offer comments.
Availability of Information
You can obtain general information about the Town's development process and follow the progress of an individual, specific development plan as outlined below.
1.     General information that describes all of the Town's development processes is located in the award-winning VIP (Virtual Interactive Planner) section of our website:  http://vip.townofcary.org/
2.     You can monitor development submittals on our website in a couple of ways.  First, you can go here: http://www.townofcary.org/Departments/Planning_Department/Development_Regulations/Plan_Review_and_Design.htm   Go to the bottom of the page and select "Active Projects in the Review Process (sorted alphabetically) or (sorted by date)."
3.     You can also register and create an account on our online plan review page and see what's going on: http://townofcary.contractorsplanroom.com/secure/
4.     Of course, you can also call us at 469-4082 or visit our offices on the 3rd Floor of Town Hall at 316 N. Academy Street.
Davis & High House Construction
The Planning Director also sent out information about the two controversial construction projects at Davis Drive and High House. It appears they will be under construction at the same time:
We publish final versions of approved site and subdivision plans here: http://sitesubplans.townofcary.org/projectlist.htm. As you will see, each plan has a multitude of various pages ("plan sheets") for the overall site layout, details, landscaping, drainage, utilities, erosion control, infrastructure, building elevations, etc.  General info about the project (like zoning conditions & development data) are usually on one of the early sheets.
For example, using a couple of projects of interest, the Bradford's plan sheets are found here: http://sitesubplans.townofcary.org/Bradford_07-SP-114/planindex.htm (NOTE: Additional revisions of this site plan are presently under review, so will not be found at this location.)  And Searstone's residential portion (with a whopping 99 plan sheets!) can be reviewed here: http://sitesubplans.townofcary.org/SearstoneCCRC_07-SP-035-B/planindex.htm (NOTE:  I don't think that any further changes are under review.  I will advise you if that is not the case.)
ICE
We also had information forwarded from staff about a proposed ICE facility in Cary that drew a lot of attention this summer. It appears they are once again beginning the process to locate in this area. Here is the information we received from the General Services Administration:
DHS/ICE – Raleigh-Cary Weekly Stakeholder Update
The purpose of this weekly Update is to brief the municipalities and other stakeholders within the delineated area on the progress of GSA Solicitation 1NC2136.
The weekly update will contain information on procurement milestones that have taken place along with upcoming scheduled milestones.  To date, the following activities have occurred:
January 30, 2012- GSA submitted an advertisement on Fedbizopps (www.fbo.gov) for 19,841 ABOA office space to include 65 parking spacing on behalf of Department of Homeland Security/Immigration and Custom Enforcement.  Deadline of expressions of interest is February 13, 2012
February 27, 2012 – March 2, 2012 – Market survey scheduled to tour submitted locations
March 6, 2012 – Estimated date for release of the Request for Lease Proposals (RLP) to all locations accepted on the market survey
Any questions in reference to this procurement should be forwarded to Saudia Muwwakkil, GSA Public Affairs Officer at (404) 331-3200 or at saudia.muwwakkil@gsa.gov.
Swift Creek Sewer
Staff also sent out a detailed update on the Swift Creek Sewer Main project. Here are details sent by the Engineering Director:
The Town of Cary is approaching the midpoint of the Swift Creek Parallel Force Main Project.  This is a four mile long sewer project that will benefit the economic and environmental vitality of the region.  The project starts along Holly Springs Rd near Swift Creek and heads southward before turning and continuing east along Ten-Ten Rd.  The sewer main then turns south along Lawdraker Rd before continuing across country toward the South Cary Water Reclamation Facility.
We have received concerns with the project brought about by both our own citizens and those residing outside the Town limits.  We want to assure you that we are working diligently to address these matters.  While the primary complaint continues to be about the loss of trees along Holly Springs Rd, we are confident in our decision to move forward with the project knowing the additional protection the line will provide to this sensitive water shed.  Once the Swift Creek Parallel Force Main is completed, we will have an additional level of redundancy in our system, our capacity for future growth will be expanded, and the existing force main will receive a thorough inspection and necessary repairs.
This project had been in the development stage for over 10-years.  Early on in the process we received public comments that set us on a course for selecting the corridor where we are currently installing pipe today.  The real motivation to move this project ahead however, came after the 2006 spill at the Swift Creek Pump Station.  One of the primary recommendations to come from our study and investigation was the need for this second force main between the pump station and the treatment plant for redundancy.
Construction is anticipated to be complete before the October deadline. Should you receive any inquiries about this project, feel free to direct citizens to the Town of Cary Engineering Department at 469-4030.  Additional information and project updates are available on the project website at http://www.townofcary.org/Departments/Engineering/utilities/Sewer_Projects/Swift_Creek_Parallel_Force_Main.htm.
Plans in Review
Staff also sent out email about plans currently in review. Included in those plans are:
A Walgreens at Waverly Place
80 dependent care units at Weatherstone Springs on Weather Ridge Lane.
51 single family lots in the Westvale Subdivision
206 apartments at Cary Parkway and Tryon Road
14,162 square foot building added to Syracuse Plastics
Quarterly Report
The quarterly report came out this week. Highlights include:
Construction of the Western Wake Regional Wastewater facility has begun
The Aquastar automated water meter system is 90% installed (54,000 meters).
The town continues to purchase strategic properties downtown
C-Tran's fixed routes saw a 30% increase in ridership this quarter compared to last year
Single family permits were 432 units compared to 224 last year
Multifamily permits were 463 units compared to 184 last year
Population as of January 1st is estimated to be 141,132 which is an increase of 2932 people
A refinancing will save over $800,000.   The vast majority of those savings will reduce our debt service commitments for FY 13 and FY 14.
Although water meters have grown by 2.5% our overall consumption was down 5% during the last six months
Our leaf collection picked up 5,946 tons of leaves
Project PHOENIX now has participation of 32 apartment complexes which is over 50%.
Wake Med Soccer Park expansion was bid in November and is on schedule and on budget
Over 31,000 people attended the Cary Arts Center from October through December
The town has over 1100 employees with a turnover rate of 4.8%.
Staff also gave a very informative response to a citizen regarding induction loop hearing devices at town venues. Induction loop systems work with hearing aids. An induction loop wire is permanently installed (typically under a carpet or in the ceiling) and connects to a microphone used by a speaker. The person talking into the microphone generates a current in the wire, which creates an electromagnetic field in the room. When you switch your hearing aid to the "T" (telephone) setting, your hearing aid picks up the electromagnetic signal. You can then adjust the volume of the signal through your hearing aid.
Here is the staff response:
"…Thanks much for writing regarding the induction loop hearing technology.  At the Cary Arts Center, we have not yet put installed a permanent sound system.  As we move towards doing that, we will be looking at several types of auxiliary sound aids.  We will certainly explore further the induction loop technology.
We currently do have assistive listening services at USA Baseball, Koka Booth Amphitheatre, and Town Hall.  We will continually look at and asses these systems and compare it with the new technology that you mentioned. …"
Emails
Also in email this week was a notice from American Airline Chairman and CEO Thomas Horton about restructuring and changes. Bottom line was summed up in these statements: "…all workgroups will have total costs reduced by 20%, including management. While the savings from each work group will be achieved somewhat differently, each will experience the same percentage reduction. …"
Apolitical
There were a lot of emails from citizens this week. I had a couple of separate requests to do resolutions about national issues. The Cary Council doesn't typically pass resolutions to take political stands. Personally, I would oppose any resolution that is of a national or state nature that would be perceived as a political position. Why? It is very important that this council, with positions on both ends of the political spectrum, work loosely together to do the business of the town. We hold non-partisan positions and our goal is to be passionate about protecting and enhancing the quality of life of our citizens. With a political divide we will not be nearly as effective. Currently, our council is in sync and focused on local issues that have a direct impact on our citizens. I believe we have been successful with the lowest tax rate in Wake County to go along with the highest quality of life.
Other emails included concerns about Chapel Hill Road, a complaint about the state portion of Electra Drive, and a concern about neon lighting for the downtown theater. I also had many requests for meetings with most of them related to council member Robison's future resignation. It is important to understand that while the council can create a process it cannot act on that process until council member Robison actually resigns.
Next week will be much busier with meetings, events, a work session, and a council meeting.
Well that is all for this week. My next post will be on Sunday, February 12th. Please feel free to email me with a comment. Email all Town of Cary questions or comments to Harold.Weinbrecht@townofcary.org. Email personal comments to augustanat@mindspring.com.
https://carycitizenarchive.com/wp-content/uploads/2012/02/harolds-blog-0205.jpg
350
600
Harold Weinbrecht
https://carycitizenarchive.com/wp-content/uploads/2020/03/cc-archive-logo-450-v3.png
Harold Weinbrecht
2012-02-06 13:45:47
2019-12-07 17:02:36
Harold's Blog: Technology, Planning and No Political Positions