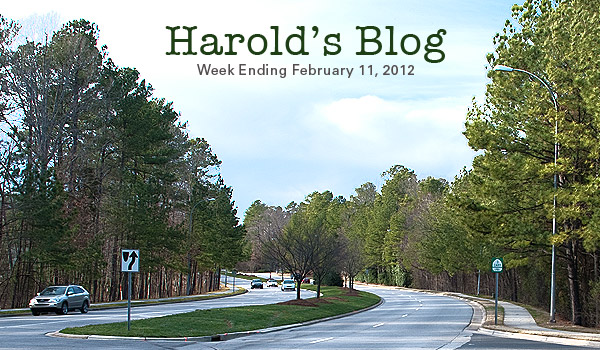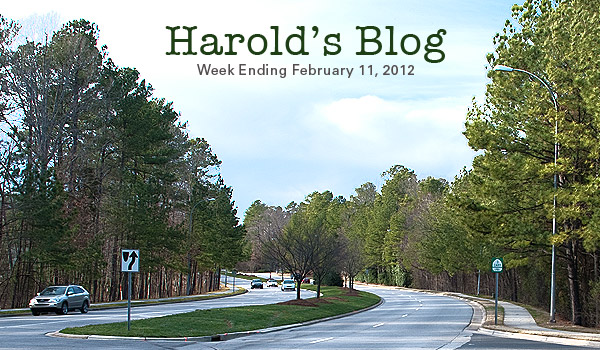 From the blog of Cary Mayor Harold Weinbrecht, covering the week through February 12, 2012. Photo by Hal Goodtree.
Cary, NC – This was a busy week and included a work session, a council meeting, and a little home drama.
Monday
Since this week included a regularly scheduled council meeting I called council members for their questions or concerns on the agenda. I was able to contact Smith, Frantz, and Bush. Their only issue was the backyard chicken proposal. Later that day I was joined by Mayor Pro-Tem Adcock, management, directors, legal, and administration as we went over the agenda items. In our review it appeared that the majority of the meeting would be spent on the chicken proposal and there were several closed session items scheduled. It was my guess that the meeting would last until about 10 PM.
Later Monday I met with a friend to talk about several items including the council appointment for Ms. Robison's seat. I told him that the council had not defined a process and that we could not act on a process until the resignation was official.
Speaking of the process, the council has tentatively set the work session for March 20th as the time for discussing the process for appointment. That will be a long night since we already have two items in that work session for discussion.
Attempted Break-in
Tuesday morning I left for work around 7:15. I arrived at work around 7:30 when my wife called and said that someone had tried to break into our house. I headed back home and when I arrived at the adjoining neighborhood it there was already a police car stationed at the entrance. So within the time I had received the phone call and returned home a perimeter had been established. My wife said the police arrived in about three minutes of the house alarm. Once at home my wife explained what had happened. Apparently someone pushed in the top panel to the screen door for the screen porch, took a step or two inside the screen porch, and the motion detector from inside the house picked up the movement and set off the alarm. My wife, who was upstairs getting ready for work, then went downstairs, checked the front door, the door to the garage, and then the back door. She noticed the screen panel and at the same time saw someone running away from the house. We were very fortunate that the only damage sustained was a screen panel which I fixed with a $12 kit (and a few scraped knuckles).
I was surprised that this became a media item and reluctantly interviewed with some outlets. In my interviews with the media I stated how proud I was of the police response. That is, they arrived in three minutes; set up a perimeter shortly afterwards, quickly hunted for the perpetrator with a K-9 unit, and then had CSI do other investigative work. It was very impressive. Of course, the blogs of Cary bashers said that Cary was unsafe and that I got special treatment. I think it is important to know that Cary IS STILL the safest city in the southeast. Crime will happen but it is important that we address it immediately and completely which is exactly what our police department demonstrated. To the point of special treatment, this is absolute nonsense. I am treated like all Cary citizens and we are treated the same. If I get a ticket, I pay the ticket. If I break the law I go to jail. If I have an attempted break-in the police will respond in the professional manner that makes them the best police department in the state. I will say once again that I am proud of our police department and glad that I live in such a safe town as Cary.
After the excitement of the morning I headed back to work and then to town hall later that afternoon to sign financial documents. After signing papers I met with the town manager to catch up on the latest issues. We talked briefly about the upcoming backyard chicken vote and what that will mean in town staffing, costs and enforcement if it comes to fruition.
Parks, Recreation, and Cultural Resources
Tuesday night the town council held a work session on the Parks, Recreation, and Cultural Resources Master Plan to discuss the update on the plan. The consultant from Greenplay wanted to determine if they were on the right track, if they had missed any topic or issue, and to provide additional information. At this point in the process input has been taken from over 2000 people through advisory boards, surveys, focus groups, and public meetings. The finalized plan is scheduled to go through review and approval in the April to June timeframe. At this work session we discussed the goals identified for the master plan:
Maintain a diverse and balanced park and open space system.
Provide a highly functional, safe, well-maintained greenway network that provides recreation, transportation, and education opportunities.
Provide a mix of recreation and cultural programs responsive to a growing and diverse population.
Enhance program planning and market analysis to strategically deliver services.
Provide an equitable distribution of public indoor recreation spaces that is sustainable.
Maintain quality cultural arts facilities that celebrate Cary's history and diversity.
Manage the Town's competitive sports venues so that they are financially sustainable, continue to attract regional and national events and are considered an asset by all citizens.
Expand special use facilities in response to community requests trends, and funding and partnership opportunities.
Incorporate best management and planning practices to ensure quality services and efficient use of resources.
The consensus of the council was that the consultant and staff were on track and to proceed with the update of the master plan.
Table Tennis Trials
Wednesday I gave welcoming comments at the US Olympic trials for table tennis. In attendance were players, coaches, staff, and US Olympic officials. I am so proud that Cary is hosting such an important event. We have come a long way in amateur and professional sports during the last ten years. We are an NCAA Championship City and have hosted national championships in NCAA Division I, II, and III, other collegiate championships, international matches in soccer, baseball, and tennis. We are the professional home for the Carolina Railhawks of the North American Soccer League and the Cary Invasion of the Continental basketball league. And we have held the Cary Cup in table tennis which helped us bring the Olympic trials to Cary.
Chickens
On Thursday the council held a regularly scheduled council meeting. As predicted the big topic was whether or not to proceed with a process to amend town code and the town land development ordinances to allow backyard chickens. Chickens in a high quality suburban to urban environment, which I think defines Cary, are not in my vision for the future. Unfortunately, I was in the minority. I believe it will be extremely important, if we pass this ordinance, to not "force" this lifestyle on those that do not want it. That is, we must protect existing homeowner association covenants that prohibit livestock and not supersede them. In addition, for those citizens not covered by covenants, we must make sure that they are not forced to live next door to an environment that could possibly hurt their property values and potentially create health risks. I will be working with my colleagues to try and craft an ordinance that is a win-win for everyone.
After the discussion on chickens the council went into closed session to discuss several items. We ended up adjourning our meeting at approximately 8:30.
On Friday I met with the town attorney to read over legal documents. My role was to read the documents and provide information and opinions on the information in the documents.
Saturday I attended an Eagle Scout ceremony for David Lawrence Terrill at the Kirk of Kildaire. He is an outstanding young man and one of almost 40 eagle scouts that have come from this troop in the last twenty years. Cary is blessed to have such great leaders in our midst. I look forward to the positive contributions from David and other Eagles in Cary.
I was contacted by citizens this week about a poll asking who they would prefer in a race between NC Senator Stevens and me. I have not announced and do not intend to announce that I will be running for the NC Senate.
Emails: Demographics, Chickens, Neon Signs, Bad Grammar
Emails from staff this week included an email about demographics. This is a follow up to the regional center for county services that I wrote about a couple of weeks ago. The information pointed out that approximately 3.9% of Cary is below the poverty level. Statewide it is 15.1%, countywide it is 9.4%, Apex is 2.9%, and Morrisville is 2.8%.
This equates to over 5200 residents in Cary, over 1000 in Apex, and over 500 in Morrisville.
Emails from citizens this week included those for and against the chicken proposal. In addition I was contacted by people interested in being appointed to council member Robison's seat when she resigns. I also received complaints about neon lighting on the Cary Theater being renovated, a complaint about my grammar in a previous post, a concern and question about a current zoning, a complaint about the Cary/Chatham Joint Land Use Plan, and a list of concerns about the budget.
Trip to D.C. to Present Cary's Federal Legislative Agenda
Next week is the week I go to Washington to present Cary's Federal Legislative Agenda (See http://www.townofcary.org/Departments/Administration/Town_Manager/Legislative_Agenda/Federal_2012_Agenda.htm). We will visit Congressional leaders that represent Cary and Agencies that make decisions on grants. In the past Cary has been successful in bringing federal dollars back home. It is important to point out that Cary pays more in federal taxes than it receives.
Well that is all for this week. My next post will be on Sunday, February 19th. Please feel free to email me with a comment. Email all Town of Cary questions or comments to Harold.Weinbrecht@townofcary.org. Email personal comments to augustanat@mindspring.com.
https://carycitizenarchive.com/wp-content/uploads/2012/02/harolds-blog-0211.jpg
350
600
Harold Weinbrecht
https://carycitizenarchive.com/wp-content/uploads/2020/03/cc-archive-logo-450-v3.png
Harold Weinbrecht
2012-02-13 19:20:18
2016-01-09 11:58:29
Harold's Blog: Table Tennis, No Special Treatment For Me and Chickens