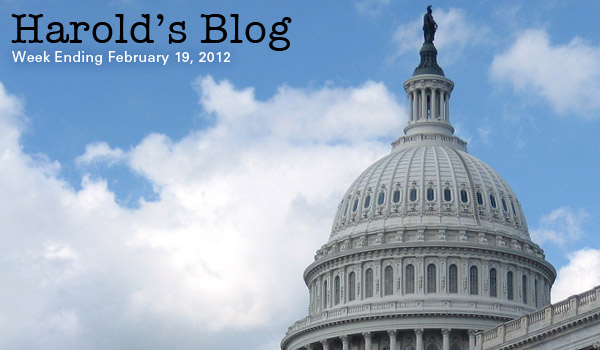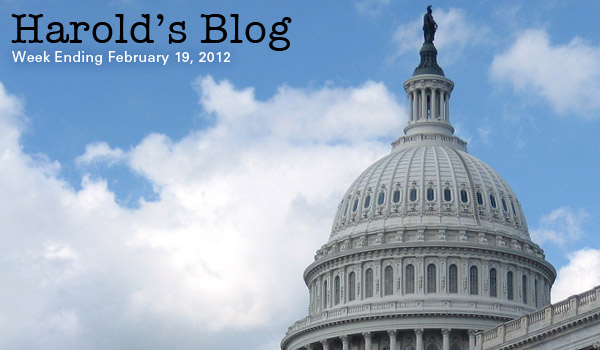 From the blog of Cary Mayor Harold Weinbrecht, covering the week through February 19, 2012. Photo by Wally Gobetz.
Cary, NC – This week consisted mostly of my trip to Washington.
Korean Taekwondo Students Meeting
Monday I met with a group of students from a famous Taekwondo team of KeiMyung University in Korea. Their entourage included a professor, ten Master students, and their local host K.S. Lee from Best Martial Arts in Cary. They performed on February 11th in town and wanted to meet with me before heading to Washington D.C. I talked with them about what life was like in and around Cary. We then toured town hall and took pictures. Before they left I presented each of them with a small gift from Cary. They were very kind and gracious and it was a good visit. I wished them well and said I would look for them when I was in Washington.
Washington: Cary is  Donor Town
Tuesday I traveled to Washington along with the town manager and our federal staff liaison to present the town's legislative agenda to our congressional representatives and to the decision making agencies. Some might wonder why was this trip important enough to spend two days in Washington (and use two vacation days from work). Well, the short answer is because Cary is a donor town. That is, we send more dollars to Washington than we get back. So it is very important we pursue grants for public safety, transportation, water resources, and sustainability.
After arriving on Tuesday night we had dinner and briefly discussed our game plan for meeting with agencies and our congressional leaders.
I started the next morning around 5:30 AM with a little workout and an hour on the elliptical before attending a breakfast meeting with Cary's federal lobbyist. We went over the day's agenda and decided that I would lead all discussions during the next two days. This is a change from past years where we split up the duties. As it turned out this seemed to work very well but was very exhausting.
Community Oriented Policing Services Office
Our first meeting was with COPS (Community Oriented Policing Services Office). We focused on three topics:
Our emergency communications can contact other emergency communications but we need the ability to have a linkage to pass data which would reduce deployment times and enhance accuracy of reporting.
License plate recognition software and/or associated equipment would help our efforts to prevent internet crimes against children.
Hiring additional officers would allow expansion of our successful project PHOENIX program designed for apartments and other rental neighborhoods.
The representatives from the agency stated that there was no money for technology and that they were mostly interested giving grants that put officers in areas of need. In addition, they mentioned that last year only 9% of applicants received any type of grant and that this year they expect half of that. Based on this information we will not be applying for COPS technology grants but will be applying for COPS Hiring Grant.
US Department of Transportation
Our next meeting was with the US Department of Transportation. I presented three transportation projects for discussion:
The Walker Street Extension and tunnel project is a project of over $26 million and we have received $4 million in assistance to date. It is crucial for the future of our downtown.
A bus maintenance facility will house the town's and region's transit equipment as we integrate with other transits and will require a maintenance facility. This will become increasingly important as bus systems expand.
A grant would assist in connecting our 50+ miles of greenways. This would make them more valuable as a mode of transportation to employment areas in addition to a recreation source.
This agency also expressed less money and more restrictions. They mostly focused on TIGER grants (Transportation Investment Generating Economic Recovery). These grants are usually between $10 and $15 million and rarely over $20 million. The only project that would have a chance at a TIGER grant would be the Walker Street project. We will be applying not only for TIGER grants but for other types of grant funding.
Congressional Leaders
Next we headed to "the hill" to meet with our Congressional leaders which are referred to as "members". Our first stop was Congressman Brad Miller's office. I presented our entire federal agenda to Congressman Miller and his chief of staff. They agreed to support us in any way they could. Since there are no earmarks, the means of support will be in the form of writing letters. This support makes a huge difference in some agencies' decisions.
Congressman Miller has been extremely helpful to Cary over the years. It is a shame that the new districts combine him with Congressman Price and that he has decided not to run. We will surely miss him.
After leaving Congressman Miller's office I asked our lobbyist about what will likely happen to Miller's staff. The answer gave me some interesting insight into how congressional offices are staffed and the people who staff them. Here is what I learned:
Each congressional member gets an allotment of money to staff an office. They can hire as many staff as they would like, one, one hundred, etc. They can pay them almost anything they want. I was told that Ted Kennedy's office paid everyone the same because working there was in such high demand. I was also told that staff moving from one congressional member to another is not uncommon. Apparently, it is common to see informal interviews in the hallways outside of cafeterias. Most "staffers" stay less than five years. Some staffers move from congressional offices to lobby companies, agencies, etc. The staffing positions don't pay well and I was told that some staffers attend functions just to get free meals. Anyway, back to my meetings…
My next stop was at Congresswoman Renee Elmers' office. While she doesn't currently represent Cary she will if re-elected under the new districts. Unfortunately, she was not there because of "a vote". Oh well, hopefully I will get to meet her in the future. I did meet with her staff members who patiently listened as I went over our federal legislative items. They asked very few questions which was kind of awkward. Anyway, I asked them to please let the Congresswoman know that we would love to have her visit Cary. It is my hope that she will be a strong supporter of Cary.
We next visited Congressman Price's office. Of all our congressional leaders, he is probably the one who spends the most time with us and works diligently on our behalf. I see him in Cary more than any other member of Congress. He even works on holidays and called me on July 4th about the ICE fiasco we had during the summer. During our meeting with the Congressman we talked in detail about several projects. He was also very interested in how the agencies were responding and promised strong support.
Senate
Next we headed over to the Senate side and visited Senator Burr's office. He is usually not available to meet with us and this time was no exception. His staff member did spend a few minutes with us and let us present our federal agenda. There was not a lot of feedback from the senator's staff but they promised to support when they could.
Our final meeting of the day was with Senator Hagan's office. In the past she has been available to meet with us but was not available this time. One of her senior staffers spent time with us as we went over our federal agenda in detail. He asked a lot of questions and it was a good exchange of information. He promised the senator's support.
News & Observer Spin
In the cab on the way to dinner I returned a call to the News and Observer reporter about the 350 new jobs by Reed Elsevier. I talked about how important these jobs were to Cary and about the impact they would have. And of course mentioned how thrilled we were to have them come to Cary. The reporter then asked about their current location and I said I wasn't aware of them having a presence in Cary. And, as typical style of the N&O to take something positive and put a negative spin on it, that is what they used.
Shame on them once again for distorting the information.
Editor's Note: We asked the Mayor on this point in his blog and he said "They asked about the jobs, I said a lot of positive things, and then they asked about the current jobs, I said I wasn't aware, asked Ben Shivar next to me, he wasn't aware… Keep in mind that proposals for incentives come to us with code names. We approved an incentive (which was voted on at the last council meeting) without having a clue of who it was. We just knew that the jobs were professional and paid over 91K a year. Basically, I was interviewed about something good. Gave them a lot of information which they ignored. Made a statement that was not that significant that could be taken as a negative and THAT is what they used."
Federal Lobbyist
To close out the day we had dinner with the President and CEO of our federal lobbyist. We discussed a few items but it was mostly a dinner to get better acquainted.
I returned to the hotel and answered emails for about an hour and was in bed by 9 PM. I was up the next morning at 5:15 and did the workout/elliptical routine again.
DOT
After breakfast we headed to the NCDOT office in Washington. This office basically does what we (Cary and the federal lobbyist) do on a federal level. That is, they talk with federal agencies and try to get grants for the state supported projects. We were meeting with them to try and get their support on a state level for our projects so that they could advocate on our behalf. We discussed the three transportation projects presented to the USDOT.
Homeland Security
Next we met with the Department of Homeland Security. In this meeting we discussed public safety issues that included the three items we presented to COPS and the following items:
Hiring additional firefighters to address the expanded need for service. Fire station number 8 will open mid-2013 and will need to be staffed six months prior.
A program that would improve health and wellness among fire fighters and improve community based safety in fire arm use, inspections, child safety seat use, etc.
This meeting was brief since the agent was late. One of the grants we discussed with him was the SAFER grant (Staffing for Adequate Fire and Emergency Response). He listened and suggested we apply for these grants. He also talked about how money was extremely tight and that there is a tremendous need not being met.
HUD and Sustainability
Our next meeting was with the Senior Advisor of the Deputy Secretary from Housing and Urban Development on sustainability. I briefly talked about our intent to apply for funding related to sustainable projects we have and intend to expand. This senior official spent a lot of time explaining various issues related to awarding their grants. Since he spent most of the time talking we were able to gather great information. But the theme once again was that there would not be a lot of funding available for this fiscal year.
EPA
Our last meeting of the trip was with the Environmental Protection Agency. They had several staff members in attendance as well as the regional EPA representative from Atlanta on the phone. I talked about all the environmentally friendly projects we had especially related to water since one of the attendees was a senior member in that area. I mentioned:
Permanent alternate day watering
Turf buyback program
Toilet rebate program
Our education efforts
Our per capita water reduction
The need to expand our water capacity
The need to enhance water security monitoring
Our reclaimed water system
The good news is that our reputation preceded us and this group was very aware of a lot of our conservation measures. They expressed an interest to keeping Cary's conservation efforts moving forward. One of the decision makers mentioned that there would be a panel of mayors and that I might be nominated. I was very encouraged by this visit and believe we have a good shot at getting assistance.
Exhausting But Productive
After this meeting we headed for the airport. It was an exhausting two days for me; which included 11 meetings not counting the breakfast and dinner meetings. I was glad to get home Thursday night. Although there was not a lot of promise I do think our presence made a difference. We are now able to craft our grant applications to fit exactly what the agencies are looking for and have congressional support to back it up. I don't think we could have put ourselves in a stronger position.
Sunshine Week
Friday it was back to work and back to town business. I taped a public service announcement for Sunshine Week which will be March 11th through the 17th. Sunshine Week is a national initiative designed to open a dialogue about the importance of open government and freedom of information. This includes the public's right to attend meetings and access documents deemed a public record by the General Assembly.
Triangle New Area Code
There was a lot of information passed from staff this week. One email was about phone numbers which will likely catch people by surprise. The North Carolina Utilities Commission announced that effective March 31, 2012 all local phone calls in the Triangle will require dialing the entire 10 digit phone number.  Since the landline and wireless telephone carriers are exhausting all possible numbers for the 919 area code, a new area code is being created for this area.  Requests for new phone numbers from carriers will eventually result in a number beginning with 984.  This means that you will need to update your existing local numbers for Outlook contacts, cell phone contacts, fax machine speed dials, and any scada/alarm/security systems that call/page you (or a monitoring service) automatically.
Web Presence
We were also notified of changes to the town's web site. The new Google search engine has been upgraded to include Google's advanced search product. On the home page, the former Quick Links feature has been changed to an "I Want To" feature, much like we had on the site several years ago.  And the Calendar expanded to include all public input meetings hosted by the Town as well as Town-sponsored events. As this feature expands, we hope it will serve as a one-stop for folks who are looking for things offered by the Town.  Finally, a Cyber Safety page has been created within the department's existing crime prevention tips.
Reclaimed Water
On the topic of reclaimed water, beginning on February 13, 2012, Cary will initiate its annual 10 day maintenance shutdown of all of its reclaimed water systems. The reclaimed water shutdown, referred to as the Annual Reclaimed Water Holiday, will take place in order to conduct maintenance at our plant facilities as well as the distribution system.  During this shutdown, the North and South Cary Water Reclamation Facilities will be unable to provide Bulk Reclaimed Water. As an alternative, Town will continue to provide potable bulk water to customers through specific request made directly to the Town of Cary Public Works and Utilities Department at (919) 469-4090.
TAC
We also received an email from the Triangle Aquatic Center (TAC) reporting $7.24 million in direct visitor spending through events conducted at TAC during 2011.
Chickens, Land Use, C-Tran and more
I received lots of email from citizens this week. There was a lot of email against the proposed ordinance to allow chickens and a few for. Other emails included complaints about the proposed joint Land Use Plan with Chatham County, appreciation of C-Tran changes, a request about the Friar Tract development proposal, a request for a traffic light at Maury Odell and High House (a NCDOT decision), a complaint about odor at the south wastewater plant, and a complaint about the bio solids portion of the Wastewater plant construction.
Cary Parkway and Chatham Street Intersection
There were also a lot of requests for a traffic light at Cary Parkway and Chatham Street. That was the site of a tragic fatal accident. I think it is important for everyone to know that most major intersections in Cary, including this one, are maintained by NCDOT not Cary. They are also the decision maker on whether or not to install a traffic light. Cary's responsibility is to investigate accidents and to do studies on the intersections. Please understand that Cary will continue to do everything it can to keep our citizens safe.
Next week will be busy with a council meeting, two awards banquets, and a Western Wake Policy Advisory meeting.
Well that is all for this week. My next post will be on Sunday, February 26th. Please feel free to email me with a comment. Email all Town of Cary questions or comments to Harold.Weinbrecht@townofcary.org. Email personal comments to augustanat@mindspring.com.
https://carycitizenarchive.com/wp-content/uploads/2012/02/harold-weinbrecht-blog-0219.jpg
350
600
Harold Weinbrecht
https://carycitizenarchive.com/wp-content/uploads/2020/03/cc-archive-logo-450-v3.png
Harold Weinbrecht
2012-02-20 14:35:52
2016-05-03 12:53:11
Harold's Blog: Trip to the Nation's Capitol