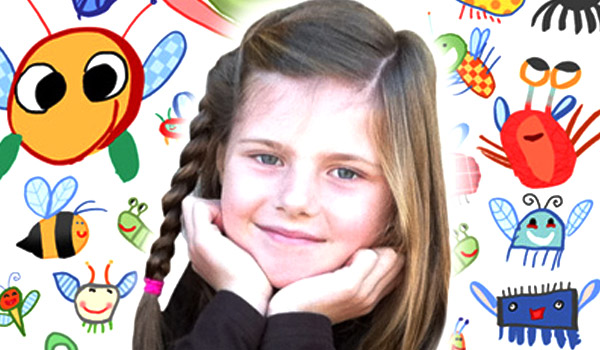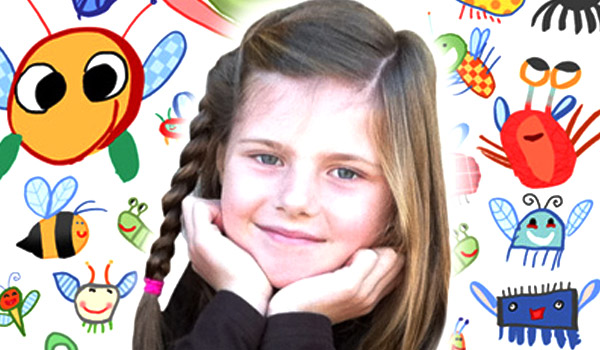 Story from staff reports. Pictures courtesy of Bob Staake.
Cary, NC –  It's not every day that a 6-year-old in Cary gets to see her drawings published in a major picture book — but then it's not every 6-year-old whose uncle is a well-known children's author and illustrator.
Bugs Galore
"I had just started doing sketches for a children's book called Bugs Galore", says Bob Staake, "when I had this brainstorm of an idea: Since I'd have to create literally hundreds of bugs, flowers and plants for the book, wouldn't it be fun to scatter among the pages some actual drawings by children?"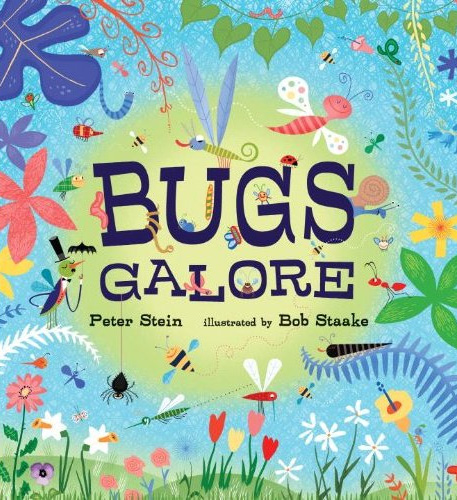 Pint-Sized Picasso
The author and/or illustrator of over 50 books for kids, Staake is also known for creating covers of The New Yorker, pages in MAD magazine, and even animation for Cartoon Network, but when he considered which "pint-sized Picasso" he could call on to create buggy and flowerly doodles with instant kid-appeal, he immediately thought of his 6-year-old niece, Amelia Leonard of Cary, NC.
"Amelia has always sent me these incredible drawings of hers", recalls Staake, "so this lightbulb instantly went off in my head; Amelia could draw whatever bugs, flowers and plants she wanted, I'd scan and colorize them, then intergrate her kid-like doodles among my lushly illustrated scenes within the book!"
Staake called Amelia at her home in Cary and asked her if she would be interested in doing some drawings for her uncle's new book. Her answer was an enthusiastic "YES!" — even before learning that Staake would pay her to do so.
Amelia doodled page after page of crawly, slimy, flying bugs and colorful, viney, spritely flowers, then Staake scanned them digitally and began blending them in among his own bug and flower drawings.
"I thought my drawings would stink"
When asked if she felt intimidated when her uncle wondered if she could create some drawings for 'Bugs Galore', Amelia was initally skeptical.
"I thought my drawings would stink", she said, "because I was only six! But it was a lot of fun doing the drawings because I have always loved creating books — and bugs with big eyes, squiggly tongues and a ton of legs."
"The ultimate effect was amazing", pointed out Staake. "The entire book looks as if it was illustrated by me, but when you peek closely, you see bugs and flowers and bushes that evoke a kid-like aesthetic and naive honesty — thanks to the little drawings that Amelia created. I think both kids and parents will love the look of the book, and why another children's illustrator hadn't thought to do this before, I have no clue — but maybe they couldn't call on a niece as artistically precocious and talented as my Amelia."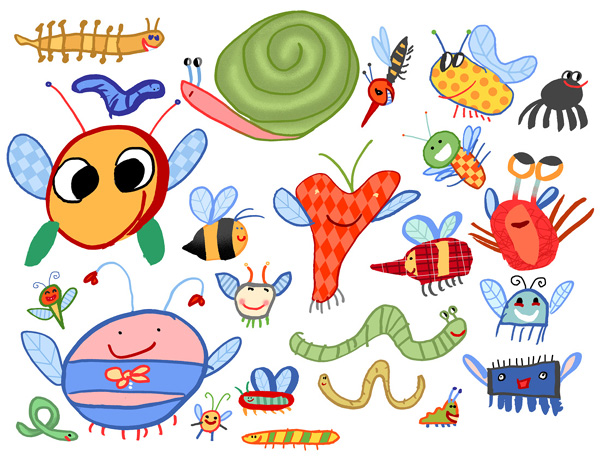 6-year-old Amelia created her buggy doodles (above) in black felt pen, then uncle Bob Staake scanned the drawings and added colored details. Amelia's quirky insects and whimsical foliage appear within every page of 'Bugs Galore' (Written by Peter Stein and illustrated by Bob Staake, published by Candlewick Press, 2012).
https://carycitizenarchive.com/wp-content/uploads/2012/03/bugs-galore-1.jpg
350
600
Staff
https://carycitizenarchive.com/wp-content/uploads/2020/03/cc-archive-logo-450-v3.png
Staff
2012-03-07 11:44:08
2019-12-07 17:02:48
Cary 6-Year-Old Helps Illustrate National Children's Book