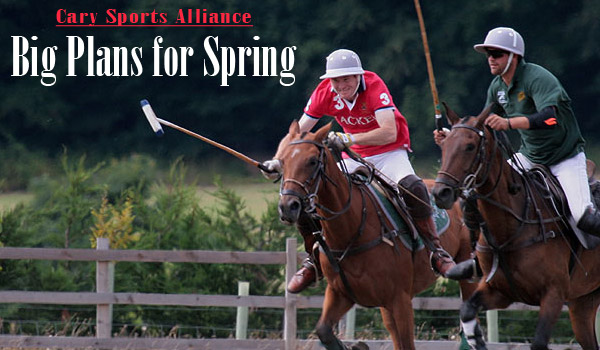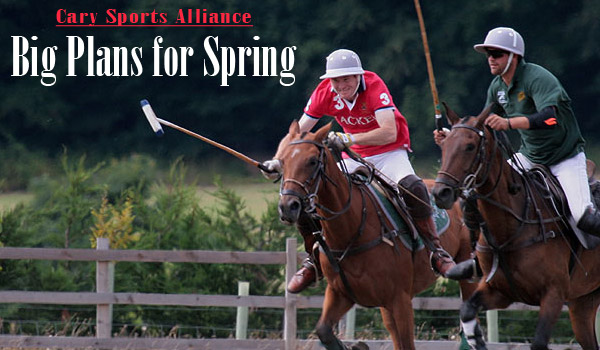 Story by Lindsey Chester. Photo by Park Street Parrot.
Cary, NC – Last week, the Cary Sports Alliance held its quarterly meeting at the Chamber of Commerce.  There's lots in store for spectators and participants this spring, starting with the Tobacco Road Marathon.
Tobacco Road Marathon Returns This Sunday
The Tobacco Road Marathon returns to Cary next Sunday, March 18, out on the American Tobacco Trail in western Cary.
The event started 2 years ago by Kazem Yahyapour,  who also created the City of Oaks Raleigh marathon. The first year over 2500 participants ran either full or half marathons in this USA Track & Field officially sanctioned Boston Marathon qualifier. The race has grown this year to just over 4000 runners, and Kaz believes 1000 of those are running in hopes of qualifying for Boston- the pinnacle of marathons in the running world.
New Course for 2012
The marathon features over 20 miles of the American Tobacco Trail. The rest of the course is flat and fast with a downhill finish. Runners are taken in 30 buses to the start at Cary's USA Baseball training complex. From there they will run 2-1/2 miles to get onto the Tobacco Trail. Half Marathon folks will take a right and run up the trail towards Durham , run 4 miles turn around and head back to the complex. Marathoners will turn left down towards Apex run a little over 10 miles before turning back to USA Baseball's finish area.
This fast course is the reason folks from 41 states and 6 countries come here to race. They expect fast times that will allow them to move on in the running world with a time that hits around a 3 hour mark depending on age and gender. The timing of the Tobacco Road marathon is also key, Boston is held the weekend of April 13th. For the 2012 Boston Marathon, qualifying times must be run on or after September 25, 2010.
The Finish
Planners will have food and bands set up to motivate the runners as well as their fans. But the rewards besides a job well done, or qualifying for Boston, can be some cash! Top finishers in the full marathon win $1000, $750 and $500 and in the Half win $600, $400, and $200 each. There are also categories for over 40, and military. After that folks will be awarded medals by age.
Benefactors
The race raises money for 3 main charitable organizations: Wounded Warriors, The Red Cross, and Rails For Trails. The goal this year is to increase the donations by $75,000.
Other Cary Sports Events Coming Soon
Pro Basketball Back In Downtown Cary
The Cary Invasion plays a showcase game vs Big Texas on March 30 at 7pm and starts their regular season Sunday April 1. Home court is the Herb Young Community Center in Downtown Cary. Owner Mark Janas says most of the team is returning from last year and the roster is still being finalized. The team hopes to build on their strong 12-1 season
National High School Baseball Invitational
Cary's USA Baseball training complex will host the National High School Invitational where 9 of the top USA high school baseball teams will compete from march 28-31. This may be the last chance that many scouts will have to look at these kids. One local team from the Tri-9 conference will be playing, Lee County High School.
RailHawks Back With New Coach
After beating The Vancouver Whitecaps (and former RailHawks coach Rennie), the Carolina RailHawks regular season kicks off in Cary on Saturday, April 14. The team has just re-upped their 3 year commitment here in town, and Wake Med has extended their naming rights of the stadium for three more years. All while the venue is now undergoing some renovations to create more locker and fan space. President Curt Johnson reports that over 4000 fans attended the pre-season game again Vancouver despite the blustery day, and that more season tickets have been sold to date than previous years.
Watch for news of a new event- an MLS fan forum round table coming soon in April.
Table Tennis Olympic Qualifier
The North American teams will be determined here in Cary. Sixteen competitors (4 men and women each from the US and Canada) will face off to determine who makes the North American team to head to London for the Summer Olympics. Expect the play to be fast and frenetic, and surprising- most of these players are in high school!
Play starts at Bond Park Community Center on Friday April 20 at noon and continues through Sunday April 22 with morning and afternoon sessions. For more info check out the website.
Swimming, Golf and Polo?
Out at Triangle Aquatic Center, the National Black Heritage Swim Meet will once again take place over Memorial day weekend. This event attracts over 1000 swimmers from all 50 states.  The event is covered on Time Warner Cable.
Prestonwood Country Club will host the 12th annual SAS Championship golf match from October 1-7. Look for more details as they become available.
And there are rumors Cary will host a polo match out at Wake Med Soccer Park. You heard right- polo, like with horses. As we hear more, you will too. Apparently a couple fields are ready for re-turfing, and those will be where the ponies will run. Can't wait to see this!
If you want to stay in the know- read the CaryCitizen Calendar– more that 100 events listed every week.
https://carycitizenarchive.com/wp-content/uploads/2012/03/cary-sports-alliance.jpg
350
600
Lindsey Chester
https://carycitizenarchive.com/wp-content/uploads/2020/03/cc-archive-logo-450-v3.png
Lindsey Chester
2012-03-12 11:18:49
2019-12-07 17:02:48
Cary Sports Alliance: Big Plans for Spring