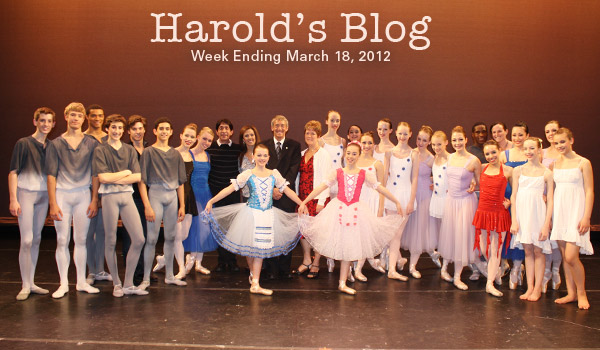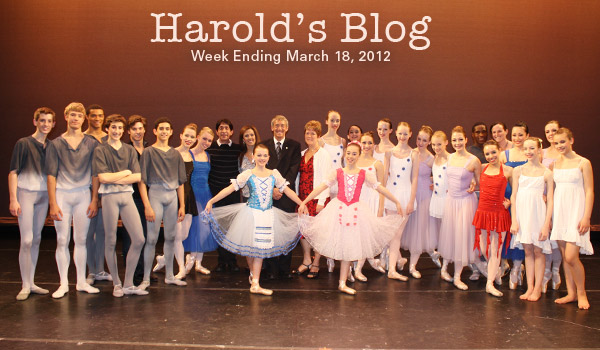 From the blog of Cary Mayor Harold Weinbrecht, covering the week through March 18, 2012. Photo courtesy of IBA.
Cary, NC – This was a busy week for me with a lot of events and a lot of late nights.
Fix a Leak
Monday started with a quick photo op with a stuffed animal-like figure called Flo, which is the EPA's "spokesgallon" for Fix a Leak Week in Cary. Fix a Leak is part of our ongoing efforts to be water wise. During the month of March citizens can pick up a kit to check their toilets for leaks. The town also has a rebate program that will refund $100/each for replacing two old toilets with high efficiency toilets.
Future School and Park?
Next I met with the State Director of the Trust for Public Land about a possible collaborative opportunity with Chatham County involving a future school and park site near the Wake and Chatham County line. While this is an attractive idea to both parties, the land would require water and sewer which means it would need to be annexed into the town of Cary. And that would mean it would need to be part of the joint land use plan. I have high hopes for this proposal but there will be a lot of obstacles to overcome.
The Best Town Staff
Monday night I had my semi-annual meeting with the town clerk to go over issues related to staff and the mayor. Cary is lucky to have the best town clerk staff in the state by far. So it was very difficult for me to come up with any constructive criticism.
Dietician Week
Tuesday I read a proclamation in honor of dietician week and presented it to three dieticians at SAS. Dieticians play an important role in guiding us to a healthy lifestyle. And if your diet is anything like mine we can use all the guidance we can get.
WWII Hero Hal Shook
Tuesday night I had the honor and privilege to participate in a celebration dinner honoring World War II veteran Hal Shook. There are a lot of incredible stories and information about Colonel Shook. For example, he flew his P47 fighter plane on D-Day, the Battle of Normandy in Normandy, France, and provided cover for the infantry on the ground.  He saved over 1500 lives on a night mission without night time instruments. On October 7, 1944, he became the first pilot in his group to fly 100 missions.  He flew 105 combat missions during his distinguished career. He has received many awards including the Distinguished Flying Cross; the Air Medal with 19 Oak Leaf Clusters; a Presidential Unit Citation; the Belgian Croix de Guerre; the French Croix de Guerre with Palm; and the Belgian Fourragère; the Commendation Medal with Cluster; and the Legion of Merit. Most recently France's President Sarkozy appointed Shook as a "Chevalier" of the Legion of Honor which is similar to being knighted. The "Chevalier" award was presented at an earlier ceremony where the Consul said it was a sign of France's infinite gratitude and appreciation for Colonel Shook's contribution to the United States' decisive role in the liberation of France during World War II.
In our ceremony council member Smith spoke words of praise, I gave a proclamation, Representative Weiss presented the Order of the Long Leaf Pine (the highest State award), a member of the sister cities spoke, a member of the French Consul spoke, a representative from Congressman's Price office presented a flag that had been flown over the US Capital, and members of the American Legion spoke. It was an incredible ceremony and Colonel Shook was an absolute delight to talk to. This 92 year old hero even went skydiving a few days before to celebrate his birthday.
Development Planning
Wednesday started with a "coffee chat" meeting with the Triangle Community Coalition. This group is almost entirely made up of developer interest. In my comments to them I said I would welcome their input and suggested we set up regular meetings. Topics discussed included planning issues and impact fees. I believe this was a positive meeting and look forward to future meetings.
Sunshine Laws at Elon
Later Wednesday I was part of a panel discussion at Elon College on Sunshine Laws (open government). I was allowed eight minutes and briefly listed a few things I, and other council members, are doing which include:
Having my email and email of other council members automatically sent to the media once a week.
Making sure I answer emails sent personally to me.
Making sure council members don't deliberate in emails.
Blogging about all my activities and meetings since I have been mayor.
Creating Cary Matters and writing the show (now writing duties are shared with council member Robinson).
Changing the advisory board process to be completely open to the public.
I was joined on the panel by a public information officer and a communications director from other areas of the state. Our discussion was over in thirty minutes. We all received very positive feedback after the discussion.
Town of Cary School of Government
Wednesday night I attended the kickoff meeting for the ninth Town of Cary School of Government class. I was joined by council members Smith, Frantz, and Bush. The School of Government is a class over several weeks that introduce its members to all aspects of town government. At graduation the students should have a solid understanding of how things work at town hall. In the council member comments we welcomed the participants, encouraged them to ask questions, and congratulated them on becoming more involved in their government.
Sister Cities Diplomacy Summit
Thursday I was part of the Sister Cities Diplomacy Summit at the Cary Arts Center. The goals of the summit were to bring people together to learn how international relationships at the grass roots level can impact foreign relations, to discuss how to better serve international visitors and the community, and to improve communications among our region's diverse groups. I gave opening comments and introduced the moderator. In my comments made the following points:
Less than 5% of those in Cary are from Cary
A tremendous number of our residents are from Canada, Asia, Europe, and Africa.
After Caucasian, the next biggest race in Cary is Asian.
After English, Hindi is our most commonly spoken language.
Jack Smith 2012 Diplomacy Award
The Summit was divided into two parts the first part was a panel discussion with various people from around the region that have international ties. After the intermission, council member Jack Smith was awarded the 2012 Citizen Diplomacy Award. That was followed by an incredible performance and show from the Sacrificial Poets who were in Egypt and Tunisia this past summer during those countries' transformations. Their poetry provided a glimpse into the lives of the Egyptian and Tunisian people. I think the event was a huge success and with very powerful message.
Dogwoods for Arbor Day
Saturday morning I headed over to town hall as we commemorated Arbor Day with the planting of a tree and gave away of several dogwoods. For 29 consecutive years the Town of Cary has been awarded the Tree City USA community award from the Arbor Day Foundation. And I am glad to live in a community where the planting and nurturing of trees is a priority.
A Century of Girl Scouting
Saturday afternoon I attended a Girl Scouts expo celebrating the 100th year of Girl Scouting. The girl scouts leadership program helps girls discover themselves and their values, connect with others, and take action to make the world a better place. I read a proclamation, visited, and took a few pictures before having to leave.
Tobacco Road Marathon
Sunday morning started bright and early for me as I welcomed over 4000 runners at the starting line of the Tobacco Road Marathon and Half Marathon. It was an incredible pre-dawn sight to see and everything went smoothly.
International Ballet Company and the Philharmonic Association
Sunday afternoon I attended the spectacular performance of the International Ballet Company and the Philharmonic Association. This ballet company is putting Cary on the map by winning national competitions and giving these wonderful performances. The ballet company is run by some of the best teachers in the county and lead by world renowned Miguel Campaneria. We are blessed to have them here in Cary.
Emails
This week's emails included suggestions to light the pedestrian bridge, create an advisory committee for bicycle/pedestrian facilities, and to provide adult exercise equipment in parks. Other emails included complaints about the lack of a traffic signal at Cary Parkway and Chatham, speeding on High Meadow Drive, not allowing concealed weapons in Cary's parks (now allowed by state statute), and the Cary-Chatham County Joint Land Use Plan.
Next week will continue to be busy for me with a meeting of the Wake County Mayors, three work sessions, a council meeting, and a meeting of the Capital Area Metropolitan Planning Committee.
Well that is all for this week. My next post will be on Sunday, March 25th. Please feel free to email me with a comment. Email all Town of Cary questions or comments to Harold.Weinbrecht@townofcary.org. Email personal comments to augustanat@mindspring.com.
https://carycitizenarchive.com/wp-content/uploads/2012/03/harold-weinbrecht-mar18.jpg
350
600
Harold Weinbrecht
https://carycitizenarchive.com/wp-content/uploads/2020/03/cc-archive-logo-450-v3.png
Harold Weinbrecht
2012-03-19 16:25:31
2016-01-09 11:58:29
Harold's Blog: A Lot of Late Nights