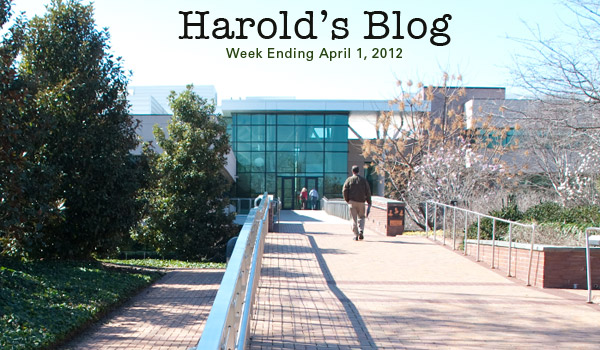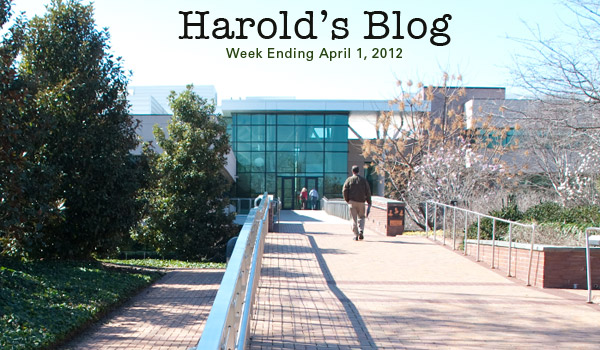 From the blog of Cary Mayor Harold Weinbrecht, covering the week through April 1, 2012. Photo by Hal Goodtree.
Cary, NC – This week was another week of events and meetings along with a ribbon cutting with the Governor.
Technology – Doing More in Cary
Monday I met with a citizen for a little over an hour to talk about technology. The citizen's main point was that the town should be doing more with technology. Hopefully, we are moving that way with a gentle nudge from council member Bush.
Missions, Scouts'  Honor
Tuesday morning I met with a local pastor who is a part of a group of pastors looking for mission opportunities in Cary, specifically the downtown. Currently the group is comprised of pastors from First United Methodist Church, Cary Presbyterian, St. Michael's, Greenwood Forest Baptist, and others. He stated that they believe that Cary needs a consortium of churches to serve together missionally to meet the needs unique to the "Heart of Cary". We discussed people in need such as the elderly and the young. We also discussed areas in and around downtown such as Evans Road and Wren Drive.
Tuesday afternoon I had my weekly conversation with the town manager to discuss a variety of things. It was mostly an update and there were no critical issues.
Tuesday night I had the distinct pleasure to be the guest speaker at an Eagle Scout Court of Honor. I had known this individual as a baby and toddler (I used to teach him in the 2 and 3 year old Sunday School class). This young man had a lot of difficult times in his life and turned those situations into a positive. On top of that he achieved what many don't, the rank of Eagle Scout. We should all follow his example of doing the most with what you have been given. God bless him!
Jobs: LexisNexis
Wednesday morning I was part of a ribbon cutting ceremony with the Governor at LexisNexis in Cary. We are blessed to have them creating 350 jobs paying an average of $90,000 a year. And they are currently accepting applications! In my comments, I included a few facts that most people may not be aware of:
"… Attracting a company of such high caliber like LexisNexis speaks the uniqueness of our citizenry. Over two-thirds of them have graduated with a college degree, with 9% of those having a Ph.D., JD or MD. More than 96% of our population has access to the internet, and over half own a smart phone. Most importantly, all 100% of us are excited to help you thrive and prosper. …"
Cary Matters: Bye Julie
Later Wednesday I chaired a brief meeting of the Western Wake Partners Policy Advisory Committee made up of Apex, Cary, and Morrisville. The main purpose of the meeting was to approve a contract for the Western Wake Wastewater Management Facility under construction.
Wednesday evening I taped the April version of Cary Matters with Julie Robison. This was a sad taping for me because it was Julie's last show. She and her family will be moving to West Virginia this summer. We will certainly miss her. The main topic of the show was about the Cary/Chatham County Joint Land Use Plan. In Q&A we talked about the Spring Litter Sweep and recycling.
Regency Buildings, Cary/Morrisville
Thursday I met with the owners of Regency that are interested in building another class A multi-story office building at Tryon Road and Regency Parkway. New office buildings have been rare in the last few years so this is exciting news.
Later Thursday I chaired a meeting of the Cary Morrisville Joint Issues Committee. I was joined by Mayor Pro-Tem Adcock and council member Robinson from Cary and Mayor Holcombe, Mayor Pro-Tem Johnson, and council member Diehl from Morrisville. In our meeting we discussed sidewalk coordination at McCrimmon Parkway and Davis Drive, received an update on the traffic studies of the Highway 54 corridor, talked about differences in legislative authority between Cary and Morrisville, and the Hotel Motel Tax. Our next meeting is scheduled for Monday, June 9th in Morrisville. In that meeting we will see a precise delta of legislative authority, recommendations on next steps regarding the Hotel Motel Tax, the Evans Road Extension, and Parks and Facilities sharing.
Lasik Advice
Friday was a big personal day for me. I had Lasik surgery. The following is my personal experience if you care to read the details:
I first had my eyes dilated so they could measure the stigmatism once again. Then I went into a small waiting room with another about to have Lasik. I was then administered antibiotic three times about 5 minutes apart. While I was waiting the women before me was having a fit exclaiming about the pain. The nurse said they get one of those a day that scares all the patients. Yep. It did a number on me too.
Then it was my turn. First they put a suction cup on each eye and there is an extreme amount of pressure (what the other woman was complaining about). This puts bubbles in the eye so the first laser can cut the flap. This was the only pain and felt like someone mashing your eye. You also lose vision which I thought was interesting. A laser to cut the flap was then used. The doctor then pealed back the flap and everything was a big blur. Next they use the other laser to do the actual correction to the cornea. That went about 30 seconds for each eye. After that the doctor placed the flap back over the eye and smoothed it out with what appeared to be a tiny brush (of course I couldn't really see). I was done. Everything was foggy as they said it would be in pre-op. Then they took me into a room and explained how to use three different types of eye drops. They also explained that the fogginess would last five to seven hours.
So I went home had an early dinner with my wife and went to bed (with protective goggles). A few times I woke up and things were foggy. I woke up for good around 4:30 AM and things were less foggy. Then fed the cats and ate breakfast and took a nap in the lounge chair. When I awoke all fogginess was gone. I turned on the TV to hear the news and there was a commercial with fine print. I COULD READ IT. It was a very emotional moment for me. It still is by just typing this. It has been 40 years since I have been able to read without glasses.
I had my post op visit at 9 AM Saturday morning. They tested my vision and I am 20-20 in both eyes and my eyes will continue to improve over the coming days and weeks. I will need reading glasses and have bought a couple of readers until my appointment with the eye doctor April 9th. I am extremely happy with the results and felt as if God has truly blessed me. I would like to thank Doctor Dornic and his staff for this life changing event.
Saturday morning I was originally scheduled to be a part of the ribbon cutting for the Cary Creative Center on Wilkinson Avenue. Unfortunately the ribbon cutting was scheduled an hour after my post op visit so it was not practical for me to attend (staff warned them of this). I hope to arrange a visit in the near future.
American Water Resources Endorsed by Cary?
Citizens of Cary will soon receive a letter from a solicitor, American Water Resources. While they claim that they will not suggest they are endorsed by the town, I am concerned that they will be giving the impression that they are somehow associated with the town. Here is the letter council members received:
As you may know, most Cary homeowners are not aware that they are responsible for the water and sewer lines running through their property. Within the next few weeks, American Water Resources, Inc. of North Carolina ("AWR") will send a letter to Cary residents, informing them of their service line responsibility.

AWR's mailing will explain that: (i) normal wear and tear can cause water line leaks and sewer line blockages, (ii) repairing such damage is not typically covered by homeowners' insurance policies, (iii) homeowners are responsible for making the necessary repairs, and (iv) repairs can cost thousands of dollars. AWR's Water and Sewer Line Protection Programs provide homeowners with an affordable means to protect themselves from the expense and aggravation of service line repairs. Please be assured that this letter will not suggest that our programs are offered or endorsed by your city or water utility.

In case Cary homeowners have questions, below is a list of key information:

AWR is a subsidiary of American Water, the largest investor-owned water company in the country, serving homeowners for 125 years.
AWR services more than 900,000 programs for homeowners nationwide.
AWR is an accredited, A+ rated member of the Better Business Bureau.
AWR will only use licensed, Cary-area contractors for all repairs.
92% of AWR customers are very satisfied with the overall value of our program.
Our programs can also benefit Cary beyond the advantages provided to your homeowners. There is an opportunity to partner with AWR now to jointly introduce the program and Cary can receive a share of the revenue generated while AWR provides the required support.

This turnkey approach has been extremely effective for municipalities. Burlington, Iowa City Manager Doug Worden believes, "By offering these programs to our residents, we're providing them with a viable solution, and we're also benefiting from a partnership that adds value to our city."

For additional information about AWR, our programs, or how to partner and earn new revenue, please visit AWRUSA.com/info, contact me at BarbaraB@amwater.com, or call 856-359-2794.
It is important to understand that residents are responsible for sewer to the cleanout pipe near the street. From that point on it is the responsibility of the town. My opinion is that this "insurance" type venture is a money making scheme and little more. I will not be signing up. The town sent a letter to this company stating that they are not interested in partnering with this company.
Emails: ICE, Trash, Beavers, Dogs and Cops
Emails from staff this week included a "heads up" about the GSA Ice facility:
"…we have received an inquiry from a citizen asking for confirmation that GSA is negotiating a contract for an ICE facility at 301 Gregson Drive.  The most recent information we have received from GSA was a March 27 update that stated that they expected to release the Request for Lease Proposals (RLP) on April 9, 2012 to all locations accepted on the market survey.  Their previous estimate was that the RLPs would go out on March 21. …"
Emails from citizens this week included a complaint about trash at Ten-Ten and Kildaire Farm Road, a complaint about the denial of the Fryar Tract application, a concern about beavers, a complaint about dogs off their leashes at Lochmere Lake, a complaint about the lack of town infrastructure in Cary inside Chatham County, a complaint about the developer at Stanton Place, and a complaint about too much police presence in Lochmere.
Next week will be spent mostly working at the Masters Golf tournament. If you happen to go you can find me working at the 17th scoreboard. Before I go I will give ground breaking remarks for Fire station #8 on Monday.
Well that is all for this week. My next post will be on Sunday, April 8th. Please feel free to email me with a comment. Email all Town of Cary questions or comments to Harold.Weinbrecht@townofcary.org. Email personal comments to augustanat@mindspring.com.
https://carycitizenarchive.com/wp-content/uploads/2012/04/harold-weinbrecht-0401.jpg
350
600
Harold Weinbrecht
https://carycitizenarchive.com/wp-content/uploads/2020/03/cc-archive-logo-450-v3.png
Harold Weinbrecht
2012-04-02 16:25:46
2016-01-09 11:58:30
Harold's Blog: Busy Week...and Eye Surgery