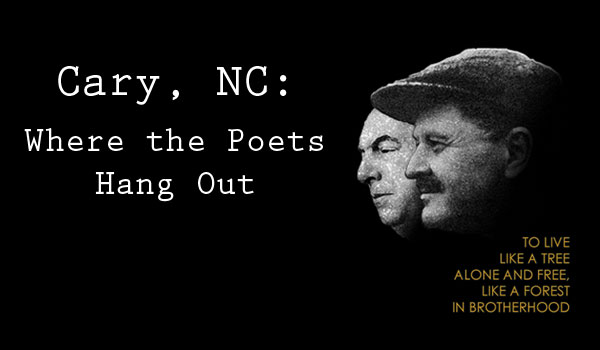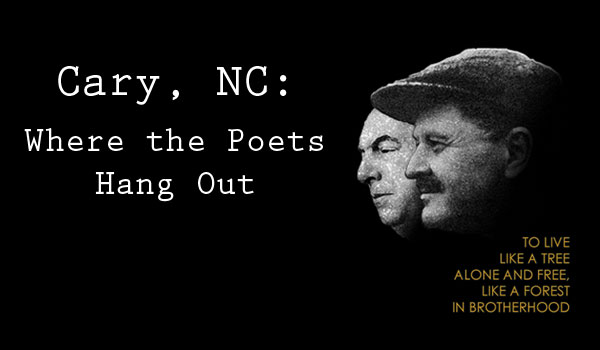 Story and photos by Lindsey Chester.
Cary, NC – Who knew that Cary hosts one of the largest poetry festivals in the US? Last weekend, the American Turkish Association of North Carolina (ATA-NC) held their fourth annual Nazim Hikmet Poetry Festival in Downtown Cary's Page-Walker Arts and History Center. It was sublime.
Poets from Around the World
I can't claim to be a poetry critic, but I can say that listening to poets recite their works on a Sunday afternoon was a perfect ending to a hectic week.
Over 700 poems were submitted to this free event. Free to attend , but also free for the writers to participate. Entries came from around the globe and 10 winners presented their work either in person or via video.
The morning included workshops for adults as well as children led by Alice Osborn of Raleigh and Michael Beadle of Canton, NC. The day honored Pablo Neruda, a Chilean poet who wrote during the Spanish Civil War. His work has parallels to that of Nazim Hikmet, for whom the festival is named.
A Poet from Seattle
During the afternoon, each of the award-winning poets presented several of their poems. The work ranged from the political landscape to word paintings of rural North Carolina.
I asked Jeff Kahrs, one of the festival winners, how he came to learn about this contest event in Cary as he lives in Seattle, WA.
During his poetry reading, he had mentioned that after gaining his masters degree in 1992, he went on to teach English in Istanbul, Turkey where he met and married his wife.
In his wife's home, the family owned a large set of poetry volumes by Turkish poet Nazim Hikmet. At the time, it was illegal to own this work, and the poetry had been smuggled from Bulgaria.
A Place Called Cary
While living as an ex-pat in Turkey, Kahrs got together with other writers living abroad. Kahrs said that, a few years ago, they heard about this festival in "a place called Cary".
Since the poet Nazim Hikmet and Turkish culture in general resonated with him, Kahrs applied. He was rejected on his first try, but a good friend of his was accepted.
Eventually, Kahrs moved back to the states.
Came Up in an Email
This year, as he was reviewing his recent work, the contest came up in an email. It is one of the only festivals without an application fee. Generous sponsorship by the Turkish Cultural Foundation and support from the Town of Cary make the festival possible.
There is no fee for the judges to review a manuscript. The organizers receive lots of work. None of it has been previously published.
Kahrs submitted some work and was accepted.
Cary: Where the Poets Hang Out
Nine other poets were selected and won cash prizes. The winners ranged from an Egyptian poet with Lebanese background to a native of the rural Piedmont.
Two poets had even once shared an office 25 years ago as students at the University of Iowa, and only met again last weekend.
Networking with other poets was a large draw for attendees.
And that's how Jeff Kahrs of Seattle, WA found himself at the Nazim Hikmet Poetry Festival at the Page-Walker Center in Cary. Via Istanbul.
This year's Winners
Hala Alyan- a Palestinian American, her work was presented via video, with forthcoming collection titled Atrium
Peter Blair of Charlotte, NC, with recent book Farang, previous books include The Divine Salt and Last Heat.

Kevin Boyle, with prize winning book, A Home For Wayward Girls. Originally from Philadelphia he now teaches at Elon University.
Amy Leigh Brown, grew up in the Piedmont, and this is her first publication. Her background is actually in chemistry and molecular medicine.
Hedy Habra, born in Egypt and currently teaches at the University of Michigan, presented her works via video. She writes in Spanish, French and English and has a collection of short stories titled Flying Carpets.
Jeff Kahrs, born in Hague Netherlands, raised in California, lives in Seattle, currently writing a history of Deep Sea Fisherman's Union of the Pacific.
Daniel Abdal-Hayy Moore- has led a long and varied career starting in the 1960's on San Francisco with Dawn Visions. He resides in Philadelphia and the Ecstatic Exchange Series is bringing out the continuing body of his work, having published 32 titles as of march 2012.
Anna Lena Philipps from South Carolina lives in the Piedmont of NC and serves as poetry editor of Fringe magazine. She is a recent recipient of the Dorothy Sargent Rosenburg Prize and an emerging artist grant recipient of the Durham Arts Council.
Iris Tillman lives in Chapel Hill and helped start the Center for Documentary Studies at Duke. She co-edits Documentary Arts and Culture. Poems have appeared in Tar River Poetry and others.
Tim VanDyke grew up in Columba South America, but he lives here in the states. His first book is Topographies Drawn with a Divine Chain of Birds.
The Sacrificial Poets
A special presentation was made by the CJ Suitt of the Sacrificial Poets. His spoken word poetry opened the reading session with a bang. The work this group does involves kids who compete across the country – usually as the only group representing North Carolina. He performed works telling of the black male experience in America.
Kahrs said he was" really impressed" and "that the festival was really well organized."  The American Turkish Association of North Carolina, he continued,, while "not poets themselves, are successful professionals who do this to honor someone from their country here in the States".
The Feast
The afternoon concluded with some closing remarks from Cary Mayor Harold Weinbrecht. But best of all, the group fed everyone a wonderful Turkish buffet feast!
Next year, I am bringing the kids.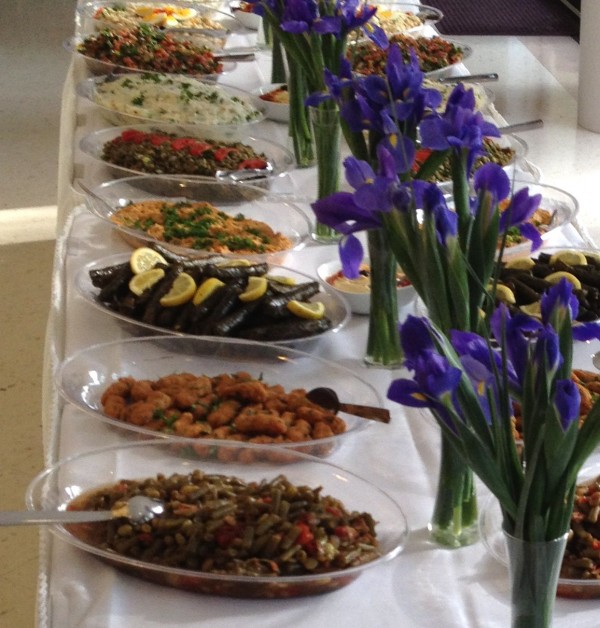 https://carycitizenarchive.com/wp-content/uploads/2012/04/cary-poetry-festival.jpg
350
600
Lindsey Chester
https://carycitizenarchive.com/wp-content/uploads/2020/03/cc-archive-logo-450-v3.png
Lindsey Chester
2012-04-18 08:45:29
2015-12-28 13:47:28
Cary, NC: Where the Poets Hang Out