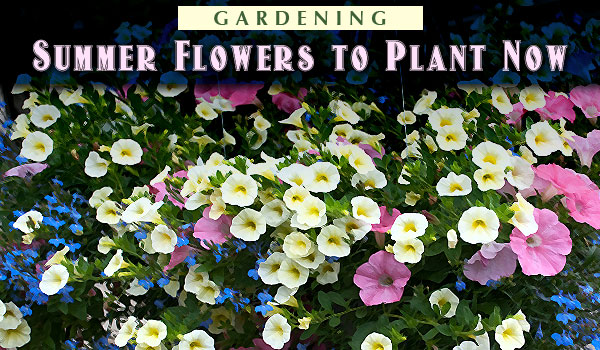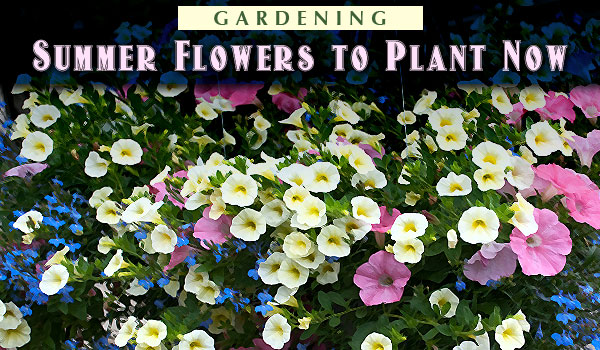 Story and lead photo by Hal Goodtree.
Cary, NC – This spring, our friends at Garden Supply Company are sponsoring the Gardening column on CaryCitizen. In this installment, I'll talk about annual summer flowers to plant now.
Annuals and Perennials
Annuals are basically flowers that bloom this year and die in the winter. Perennials are flowers that sleep in the winter and come back year after year.
The well-planned garden has some of both. I think of perennials (along with shrubs and trees) as the foundation of my garden. I add annuals for long-lasting color pop during the warm months.
This story focuses on annual flowers to plant now for summer bloom..
Pots or Beds?
The first question to answer is whether you want your summer flowers in pots or garden beds.
I use both, but especially pots. For me, pots are easier to keep watered and I can move them around as the season changes.
Placement is key – I put them near the hose and in places they're easily seen from inside the house or by visitors. A lot of my flowers are on the back deck, visible from my kitchen table.
Prepare the Dirt
For pots: it's best to use a fresh bag of potting soil. Old dirt in pots gets depleted of nutrients quickly and can even concentrate things like salts. I put a few rocks or pot shards in the bottom of the pot to help drainage and keep the soil from running out.
For garden beds: Piedmont soil is loaded with clay. It can also have an acidic pH.
Best best – dig out your flower bed and replace it with a few bags of commercial garden soil (available at the garden store).
Next best bet – add a few soil additions to improve the clay. A couple of bags of Black Cow (compost and cow manure) does wonders. I also like gypsum to lighten the soil and lime to correct the pH.
Marigolds
I just love marigolds, especially the French type. French Marigolds are less frilly than regular marigolds – more daisy-like and less like a mum.
Every year, it seems like they come out with a new hybrid, taking marigolds from traditional yellow and orange to crimson and mahogany.
Marigolds grow low and spread – perfect for borders in the garden or trailing from a big pot. They're great for Cary gardens because they love it hot and dry.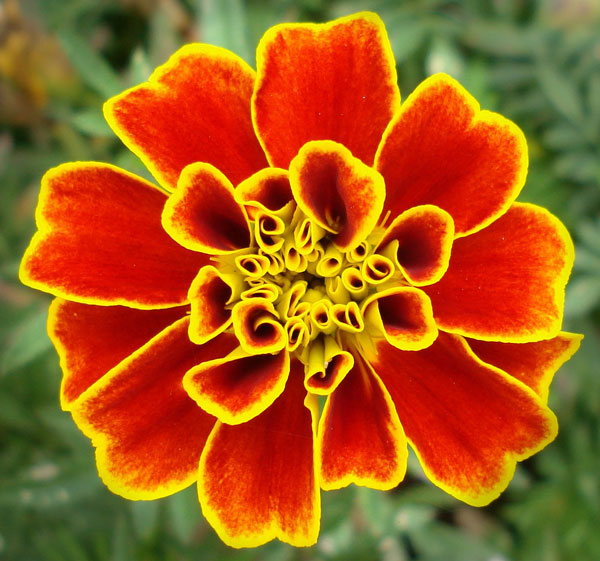 Petunias
Another staple of the Piedmont garden is the Petunia.
Like marigolds, most varieties of Petunias want to sprawl or trail.
Petunias tend toward reds and purples with a color range extending all the way to white. So, you'll see hybrids that are pink, lavender, eggplant or maroon.
Petunias also like it hot and fairly dry. The newer varieties are "self-cleaning" – that is, the old blooms drop off without dead-heading.
I use petunias in window boxes.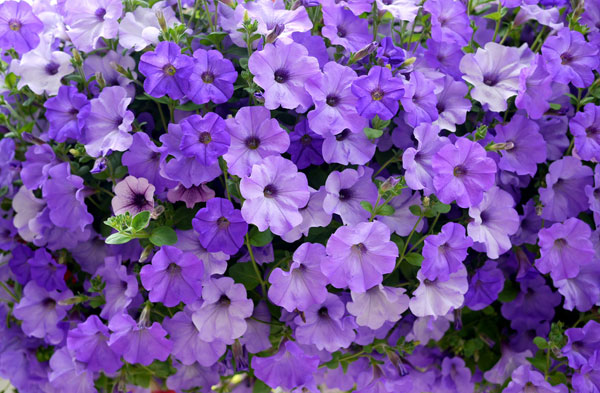 Zinnias
Another very useful sun plant. Zinnias grow about 18-24″ tall in a variety or yellows, reds and oranges. They bloom well into fall.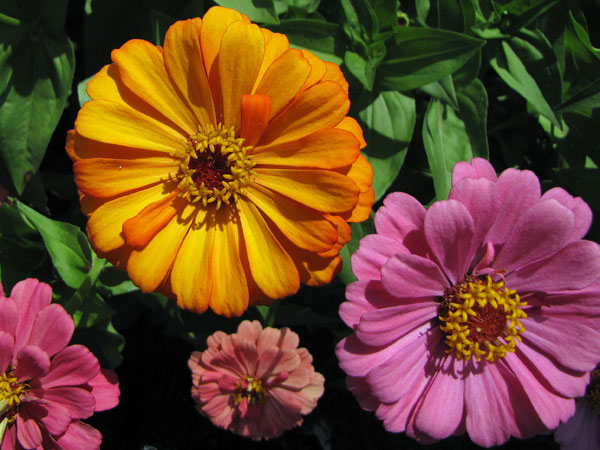 Dwarf Sunflowers
I admire people who have a spot for tall sunflowers. I have no such spot.
But dwarf sunflowers have always worked well in my garden. These smaller varieties (24-36″) have sturdy stems and produce heads 4-6″ across. Goldfinches love them.
Great in pots or beds – needs a sunny spot.
I grow sunflowers from seeds. Ask at the garden store. Plant them now for your summer bloom.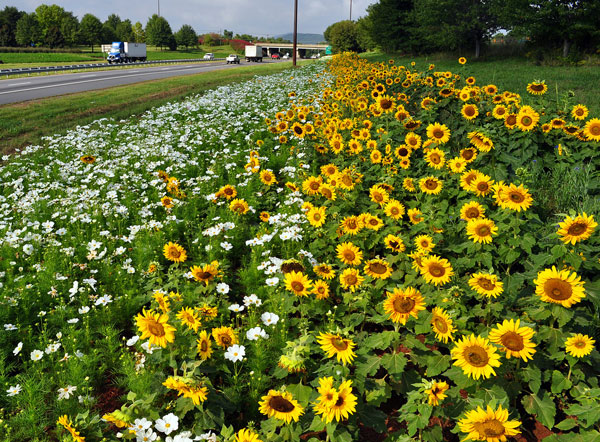 Begonias
Begonias like a fair amount of shade. If you have a partly sunny to full shade spot, try begonias.
Begonias usually come in a limited color variety – green leaves or bronze leaves, white flowers or red flowers. Some newer orange shades and even yellows have been making their way to market over the past few years.
I like begonias because they produce color in shady spots and bloom until frost. The grow tender green spikes in the autumn, adding interest to the garden. Mature size is about 12″ wide by 15-18″ tall.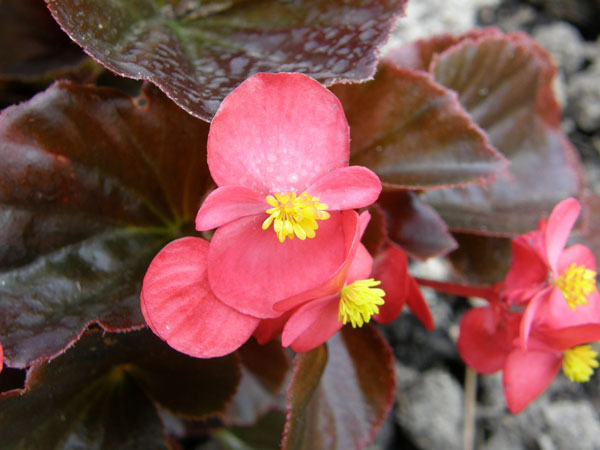 Impatiens
Impatiens are another shade flower. They have simple white or pink flowers on dark green foliage and are a good bed and border plant for the shade.
New Guinea Impatiens, however, like it sunny and come in bold colors and stripes.
Check out both types of Impatiens and see what works in your garden.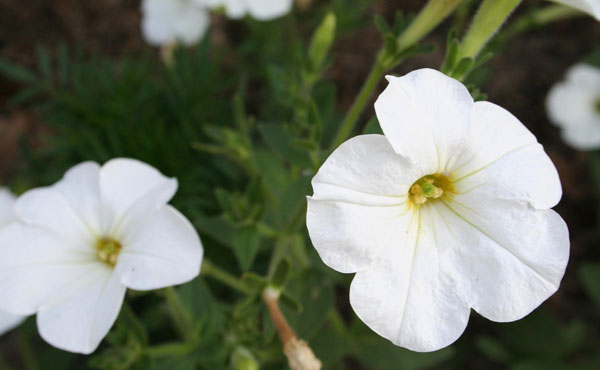 Plan Your Spot
There are so many beautiful plants for our easy climate in Cary. It's easy to get overwhelmed by all the choices.
Start with a specific spot. Make notoe of the light, water and soil condition. Go to the garden store with a mission to improve your chosen spot. Only buy as much as your can plant at once.
Pick another spot and go back to the garden store. Rinse and repeat. I make at least six trips to the garden store during the spring.
What Are Your Favorite Summer Flowers?
What works for you in your Cary garden? (Apex or Morrisville readers too, of course. Heck, I'd like to hear from people in Nome and Nyack).
Leave some advice in the comments to this story. And happy gardening!
Photo Credits
Marigold by Scarlatti2004; Petunias by Dauvit Alexander; Zinnias by BlueRidgeKitties; Sunflowers by NC DOT; Begonias by Mark Blasingame; Impatiens by Julie. Thanks to all for using a Creative Commons license on Flickr.
———————————————————————————————————————————-
The Gardening Column on CaryCitizen is sponsored by Garden Supply Company on Old Apex Road in Cary.
https://carycitizenarchive.com/wp-content/uploads/2012/04/summer-flowers-cary.jpg
350
600
Hal Goodtree
https://carycitizenarchive.com/wp-content/uploads/2020/03/cc-archive-logo-450-v3.png
Hal Goodtree
2012-04-26 15:15:01
2019-12-07 17:03:31
Gardening: Summer Flowers to Plant Now